"The report of camping is at the heart of everyone," said trustee chair Jim LeBaron after a new program approach was shared during the 2020 Corporate Session of The Michigan Annual Conference.
KAY DEMOSS
Senior Content Editor
July 27, 2020 | LANSING – Jim LeBaron, Chairperson of The Michigan Conference Board of Trustees, began the Corporate Session of Annual Conference on Monday afternoon introducing six elements for discussion. One of those elements was camping. LeBaron noted, "We're going to have a presentation as it relates to the Camp Board and giving you a perspective of what they are doing." He added, "It's important that you have a good grasp on that."
LeBaron offered a preface to the camp report. "What the Trustees have experienced over this year is a heightened involvement with the Camp Board. It came about by a better understanding of our Discipline, ¶2516." The trustee chair went on to explain that the Camp Board is itself a distinct entity formed by the action of West Michigan and Detroit annual conferences in 2015. But he added, "Regardless of where legal title is held, be that the Annual Conference or with the Camp Board, the Trust Clause is in existence. And the Discipline is clear if the Trust Clause is in existence, then the Board of Trustees must act on behalf of the Annual Conference with the disposition of properties." LeBaron noted that what has developed is a strong working relationship between Trustees and Camp Board.
LeBaron then called Stuart Smith, Chairperson of Michigan Area United Methodist Camping, to the podium to offer a camp ministry report. Smith addressed his virtual audience, "I'm sure if I could see you and ask how many of you had a faithful or life-changing experience at camp, I would see a room full of raised hands. The Camping Board knows how important camp and outdoor ministry is to growing disciples of Jesus Christ." However, he also pointed out that these same beloved camps have "struggled financially" over many years.
The remainder of the report described hard decisions that have been made and a strategic plan that envisions a healthy future.
Hard realities
Smith identified the factors that drove decision-making over the past 18 months, resulting in the closing of five of the UMC's nine campsites. (In 2019, Crystal Springs, Albright, Myers Lake, and Kinawind were closed; Myers Lake and Crystal Springs went on the market. In early 2020 it was announced that Judson Collins Center would not open. In June of 2020, a restructuring plan was shared that focused on ministry at Wesley Woods, Lake Michigan, and Lake Huron, with Lakeview to continue in operation while a buyer is sought.)
He said, "Decades of declining summer enrollment and year-round under-utilization, combined with aging facilities in need of improvements [led to shuttering] as the Camping Board looked at how to structure a healthy, viable future." Smith added, "The reality is the road we are on is not sustainable. User fees, conference support, which has been significantly reduced and is expected to go away in the next year, and our current fundraising efforts are not enough to fund the camp facilities currently being operated."
Smith shared two graphs that were telling.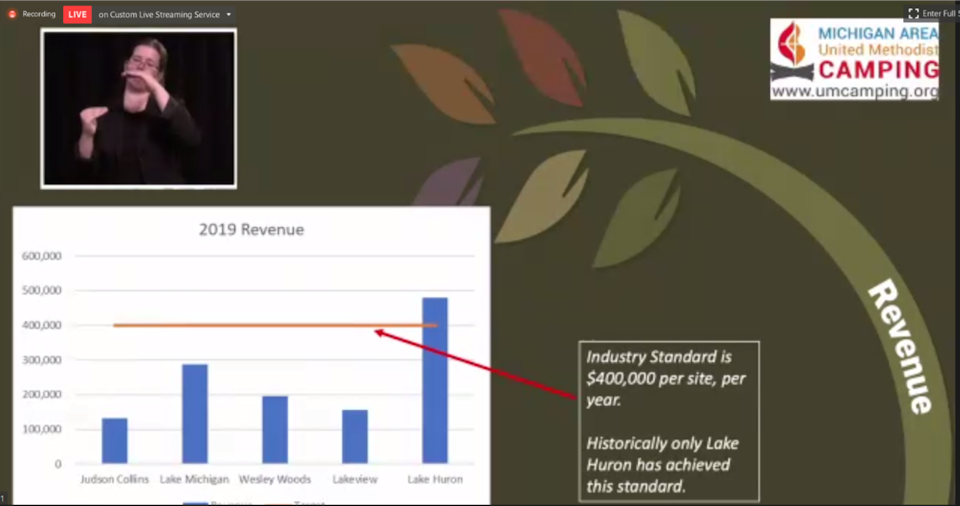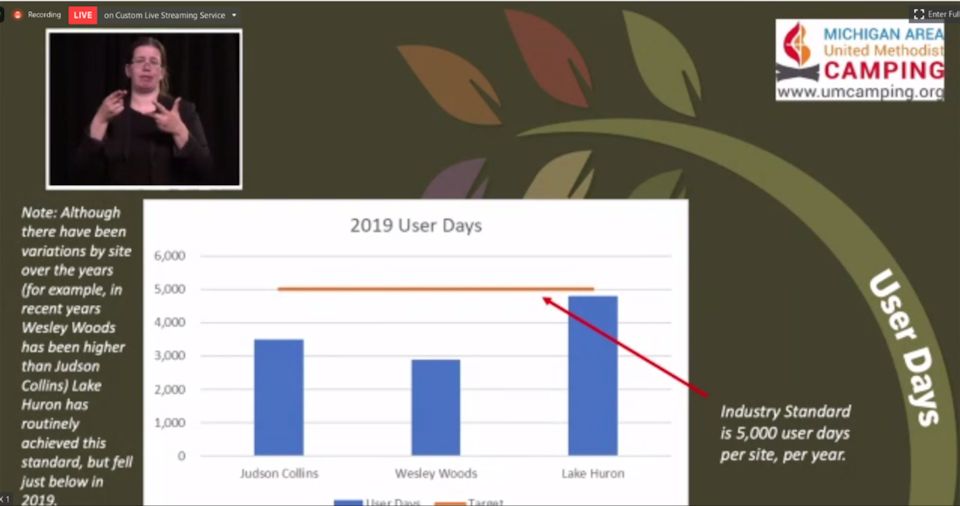 Strategic vision
The Camping Board sought the help of a nationally renowned consulting firm, Kaleidoscope, "to help us reverse these trends and set a new course," according to Smith. A comprehensive assessment of the five remaining camp and retreat centers was done. The mission statement was reviewed. A strategic plan was created "to move the organization to a place of health and allow us to create a long-term, self-funding ministry."
Key to the plan is a program model focused on faith formation in three areas:
Residential on-site summer camp programs for children, youth, adults, and families;
community-based off-site day camps in partnership with local churches;
year-round retreats for youth, adults, and families.
Smith noted that program directors would be added to the staff at each of three sites, each with its niche.
Wesley Woods Camp & Retreat Center (Dowling) will be the center for children and youth summer camps, also offering year-round retreats for all ages;
Lake Huron Retreat Center (Burtchville) will offer year-round retreats including intergenerational family, youth leadership, and adult programs;
Lake Michigan Camp & Retreat Center (Pentwater) will be the primary location for intergenerational family camps, utilizing RVs, tents, cabins, and lodge accommodations.
"These sites will focus on delivering our core principles of faith formation by providing those who attend camp and retreat programs with a comfortable bed, a warm shower, and good food," Smith observed. He added that significant site improvements are needed and that these improvements will be funded through the sale of Judson Collins Center and Lakeview Family Campground.
"We appreciate the sadness and disappointment these changes cause," Smith stated. "The closing of any camp is not taken lightly and is not to detract from the great ministries and wonderful experiences enjoyed by campers over the years."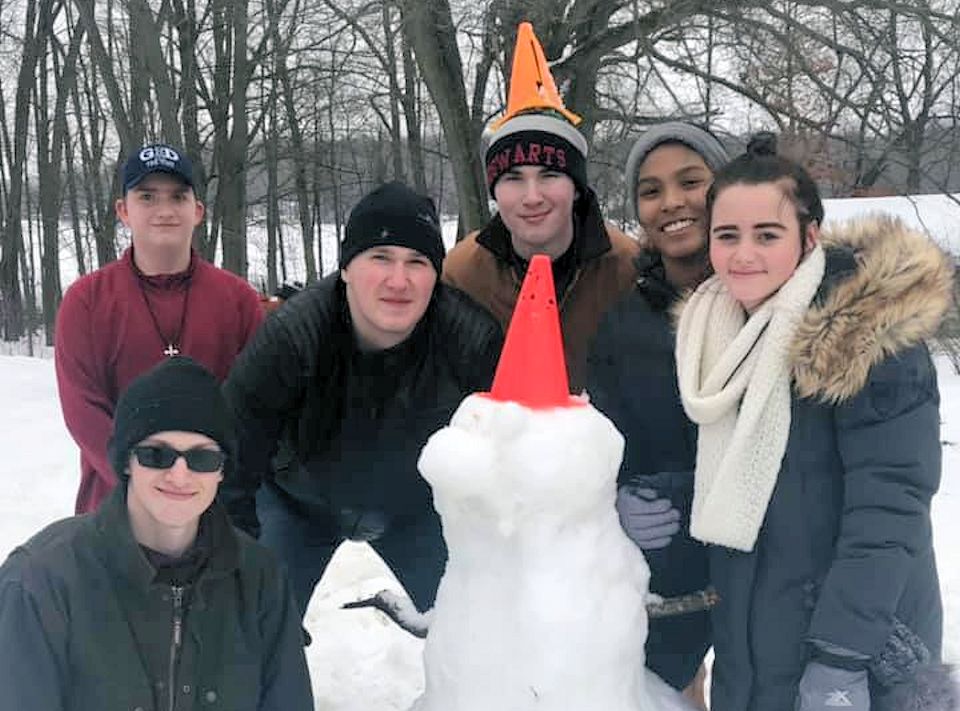 Next steps 
Smith said that Kaleidoscope is also assisting the Board in the hiring of a new Executive Director, who will lead the camping through the changes he reported. Master Plans for the three sites will be developed this fall, and priorities will be set for property improvements.
COVID-19 presents what Smith called "a layer of challenge that does not weaken our determination or enthusiasm for the future." He ended his report on a note of optimism. "Together, we can grow our camping ministry, which will welcome all United Methodists, develop programs open to all, including those not currently served, and reach beyond the church with an experience that offers hope, joy, and inclusiveness."
Trustee Chair Jim LeBaron thanked Stuart Smith for his participation in the Corporate Session. LeBaron noted, "The report on camping is at the heart of everyone across this conference, the districts, and all local churches."
Questions about camping may be directed to Stuart Smith or Joel Wortley, Interim Executive Director of Michigan Area United Methodist Camping. For more information and contact details, visit their website.