Alamo UMC, a 96-member congregation in Texas, blesses its neighbors and wins them for Christ with a 24/7 radio broadcast.
SAM HODGES
United Methodist News Service
In 2014, Alamo United Methodist Church planted a mustard seed by starting its own low-power FM radio station.
KPPC (96.9) is still just 100 watts, with a broadcast range of 5 to 7 miles, depending on San Antonio's weather.
But the station's unusual blend of oldies rock, classic country and Christian inspiration has yielded the small church a few new members, dozens of visitors and scores of phoned-in testimonials.
KPPC puts some of those on the air.
"I'm not a Methodist," one man said, "but I praise Christ every time I hear your station, which is several times a day."
The Federal Communications Commission created a low-power FM radio service for nonprofits in 2000. A handful of the denomination's churches, such as Estes Park United Methodist in Estes Park, Colorado, and First United Methodist in Wadesboro, North Carolina, hold licenses and operate broadcast ministries with a mix of religious and other programming.
Alamo United Methodist (not to be confused with San Antonio's 6,000-member Alamo Heights United Methodist) is a diverse congregation of 96 members led by a quarter-time licensed local pastor. But the pastor gave them a big advantage in entering radio.
The Rev. George Chambers worked in broadcast for decades, including owning radio and TV stations, before entering ministry in the 1990s. He still had radio stations in 2012 when he was appointed at Alamo.
Because he kept up with FCC notices, Chambers knew there would be a brief window in 2013 for lower-power FM station applications. He saw a ministry opportunity for Alamo, and the church agreed to try.
The application was approved, with KPPC as the call letters and 96.9 as the frequency.
"We hit the jackpot," Chambers said.
He rounded up spare transmitters, computers and other equipment from his stations, and arranged to rent signal-sending capacity from a nearby radio tower. Meanwhile, the church turned a fellowship hall spare room into a broadcast studio.
Chambers committed to handling the engineering and fundraising while Tom Kinkead, with a resonant voice and background in Army public affairs, took on the roles of volunteer station manager and morning disc jockey.
"We pretty much both agreed that if we brought one soul to Christ, then it's all worthwhile," said Kinkead, a certified lay minister at Alamo.
On Valentine's Day 2014, KPPC officially signed on. Church member Rodney Davis came up with a slogan to fit the call letters — Keep People Praising Christ.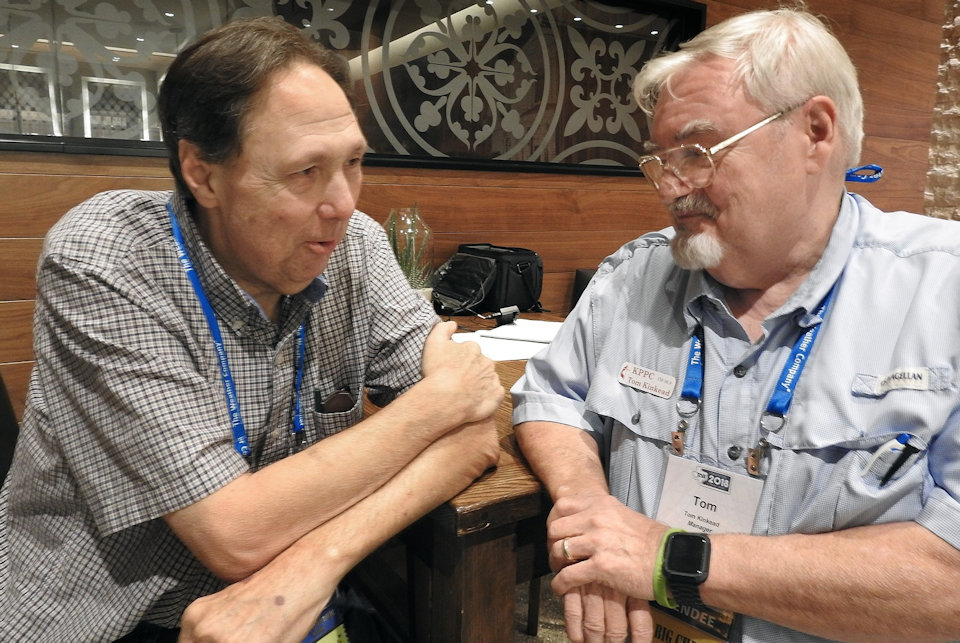 For sure, religious witness has been a big part of the station's work. At the top of each hour, there's a message of Christian hope and a sacred music selection in one style or another.
Alamo members often supply the messages. For example, Ted Robinson did a brief lesson on John 3:16, concluding, "Dear friend, if you every wonder who loves you, just remember that God loves you very much."
Cheryl Megosh spoke of returning to a more purposeful life of faith after undergoing successful cancer surgery one Good Friday.
"The undertone of it was, when God gives you a gift, don't waste it," she said of her commentary.
On Sundays, KPPC plays gospel music and does tape delayed broadcasts of worship services at Alamo United Methodist and San Antonio's Northwest Hills United Methodist. The station has also offered the only radio adaptations of the popular "Chuck Knows Church" video series from The United Methodist Church's Discipleship Ministries.
KPPC broadcasts 24/7 (thanks to computer software and pre-recordings) and most of that time goes to secular music, with a focus on golden oldies.
Chambers said most commercial stations focus on contemporary music to reach the younger demographic sought by advertisers. He's a fan of the powerhouse Christian stations but thinks they mainly serve people already solid in the faith and active in a church.
Why not, he thought, combine brief messages of Christian hope with the hits of yesteryear for Boomers and near Boomers who grew up on radio and had fallen away from the church or never gone?
"We go after an audience that's kind of forgotten," Chambers said.
The station's format can make for curious juxtapositions. One morning recently, KPPC followed the praise chorus "Alleluia" with the Animals' "It's My Life."
But every weekday afternoon at 5, listeners can count on a stream of 1950s hits, and at 6 p.m., the sounds of the 1960s take over. The 7 p.m. hour brings 1970s music. A church member hosts a Saturday night show on country music legends.
One of the station's phoned-in testimonials came from a woman who offered thanks both for the inspirational messages and a station eclectic enough to play Fats Domino, Freddy Fender, Donna Summer and the Doobie Brothers.
"You have to keep going into that dusty archive," she implored.
Nobody knows even approximately how many people listen to KPPC. The station (which is organized separately from the church and accepts donations and sponsorships to cover its roughly $800-a-month expenses, including music licensing) does not pay for a ratings service.
But Chambers notes that about 300,000 people live in the station's range, and many others can briefly tune in while driving on a nearby stretch of I-10. KPPC is broadcast through its website too, which gets about 5,000 hits a month.
Along with seven new Alamo members and a big jump in visitors that Chambers attributes to the station, there are calls each week from people requesting songs or just expressing appreciation.
So far there's been only one memorable negative comment, from a guy upset that a church station would play "The Devil Went Down to Georgia," Charlie Daniels' musical yarn about a fiddle contest.
Chambers said: "We told him to go back and listen to the song. The devil doesn't win."
Last Updated on September 20, 2022