Tim Kobler and James Magee talk about a new year of campus ministry at the University of Michigan and Michigan State University. Two of eight Wesley ministries across the state.

JOHN E. HARNISH
Michigan Conference Communications
It all began on a college campus. When John and Charles Wesley and their friends were students at Christ Church College of Oxford University, they began meeting together for prayer and Bible study, maintaining mutual accountability for their Christian lives and service in the community. Because they were so "methodical" in their pattern of discipleship other students began mocking them, calling them derisive names like "The Holy Club", "Bible moths" and "Methodists". Ultimately the name stuck! 
So it is fair to say that Methodism had its birth as a college campus ministry. 
Today that tradition lives on in the work of Wesley Foundation, the United Methodist campus ministry which can be found on non-church-related college and university campuses across the United States. The first Wesley Foundation was formed on the campus of the University of Illinois in 1913 but campus ministry in Michigan existed long before that. In 1883 the "Wesleyan Guild" was established as the first Methodist campus ministry in North America on the campus of the University of Michigan. Later it became known as Wesley Foundation.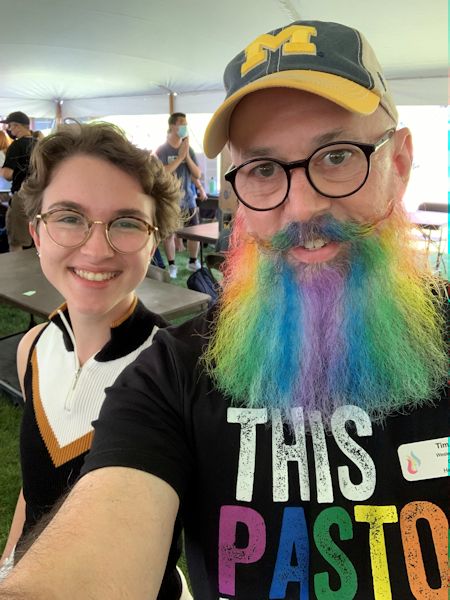 Currently, Wesley at UofM offers opportunities for students and young adults from the University of Michigan, Eastern Michigan University, Concordia University, and Washtenaw Community College. Their mission statement says "We are a community of persons committed to caring, sharing, serving, learning, and growing with each other regardless of ethnic origin, gender, sexual orientation, marital or economic status, disability, or other human differences. Our common bond is God's love shown through Jesus Christ. Our emphases include concern for the social implications of the gospel in the world and personal growth as Christians." 
The Rev. Tim Kobler came to Ann Arbor four years ago after serving ten years at Wesley on the campus of the University of Tennessee. Prior to that, he was the campus chaplain at Emery and Henry College. Of this fall semester, Kobler said, "It's good to be back. Last year all campus activities along with all classes were virtual." This semester they have been meeting in a tent on the front lawn and will be moving inside now that the weather is changing. Because students missed so much last year like high school graduations and proms, the group is studying "The Power of Ritual" by Casper Ter Kuile, helping to anchor their lives in significant rites of passage. They are also exploring racism in the American church using the book "Color of Compromise" by Jemar Tisby.
Wesley has always had a commitment to exposing students to mission service opportunities and they had planned to go to Puerto Rico last year, but again, COVID changed all that. Currently, they are looking at service opportunities in the city of Detroit including Detroit Hives, a program of urban gardening and beekeeping, and Cass Community Social Services.
Given that Wesley and Ann Arbor First United Methodist Church are literally "joined at the heating system" and share much of the same facility, Wesley has developed a close working relationship with First Church in seeking to be a university-related congregation.
At Michigan State University, Wesley Foundation sits just across the street from the main university campus. Wesley at MSU seeks to be "a community for college-age people whether or not they are enrolled in a college program. The goal is to provide a space where young adults can come together to talk about their faith or anything else they want to talk about."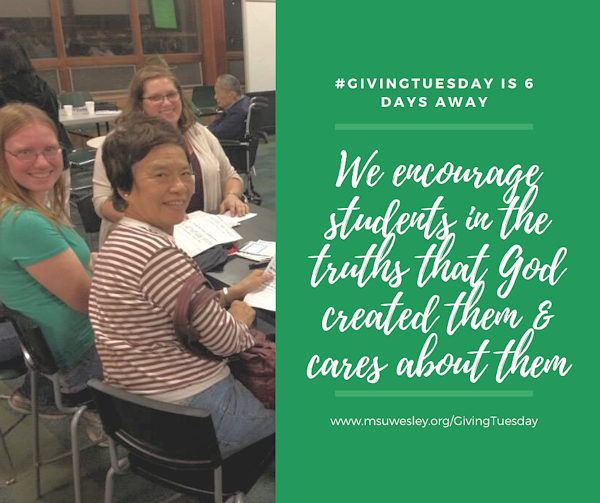 The Rev. James Magee came to campus ministry last year after serving ten years in pastoral ministry. He says the COVID year gave them an opportunity to step back and ask what they really wanted Wesley to be. Wesley has moved to a student-focused ministry centered around open discussions on issues students are concerned about. Last semester the focus was on questions of doubt and belief, looking for foundations for faith. This semester the overarching theme is "Progress", moving from the history of the Bible and Christianity to progress on social issues including the church's response to abortion and LGBT concerns.
Magee is clear that Wesley is not a local church. It does not take the place of participation in a local congregation but augments the life of the local church with a specific ministry to students. Hopefully, this helps students maintain an ongoing relationship with the church after they leave campus. Specifically, Wesley at MSU is connected both physically and programmatically with East Lansing University United Methodist Church. They receive support from the Mid-Michigan District and are seeking to build relationships with other congregations in the Lansing area.
As with many of our Michigan Conference mission and outreach programs, the financial support for the Wesley Foundations has decreased with the decline of congregations' support for the overall conference budget. Both Wesley at the University of Michigan and Wesley at MSU have reduced their budgets to the essential services and are seeking partner churches that will include them in their mission budgets.
In Michigan we have eight campus ministries functioning on the campuses of our state universities. Go to the Wesley Website for more information. We are also privileged to have two United Methodist-related colleges in the state—Adrian and Albion—which offer their own ministries for students. In the coming weeks, we will visit some of the other Wesley Foundations to tell their story and explore their ministry. They all share a common mission to meet the needs of students at this critical time in their lives. Rev. Kobler says, "Freshmen come trying to make the faith their own, then by the time they graduate they are ready to be leaders in the church and the world." 
And remember, for Methodists it all began on a college campus.
~ Ways to support our students …
Gifts to Wesley. Wesley campus ministries are EngageMI ministry partners. Click here and scroll for online giving options for the school of your choice.

Gifts to UM Student Sunday. This annual offering of The  United Methodist Church provides scholarships to college students, graduate students, and seminary students, including Michigan scholars. The official 2021 date is November 28. Click here for more information and resources.