Two new grants will provide much-needed help in the form of disaster case management in Gaylord, following the recent tornado, and direct aid to individuals still recovering from last year's flood in Detroit.
JAMES DEATON
Content Editor
June 14, 2022 | LANSING — Two new grants—one for case management in Gaylord following the May 20 tornado, and a second for restoration work in Detroit after last summer's catastrophic flooding, hope to strengthen ongoing disaster recovery efforts here in Michigan.
The Otsego Community Foundation has granted $50,000 to Michigan Disaster Response and Recovery (MiDRR), the newly created nonprofit birthed out of The Michigan Conference. These funds will employ two disaster case managers to provide Gaylord residents long-term recovery support for six months.
Separately, the United Methodist Committee on Relief (UMCOR) has approved an $800,000 grant to The Michigan Conference for direct assistance to individuals with unmet needs in Detroit. The conference will administer this funding in collaboration with MiDRR disaster case management. This is the largest single grant the conference has received from UMCOR to date, the second being the $600,000 grant for Arenac and Iosco Counties in response to the May 2020 floods.
Recovery Updates from Gaylord
The Michigan Conference reacted quickly once the EF3 tornado left an almost 17-mile path of destruction through the community of Gaylord, damaging and leveling homes and businesses. The storm took two lives and injured 44.
Rev. Jodie Flessner, DS of the Northern Waters District, confirmed the desire to provide immediate assistance to those suffering loss. "We had a Zoom meeting [with conference staff and others] on Saturday morning, the day after the tornado, and by the end of that meeting we had a clear path. We had the $10,000 [UMCOR] grant approved, and we had figured out how to make sure that the cash flow would not be a roadblock or speed bump." UMCOR gave The Michigan Conference a $10,000 emergency grant, which is being used to purchase immediate needs such as water and gift cards for food and gas for individuals and families. This was a good first step.
Last Wednesday, Governor Gretchen Whitmer asked President Joe Biden to declare Otsego County a major disaster, which would provide federal aid for the area. Whitmer had already declared a state of emergency, freeing state funding and resources for immediate assistance.
Soon after the tornado struck, Whitmer had asked the Michigan State Police's Emergency Management and Homeland Security Division (MSP/EMHSD) to assess and review the scope of the damage to determine if it met the threshold necessary to apply for federal aid. The results of that preliminary assessment, completed May 25, showed the losses the people experienced and the recovery still to come will reach that level, but no official declaration from the president has been made yet. FEMA is currently reviewing the petition.
"Tough times call for tough people, and I know that the Michiganders in Gaylord will get through this. Let's keep working together to support all of the ongoing efforts to recover and rebuild," encouraged the governor.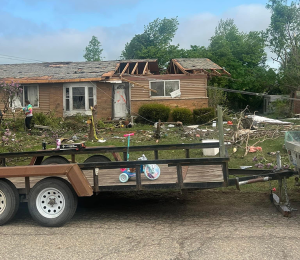 With no promise of federal assistance, the people of Gaylord moved to action and began raising money for immediate and long-term needs of those impacted by the tornado. The Otsego Community Foundation is spearheading fundraising efforts in partnership with the United Way and other nonprofit and charitable organizations, in hopes of raising $1.5 million. A variety of concerts and events throughout the state are doing their part, and to date, they have raised just over $1 million.
The Otsego Community Foundation has set aside $140,000 of the money from their fundraising campaign to support the efforts of their nonprofit partners. This includes the Otsego County United Way; The Refuge, which is handling temporary shelter; Otsego-Antrim Habitat for Humanity; and MiDRR.
MiDRR has been given a $50,000 grant to employ two disaster case managers for at least six months. Applications are due June 22, and once hired, they will be trained before beginning their assignments in July.
Disaster case managers serve as a primary point of contact, helping individuals and families navigate the complicated process of applying for assistance and managing all the practical and financial aspects of life after such a loss. These individuals seek to be a positive, calm presence as clients work toward reestablishing normalcy. And this doesn't happen overnight. In fact, based on estimates, it could be up to year for full recovery.
Just a week following the storm, on May 27, Dana Bensinger, executive director of the Otsego Community Foundation, met with partners from the United Way, the Midland Area Community Foundation, and MiDRR to learn about the value of creative partnerships.
Bensinger wasn't prepared for responding to a disaster on this scale, so when it first hit, she began researching online to see what others had done. She discovered how the people of Midland responded after the 2020 flood that destroyed dams and forced more than 10,000 people to evacuate. And then she learned what happened when the Midland Area Community Foundation partnered with The Michigan Conference to handle disaster case management.
Meeting with this group and hearing their neighbor's story gave Bensinger hope.
"After that meeting [on May 27], it was the first time I had a sense of peace and hope for long-term recovery. We learned from Midland and what they did following the flood. And we didn't even know MiDRR existed prior to that meeting."
But now as Gaylord moves into the rebuilding phase, three and a half weeks after the initial disaster, MiDRR has stepped in to fill a key role.
Nancy Money, executive director of MiDRR, believes this is their niche. "We work with local organizations, specifically in this case with Otsego United Way and the Otsego Community Foundation, and ask what long-term recovery looks like for their community. They have the financial, philanthropic support, and we have the knowledge from the disaster case management program, and then we ask how do we work together."
The two disaster case managers will be hired from the Gaylord community, but MiDRR will train them and provide ongoing support as they continue their work.
To donate to The Michigan Conference's ongoing disaster response to meet immediate needs in the Gaylord area, give online by clicking here. To donate by check, please mail to Michigan Conference at 1161 East Clark Road, Suite 212, DeWitt MI 48820. It is important to include this exact language in the memo: #4407 Michigan Area Disaster Response.
Relief for Detroit Flood Victims
Downstate, good news came in the form of an $800,000 grant from UMCOR for direct assistance to those still building back from last year's flood in Detroit that filled basements, damaging homes and destroying personal belongings.
The case managers currently working in the area, along with others to be soon hired, will have this money available to them as they assist clients in fulfilling a recovery plan that's customized to their needs. If financial assistance from FEMA or other local sources is no longer possible, case managers can utilize this grant money from UMCOR to help individuals and families continue to put their lives back together.
This UMCOR grant is separate from a recent FEMA-funded Disaster Case Management Program (DCMP) grant for $15 million to pay for staffing, including disaster case managers, construction analysts, and resource coordinators working in Detroit. The DCMP grant was given to the State of Michigan, but MiDRR is named as the provider.
"We have been very blessed by UMCOR in the last several years. They have been very supportive of Michigan and the disasters that have happened here, starting with some flooding in Midland back in 2017 and multiple things since then," Money said.
Last Updated on September 20, 2022