The Rev. Jack Harnish and friend enjoy a Sunday morning trip on the Platte River. An eight-year-old boy in a canoe with his grandparents shared words "that will stick with me," Jack says.

JACK HARNISH
Retired pastor, Michigan Conference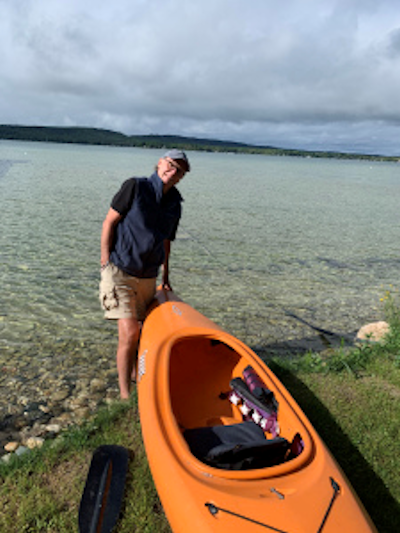 This morning Platte Lake is steely gray, suggesting the end of summer, but last Sunday morning, it was beautifully calm, an excellent day for kayaking down the Platte River. After 70 years of weekly church attendance and 40 years of leading worship on Sunday morning, it still felt a bit sacrilegious, but our worship service is virtual, and we can watch it anytime.
So we paddled across the crystal clear lake and down the quiet river with no one else around. Past the Riverside canoe livery, there was one canoe on the river with two adults and a little boy.
As we passed, my friend Ross greeted them, and the little boy immediately responded, "My mom died. She had the virus, but she didn't think it was real."
The adults filled in the details. They are the grandparents. Their 27-year-old daughter caught the virus but didn't believe it was serious. She died, leaving them with this eight-year-old grandson and a four-year-old granddaughter to raise. The four-year-old has also tested positive.
We shared a word of sympathy and wished them well as we paddled by.
The rest of the trip down the Platte River was incredible–five blue heron and a bunch of turtles along the bank with a few of the trees showing their first early shades of autumn color.
But the brief encounter with loving grandparents trying to make the best of their loss stuck with us, and the words of the boy in the canoe continued to ring in our hearts: "My mom died. She had the virus, but she didn't think it was real."
In this peacefully bucolic corner of the world I call home, we would all like to think it isn't real. We want to pretend the worst is passed so we can return to life as we knew it before. I don't know anyone personally who has died of COVID-19, and given that most of my Benzie County friends are cautious retirees who have maintained social distance and regularly wear their masks, this encounter was a wake-up call to the harsh realities of the times. People are still getting sick. People are still dying–about a thousand Americans a day. This is still very real.
My grandchildren are going back to school, and my teacher-son is in his classroom. Churches are trying to resume gathered worship, and as the summer ends, we are all a bit anxious about what it will be like during the long winter—none of this easy. But the easy things are wearing a mask and practicing social distancing. Those are about the only things we can do to protect ourselves, our families, our neighbors, and our communities from the spread of this deadly virus.
The words of the boy in the canoe on the Platte River will stick with me, and for his sake, I will pray for the day when this dreadful virus comes to an end. Until that day, I will do my part from my little corner of the world. It's the least I can do.
The last words of the grandparents as we left them: "Don't let anyone tell you it isn't real. It's very real.
May God have mercy on us all.
~ Reprinted with permission from Monday Memo, the weekly blog by the Rev. John E. Harnish.