COVID-19 is making life hard around the world. And spring storms don't take a COVID-break. At present, UMCOR calls for money not volunteers to keep all safe in disasters' wake.
KATHY L. GILBERT | LINDA BLOOM | SAM HODGES
UM News
Dangerous storms, tornadoes and the coronavirus could not overcome the spirit of Easter as United Methodists found ways to respond as "resurrection people."
Storms devastated several Southern states leaving more than 30 dead, according to news reports.
Catherine G. Earl, director for disaster response and U.S. partner relations, United Methodist Committee on Relief, pointed out that COVID-19 had created "a disaster on top of a disaster" and said a "health first" attitude was important.
"We want to be safe when we are relating to the survivors and also to one another," she added.
COVID-19 already had many pastors live streaming their sermons to empty church pews or from their homes.

As a tornado roared and sirens sounded, the Rev. Chad Brooks, Foundry United Methodist Church, Sterlington, Louisiana, went to his safe place and finished his Easter Sunday live streaming service in his bathtub.
In Chattanooga, Tennessee, Troy Hamilton, youth pastor at First-Centenary United Methodist Church, rescued a church family who couldn't get through to emergency services.
Hamilton drove as far as he could and then walked through the dark for a mile to answer a call for help from a church family trapped on their front porch all night.
"I used my cell phone GPS," Hamilton said. "When it said 'you have arrived,' I just called out their names because it was pitch black."
Scott and Susan Farley and their two daughters, Catherine and Caroline, had tried calling for help. They posted their desperation on Facebook.
"It looked like a war zone; a whole hillside of trees were just snapped in half," Hamilton said.
The four are now in safety at a family member's home.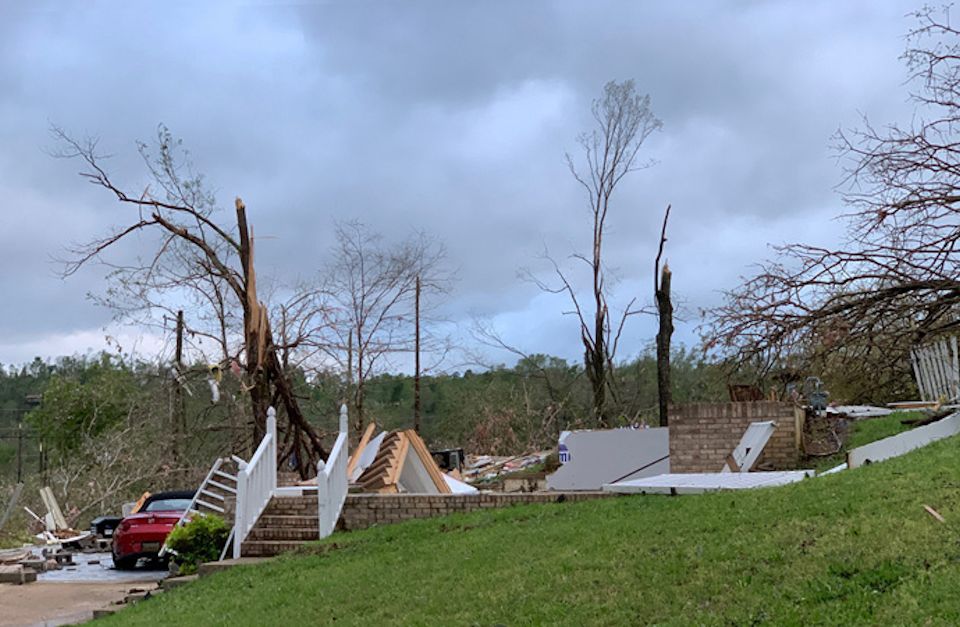 At least 11 people were killed in Mississippi where Jacob Lanier, a meteorologist, said two catastrophic tornadoes tracked over nearly the same area with winds up to 200 miles per hour.
Massive destruction and injuries in SoSo, Mississippi, included a retired clergy couple who were injured, said Mellie Thomas, disaster recovery director in the Mississippi Conference.
Philadelphia United Methodist Church has significant damage, Thomas said, and the home of the lay leader from Franklin United Methodist Church was badly damaged.
More than 18 counties in Mississippi were affected. The conference is assessing the damage and planning its response.
Mississippi may have been the hardest hit this time around. With UMCOR's support, the conference there is well prepared to respond. "They've got a lot of depth in their bench," Earl said. "They're able to rally a lot of resources and people."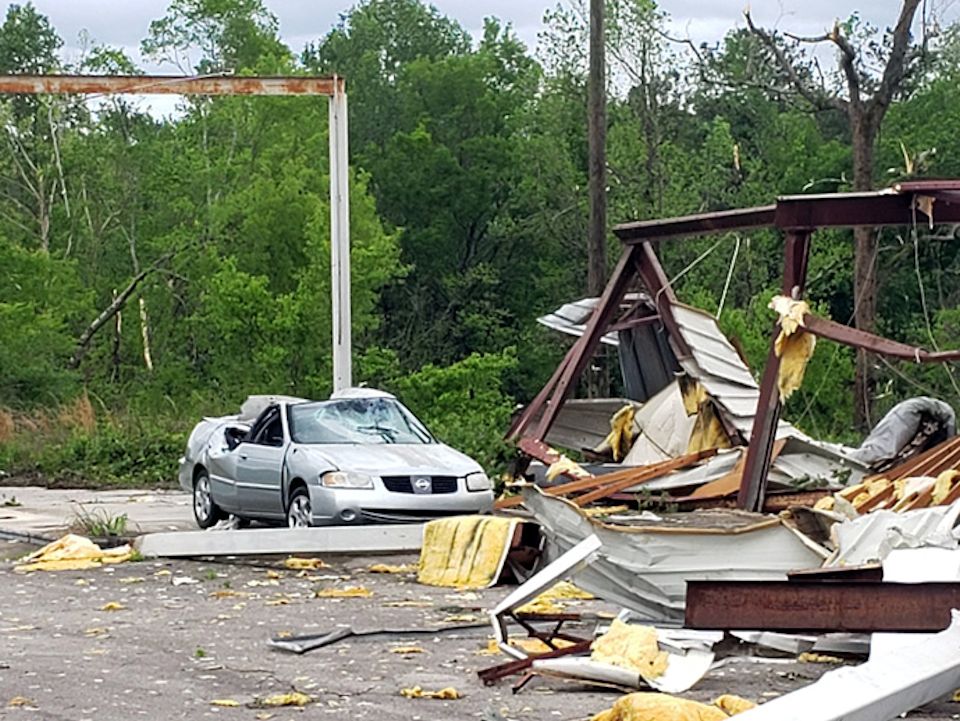 In North Georgia, tornadoes left at least seven people dead in Murray County.
United Methodists there were receiving reports of home damage, but no significant church-related damage. In the southern part of the state, the denomination's six district disaster coordinators were reporting only localized damage, said Luis Morales, South Georgia Conference disaster response coordinator.
The Rev. Scott Parrish, disaster response coordinator for the North Georgia Conference, pointed to two factors complicating the disaster assessment process. One was the broad-based nature of the event itself. "It's like hundreds of local disasters all at once," he explained. "It's just uncommon for us."
The more obvious factor is the coronavirus crisis. "COVID-19 is a game-changer with all this and adds another layer," Parrish said.
While those with Early Response Team training know how to implement safety protocols, it is not as easy for church members to adapt when natural disasters strike on a very local level. "The bigger challenge is everybody just wanting to help their neighbor," he said.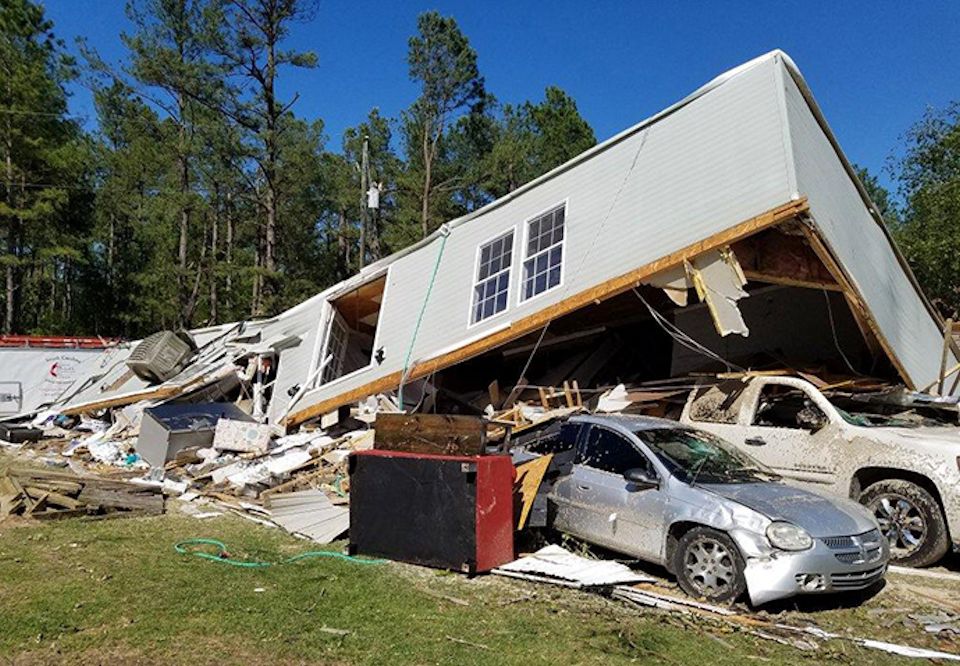 Early response teams from the South Carolina Conference are also still assessing damage.
The storms arrived well before dawn on Easter morning in the Central Texas Hill Country, with a tornado hitting an RV park in the Round Mountain area.
Kristine Robinson, pianist and organist for First United Methodist Church in nearby Burnet, Texas, was in her RV at the park. She'd received text warnings about dangerous storms and sat in her oak rocking chair "talking to God," she recalled.
The RV began to sway, an ominous prelude. The tornado upended Robinson's home, but she apparently blacked out as it did.
"The next thing I know I wake up and the rocking chair is over me, protecting me," she said.
Robinson's RV was on its side, and she could look up at the front door. She texted for help and emergency workers came and cut into the RV in order to find her.
"They checked me over and I was good to go," Robinson said. "Physically, I'm OK. I'm still in shock."
She said she'd been swamped with offers of help from church members and other friends, including accommodations for the near term.
United Methodist churches in the area apparently escaped any significant damage, Rio Texas Conference officials said.
The Rev. Grady Roe and his wife went out to check on the Round Mountain area's Walnut United Methodist, where he is pastor. When they arrived, four church members were there doing the same.
Walnut United Methodist has been meeting online, due to the coronavirus threat, but those checking on the church stuck around and visited happily for 30 minutes or so, maintaining social distancing requirements.
"I joked with them, I said, 'I've got a congregation. I think I may have a sermon in the car,'" Roe said.
The Rev. Billy Weems, pastor of Aldersgate United Methodist Church in Dora, Alabama, recalled the sky going "pitch black" in the late afternoon as storms arrived. He headed with his wife to the basement.
"It's a good place to go for storms," he said.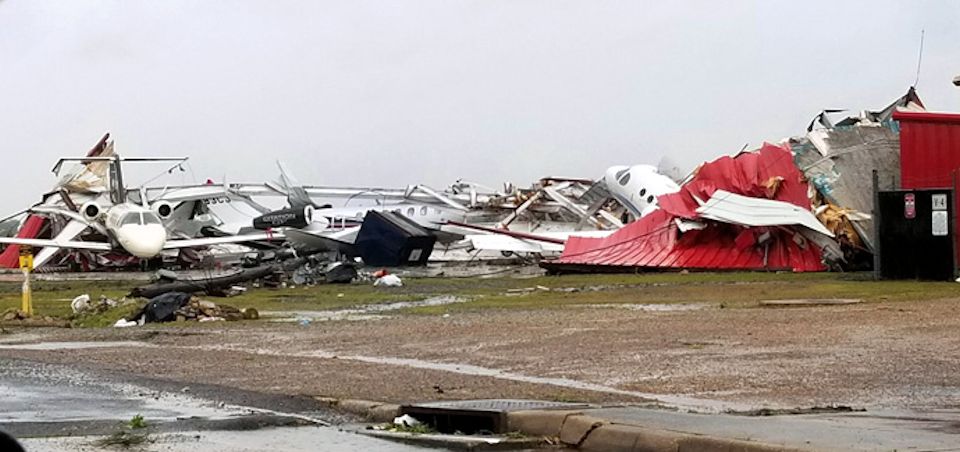 The Weems came through OK, but he shared photos he took of storm damage in the Dora and Sumiton areas, including to a Baptist church. 
One United Methodist church in the North Alabama Conference had flood damage, said the Rev. Randy Burbank, disaster response and recovery coordinator. He hadn't received a report on all parsonages, but noted that ongoing power outages were a challenge for many people.
Burbank said the area around Carbon Hill, Alabama, would be needing recovery help. He said COVID-19-related social distancing will postpone sending teams there.
"Neighbors are helping neighbors," he said. "That's the good thing about rural communities. They take care of themselves. Sometimes they're too good. Won't let us help."
UMCOR approved $10,000 solidarity grants for the Mississippi and South Carolina conferences April 13, Earl said. A third solidarity grant request, from the North Georgia Conference, was awaiting approval.
Earl had been reaching out to disaster coordinators in the conferences affected by the tornadoes and expects they will share what they are doing in the days ahead. "It's times like these that that connection is so powerfully evident," she noted.
Bishop Cynthia Fierro Harvey, Louisiana, noted the power of the connection also.
"I am never surprised at how these folks just know what to do in these times," she said.
Hamilton put it another way.
"When bad things happen, everyone comes together — like the Kingdom of God. It's kind of a beautiful thing."
Last Updated on September 20, 2022