Glenn Wagner expresses his gratitude for "persons who live as beacons for God's love." Meet a man who lives out Christ's instructions in Matthew 5:16, Dr. Douglas Wingeier.
GLENN M. WAGNER
Michigan Conference Communications
The captain of a Great Lakes freighter introduced me to the importance of lighthouses when he said, "My job is 97% routine and 3% sheer terror." He noted there have been over 6,000 shipwrecks on the Great Lakes and gratefully spoke of the life-saving importance of the 129 lighthouses that dot the 3,288 miles of Michigan's coastline. Especially in times of trouble, lighthouses offer hopeful direction to safe harbor.[1] 
The world's need for lights that offer hopeful direction everywhere underscores a biblical truth from Jesus' Sermon on the Mount (Matthew 5:16) "Let your light so shine before others that they may see your good works and give glory to our God in heaven."
Choosing to live as a directional beacon for God's love and grace can make a profound difference. This tribute to a man from Michigan, a living lighthouse for Jesus, is offered to encourage personal living as beacons for God's love wherever we live.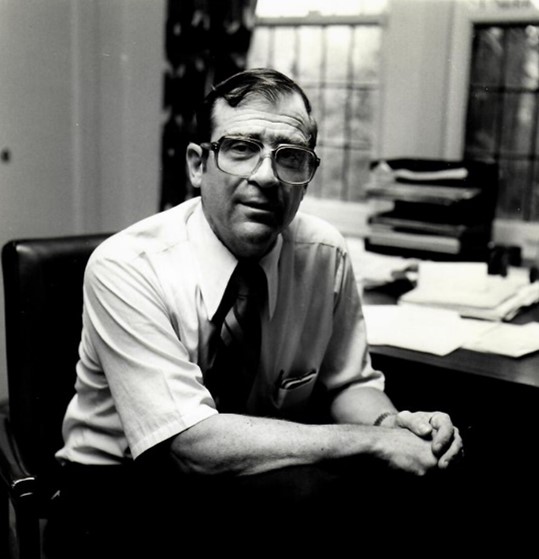 On August 17, 1930, Douglas Wingeier was born in Lowell, MI. His maternal grandparents were Methodist missionaries to Malaya, Singapore, and Java from 1898-1922. Doug's father, Dan Wingeier, was a local banker who served as Lay Leader at the Lowell Methodist Church. Doug's mother, Earlene Buchanan Wingeier, born in Singapore, taught English in the Lowell schools. Earlene's influence at home helped Doug become a self-motivated learner capable of making independent decisions. 
In high school, Doug chose to attend the youth group at the local church that had just hired an inspiring youth pastor. His influence inspired Doug in his junior year, along with a group of about 20 of his friends, to begin a group called the Noon Hour Fellowship. They met once a week for prayer and singing in an empty classroom at Lowell High School. Early in Doug's senior year, the school superintendent denied the group's request to meet on school property for prayer, citing the mandate to keep matters of religion and state separate. 
In an email, Doug remembered the incident. "The superintendent got worried about the church-state issue, informed the school board, which included my father, and they invited me to their next meeting to tell us that we could not do this anymore. It was like an ultimatum, so I just accepted it and did not protest, as it seemed that they had the law/constitution on their side. So we moved our meeting to the living room of a member who lived a couple of blocks away." [2]  Doug was valedictorian of his graduating class and a motivated believer in Jesus in high school.
Because of his faith, Doug chose to attend Taylor University, an evangelical Christian school in Upland, IN, instead of the University of Michigan favored by his father. Applying himself to his studies, Doug graduated from the four-year Bachelor of Arts program in three years.
After he graduated from Taylor, Doug volunteered for a summer in a national program called Methodist Summer Youth Caravan. Young adult volunteers from across the country came to an orientation at McMurray University, a Methodist school in Abilene, TX. They were then sent out in teams across the country to volunteer in various community service, church, and relief projects. During this initial orientation for the summer of mission, Doug first met Carol Wise. 
From Calhoun, GA, Carol was a graduate of Georgia State College for Women in Milledgeville, GA, with a degree in business. The summer of service ended with a reunion of the participants at Southern Methodist University in Dallas, where Doug and Carol re-connected and decided to continue to stay in touch. They were married at Carol's home church, Calhoun Methodist Church in Calhoun, GA, on June 14, 1952, exactly one year from the day of their first meeting,
Because of the school's emphasis on the importance of Christian mission, Doug attended Boston University, the oldest Methodist college and seminary in the United States, to pursue his Master of Sacred Theology degree and later for his PhD. Both Doug and Carol had a passion for living out their love of Christ in mission. In preparation, Doug and Carol both studied and became fluent in written and spoken Mandarin Chinese as part of Doug's doctoral studies and their shared preparation for missions.
Doug has served as a pastor, minister of education, and campus minister in Massachusetts, Oklahoma, and Wisconsin during his career. 
From 1962-1970 Wingeier also served as a United Methodist missionary teaching in English and Chinese at Trinity Theological College in Singapore. Dr. Daniel Ling, a retired member of the Upper New York Annual Conference of the United Methodist Church, first met Doug Wingeier at Trinity Theological College in 1965 in Singapore. Daniel was enrolled in the English Department as a new "Malaysian-Chinese" student, and Doug was a new faculty member.  
Ling remembers Doug's determination to enter into the life of the college as well as the local community. Doug's ability to converse with the Chinese Department students helped Ling see him as the "Word becoming flesh and dwelling among us." He valued Doug's humility, kindness, and willingness to enter into life with his students by joining in friendly ping-pong, badminton, and basketball games. Doug served as the warden of the student dormitory at Trinity Theological College and was a regular attendee of the Monday night fellowship hour and the nightly vespers.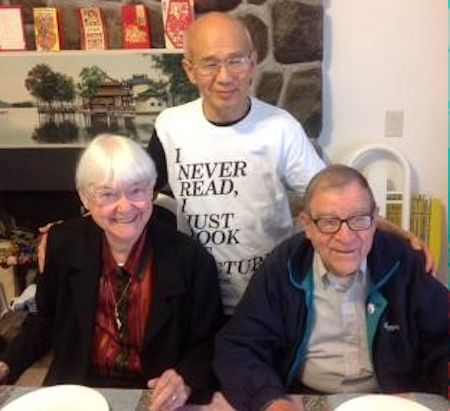 Ling cherishes the memory of getting to know the entire Wingeier family, including their youngest child Philip, who was born in Singapore. Ling still has the life-shaping paper he wrote for a psychology class that Doug taught at Trinity, entitled "Who Am I?" Doug invited students to write about their childhood memories and experiences during their youthful years and then reflect on where God was leading them into the future. Daniel Ling never forgot the experience of reflecting in writing about God's leading in his life for the first time. Ling still marvels at how God has continued to shape his life, and he is deeply grateful to Doug for helping him find his identity and purpose in life according to God's plan and guidance.
In a written report home to a supporting congregation in the United States about his mission work in Singapore, Doug described his work with Methodist Youth Fellowships:
Non-Christian young people come in quite large numbers, first at the invitation of their Christian friends or school teachers. They are very shy at first, and often their Buddhist parents are strongly opposed to their having anything to do with the Christian church. But gradually, they come to feel more at home in the group, learn more about the Christian life, and then one day they profess faith in Christ and become baptized. It has been my privilege to teach several groups of such young people in membership classes, preparing them for baptism and church membership. Again, it is a real thrill to stand in the church chancel and baptize or receive into membership such young people, with whom one has worked for several years, and seen them "grow up in Christ." Occasionally, it is my privilege to officiate at the wedding of some of these young people.
In 1970, Wingeier joined the faculty of Evangelical Theological Seminary in Naperville, IL. When ETS merged with Garrett Theological Seminary in 1974, Doug joined the G-ETS faculty in Evanston, IL as an esteemed member until his retirement in 1997. He taught Christian Education and Practical Theology. He also designed and directed the Doctor of Ministry, Continuing Education, Field Education, and Summer School programs. During his tenure on the faculty, the seminary had 2,329 graduates and 149 Doctor of Ministry graduates. 
A colleague from Garrett-Evangelical is Dr. Lallene Rector, past president of the seminary and still a member of the faculty as an associate professor of Psychology of Religion and Pastoral Psychotherapy. Rector also worked with Doug as a faculty member for the Doctor of Ministry Program. She knows Doug as thoughtful, kind, always gracious, a good listener, and a man who never loses his temper. She values his clear commitment to living out his Christian values in practical ways and remembers walking into his office for the first time with a designer cup of coffee in a disposable, non-recyclable cup and then noticing the stickers in his office supporting fair trade coffee and the environment. She also glimpsed the jar full of short pencil stubs on his desk and remembered that when asked about the pencils, Doug spoke of the importance of saving trees by using the entire pencil. In that initial visit, Rector became more conscious of how even the coffee we drink and the pencils we use can be part of our Christian witness. She admires the broad range of causes Doug actively supports as an expression of his faith in Christ. Rector also appreciates how Doug brings his learning from service in other cultures into his teaching, such as the time he brought a tribal talking stick to his classroom and introduced its use. A person was only allowed to speak when holding the stick, which had to be shared with others to benefit community conversation and learning. 
Daniel Smith, a research, instruction, and digital services librarian at the Styberg Library at Garrett-Evangelical Theological Seminary, recalled Doug's retirement ceremony at G-ETS. Doug shared about his 27 years of teaching there, saying, "My greatest satisfaction in teaching at Garrett-Evangelical has come through working individually and on-site with Doctor of Ministry and field education students. It has been exciting to see them grow in confidence and competence as they have risked themselves through engaging in significant ministry, and their congregations have responded by participating with them in creative ventures of Christian faith and discipleship."
Another who values Doug's mentoring at G-ETS both in the Master of Divinity and later in the Doctor of Ministry Program is Dr. Lynn Pries.  Pries served as a United Methodist pastor in Northern Illinois from 1971-1994 and as the campus chaplain at North Central College for 20 years until his retirement in 2014. Pries is thankful that Doug's classes were not as an academic giving a lecture to students who are expected to memorize the material but were more relational, participatory, and experiential in approach with practical relevance for Christian education and ministry.
Students in Doug's classes were encouraged to ask questions and team with others to find answers. Pries was attracted to Doug as a teacher because he had come to respect him as a fellow member of the Sis-Bros. Pries explained that Sis-Bros is a Christian accountability group of friends that originally included students and faculty from North Central College and Evangelical Theological Seminary in Naperville. He said the group formed to support each other in living intentionally as followers of Jesus Christ. It included making covenants with each other to live morally, as good stewards, with a commitment to care for the environment, be witnesses for social justice, and live as faithful disciples of Jesus. That group, which began meeting often when most were students or seminary faculty residing in Naperville, changed to meet once or twice a year for several days at a time for retreats in a church camp setting for book study, worship, fellowship, and encouragement. Until health and distance more recently forced Doug and Carol to discontinue their participation, the Wingeier family valued being a part of this covenant community.
For nine years, from 2002-2011, Doug was a faculty member of the Course of Study School at Wesley Theological Seminary in Washington, D.C.[3] 
Doug has also taught in Samoa, Korea, Hong Kong, Malaysia, Palestine, and Columbia theological schools. Doug's youngest son, Dr. Philip Wingeier-Rayo, Dean at Wesley Seminary in Washington D.C., remembers that for most of Doug's earned sabbaticals, the Wingeier family would take the time to travel somewhere else in the world to live and serve Christ. Doug has traveled to more than 100 countries, often for learning, service, and teaching. The Wingeier children's lives are a testament to their parents' influence. Their oldest daughter Ruth is now retired as a midwife who devoted herself to assisting in the delivery of thousands of babies. Steven is a poet, author, and committed environmental activist. Emily is a massage therapist and natural healer.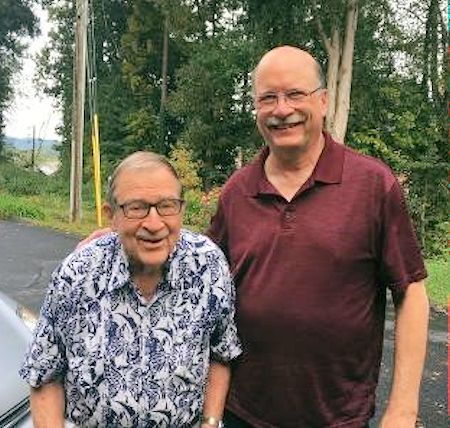 I first met Doug Wingeier in 1983 in the Doctor of Ministry program at Garrett-Evangelical Theological Seminary, where Doug served as my faculty advisor and an inspiration for ministry.
When our paths crossed again after Doug retired from G-ETS, I asked him, "Now that you are retired, are you enjoying your free time?  Have you taken up golf for a hobby?" Doug responded, "No, I just returned from Hebron in the West Bank."
I was stunned. Hebron is a city of 215,000 Palestinians 18 miles south of Jerusalem. Judaism, Christianity, and Islam revere Hebron as the home of the tomb of the Patriarchs and Matriarchs.[4]  In 1994 a Jewish physician's massacre of Moslems at prayer at the tomb had a profound impact on the region and heightened tensions. Many tour groups of pilgrims to the Holy Land have since avoided travel to Hebron out of safety concerns. I asked Doug, "What were you doing in Hebron?" I honestly never thought of Hebron as a retirement destination.
Doug replied, "I was volunteering with the Christian Peacemakers." Doug was familiar with the area from his previous travels and from his time as a teacher at Bethlehem Bible College.
He continued when I asked him to explain, "We volunteered to be a presence for peace in the city. We walked Palestinian children to school past the Jewish settlement to guarantee their safety. We walked Jewish children to school to guarantee their safety. If we heard that the Jewish military planned to bulldoze a Palestinian home in retribution for Palestinian violence, we would chain ourselves to the home to discourage indiscriminate vengeance and to serve as a witness for the love and peace of Jesus in this place of conflict."
Doug has served as a reserve member of Christian Peacemaker Teams in Mexico and Colombia, where he also gave witness as an agent of God's love and peace on the front lines of conflict. 
Doug has been known to publicly protest as an advocate for his social justice convictions, willing, as the late congressman John Lewis encouraged, to get into "good trouble" for a cause.[12]   
Doug has authored many books and articles on topics of practical Christian interest. His son Philip especially values Working Out Your Own Beliefs, A Guide for Doing Your Own Theology, and Marks of Mission.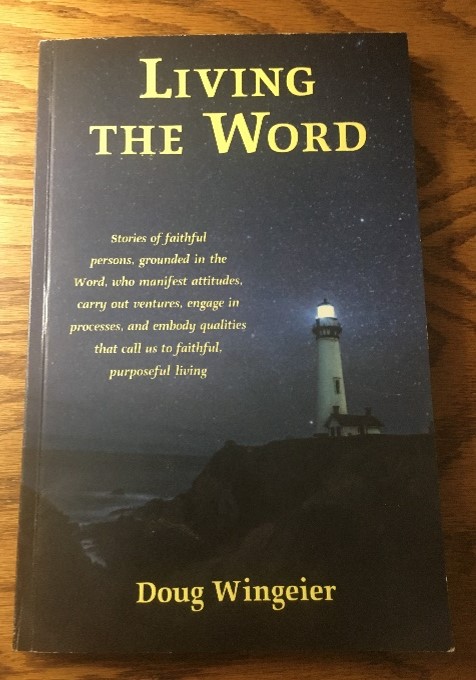 Doug's newest book, self-published this year, Living the Word: Beacons that Summon Us, offers short inspirational vignettes of people Doug has met or learned about in history whose examples serve as beacons for the love of Jesus Christ.[5]        
Doug's commitment as an educator is also evident in the Doug and Carol Wingeier Field Education Fund that supports MDiv students at G-ETS who are serving with churches and agencies, providing good supervision and learning opportunities but lacking financial resources.               
Another of Doug's enduring lessons has been how to face conflict. For example, the seminary was abuzz over a simmering conflict between a tenured male professor with strong convictions and a group of equally passionate female students who were upset at the professor's exclusive use of masculine pronouns for God in his class.
During a G-ETS chapel service with a smile on his face and genuine cheer in his voice, Doug rose as the worship leader and said, "Let us begin our worship today by all joining in singing a hymn that is a favorite of many, Rise Up, O Men of God." There was an audible gasp from many of the women in the chapel. However, most men sang the masculine lyrics written in 1911 by William Merrill with gusto.
Rise up, O men of God!
Have done with lesser things;
Give heart and soul and mind and strength
To serve the King of kings.
When the time came for the sermon, Doug began his message, saying he had been hearing on campus about the important issue of our use of language. He shared his belief that the Holy Spirit had much to say on the subject, but that day the word of God would not be proclaimed by him from the pulpit. God's word would instead be shared by the Holy Spirit moving among us in the congregation, and he urged worshippers to listen attentively for God's spirit. Doug encouraged all who felt inspired to share their thoughts on inclusive language and the names of God in the Bible over the microphone that he passed around the chapel. Doug served as a capable listener and moderator for the expressions. Female students who men had abused spoke up, and students of both genders shared experiences of being raised in homes without fathers and for whom male imagery for God was problematic. Those raised with loving and encouraging fathers and others who were comfortable with male imagery for God shared how they were personally resistant to change. That day the seminary experienced a greater sense of community and a growing sensitivity to the needs of each other. Doug's servant leadership modeled the ministry of effective listening as a gift for healing in a conflict.
After retirement from Garrett-Evangelical Theological Seminary, Doug and Carol Wingeier moved from Evanston, and Carol took the lead in introducing Doug to her native Appalachian culture. The Wingeiers settled in the Lake Junaluska area of North Carolina in part because of its proximity to the headquarters for the World Methodist Council. With advancing age and health concerns, the Wingeiers relocated to the United Methodist Brooks-Howell Home in nearby Asheville, NC.  Carol died on July 4, 2019.
At the age of 91, Doug, a retired clergy member of the Michigan United Methodist Conference, remains active at Central United Methodist Church in Asheville. He continues to faithfully serve on the Missions Council and co-chair of the Church and Society and Creation Care committees. Doug also remains involved locally in the Racial Justice Coalition, the Creation Care Alliance, Just Peace for Israel and Palestine, and Churches for a United Community. In addition, he is an active participant in a book study group currently studying process theology.
Thank you, Doug Wingeier, for your lifetime of faithfulness. As a teacher, mentor, peacemaker, advocate for justice, for the health of the planet, as a witness for the love and grace of Jesus, as a relationship builder between cultures around the world, your life continues to shine for Christ.
Composer Pepper Choplin expresses God's hope we become God's beacons in his choral anthem, Like a Lighthouse.
"Many people walk in darkness as they search to find their way.  Fill us with your light eternal till we shine your saving ray. O make us like a lighthouse, like a beacon on the sea. As a people, let us be a shining light." [6]
Prayer: God, we are grateful for persons who live as beacons for your love. Help us also be faithful reflections so that persons in need of help may find your guidance for their journey shining through each of us. Amen.
Notes:
Michigan has more lighthouses and more freshwater coastline than any other state.
Quote from an email sent from Doug Wingeier to his son Philip Wingeier-Rayo on 9/27/2020 and cited with permission.
The course of Study is a five-year program offered to men and women who desire to become part-time or full-time licensed local pastors in the United Methodist Church.
Abraham and Sarah and their offspring are remembered in Genesis in the Bible as the first believers in one God.  This family is cherished by all three of the world's major monotheistic faiths.
Living the Word: Beacons That Summon Us by Doug Wingeier can be ordered for $15 each plus $5 shipping by contacting Doug's son, Stephen Wingeier, at

[email protected]

   
Choplin, Pepper, Like a Lighthouse, Lorenz Corporation, 501 E. Third St., Dayton, Ohio 45402.  Lyrics printed here with permission granted by Pepper Choplin. This is the link to Choplin's new book, which includes stories behind this and others of Choplin's songs.  A recording of Like a Lighthouse being sung by a choir in its entirety can also be heard at this link.
Last Updated on September 20, 2022