Deacon Sue Pethoud serves as the Church and Community Relations Liaison for Cass Community Social Services in Detroit. Her biggest joy is coordinating thousands of volunteers who come to the city to serve.

ONEIKA MOBLEY
Michigan Conference Communications
Being a deacon in the United Methodist Church is no small job, as evidenced by all the time and effort the Rev. Sue Pethoud puts into her ministry at Cass Community Social Services in Detroit. As the organization's Church and Community Relations Liaison, Pethoud certainly has her hands full.
Cass Community Social Services is a not-for-profit organization established by Cass Community United Methodist Church in Detroit. The agency provides food, health care, housing, and jobs programs for those in need across the city. 
Pethoud's responsibilities change every day, as she juggles an array of tasks from donation pick-up, drop-off and distribution, planning and executing events, supervising Cass' Green Industries, and coordinating a pandemic food box program. But the biggest and arguably most fulfilling part of her job is coordinating volunteer activities.
She is the bridge between staff and volunteers.
Builder of bridges
In a typical year, she supervises approximately 7,500 helpers in service; however, volunteer participation has declined since last year when COVID-19 shut down almost every facet of our lives. Nevertheless, Pethoud keeps forging ahead, leading her current bank of volunteers who do everything from assisting in Cass Community's kitchen, sorting donations, helping with building and grounds maintenance, and completing building repairs.
The people who make up Cass Community's volunteer base come from diverse backgrounds and experiences, so Pethoud's interactions with some of these individuals can lead to some interesting conversations about giving back.
"Deacons are called to connect the church and the world and to lead others in service. Many, but not all, of our volunteers are from faith-based organizations. Part of my job with them is to talk about ministry with rather than ministry for," said Pethoud. "Too many times, people think writing a check is all that is needed, but it is when relationships are formed that we can truly understand and learn from those in different situations than our own."  
She added that her approach is different when engaging with corporate groups, Scout troops, or school groups. "They need to see and learn the same thing but without a faith focus. I encourage service as doing something good for the whole rather than concentrating on their own needs and as a way to give back to their community."  
Every so often, a volunteer will ask Pethoud why she does this work. Many people are surprised by her response. When she shares her story about being called to ministry, the conversations that follow often turn to having a strong belief in God and living out that faith in life.
Engaging others in mission
Before joining Cass Community Social Services as an employee in 2013, Pethoud volunteered at the agency. She spent the next five years serving in different capacities. Today, she coordinates all aspects of the volunteer program. "I keep the volunteer calendar, let various areas of the agency know when volunteers are coming and what their task might be, gather materials, schedule staff and interns to work with those volunteers to make sure the projects go well, meet the groups when they arrive, and debrief them when they leave."  
On any given day, individuals, small groups, and large groups of 100 or more – ages ten years old and up – are all part of the Cass Community volunteer contingent. These folks come from across the country to join the agency's efforts. 
When church mission teams arrive in the summer, Pethoud sets their daily schedule, makes sure they have food and housing, provides a faith-based evening program at various locations throughout the city, and provides a worship experience at the end of the week. She can often be found at Home Depot with contractors at 6 a.m. on summer mornings, ensuring all teams have the materials they need for the day.
With the lull in volunteers and a profound need for food in the community during the pandemic, Pethoud has shifted gears to become the coordinator of a food box distribution program that Cass Community Social Services started to help those in need. When people call the agency to request food assistance, Rev. Pethoud collects their information, schedules appointments, assembles the food boxes first thing the following day, and ensures deliveries by the afternoon. During peak times, Cass Community Social Services provides over 100 packages–every week. Pethoud manages all purchases and donations. The agency purchases some of the food from local suppliers, and many churches and other organizations hold canned food drives to support Cass Community's food program.
Sue Pethoud became commissioned as a deacon in 2014 and ordained in 2017. In addition to her work with the agency, she has a missional appointment at Cass Community United Methodist Church, where she preaches in the absence of the pastor and sings in the choir. Her duties there also include:
Attending Finance committee meetings
Compiling monthly packets for delivery to congregation members during COVID
Leading a Bible study for young adults
Accompanying them on out-of-state mission trips
She is also the Chair of the Order of Deacons for the Michigan Annual Conference.
Rewarding Part of This Work
Pethoud has two great joys in her job. The first is living in the neighborhood where she works and getting to know the residents that are her neighbors. 
"Because my home is two hours away from Detroit, I keep an apartment on the Cass Campus," she says. "As I walk from building to building or work with volunteers in the various buildings, residents greet me by name. They know who I am, what I do, and are genuinely happy to see me – and I them." 
Her second joy is working with the young people who volunteer. "If I can help them understand that people are people with more in common than the differences we see on the outside, then I have made an impact, potentially for life, and that is a good thing."
When asked about the most fulfilling part of her job and work, Rev. Pethoud said she is most proud of her success, doubling the volunteer base from 3,000 per year in 2010 to pre-COVID numbers of 7,500. Looking ahead, she hopes to boost volunteer numbers back up to where they were before March of 2020. She is also pleased with expanding the summer mission team program to include pre-service training and devotions and an evening faith-based program focused on the history and sights of Detroit. 
She plans to offer district-wide mission opportunities for each of the Michigan Conference districts once the pandemic clears.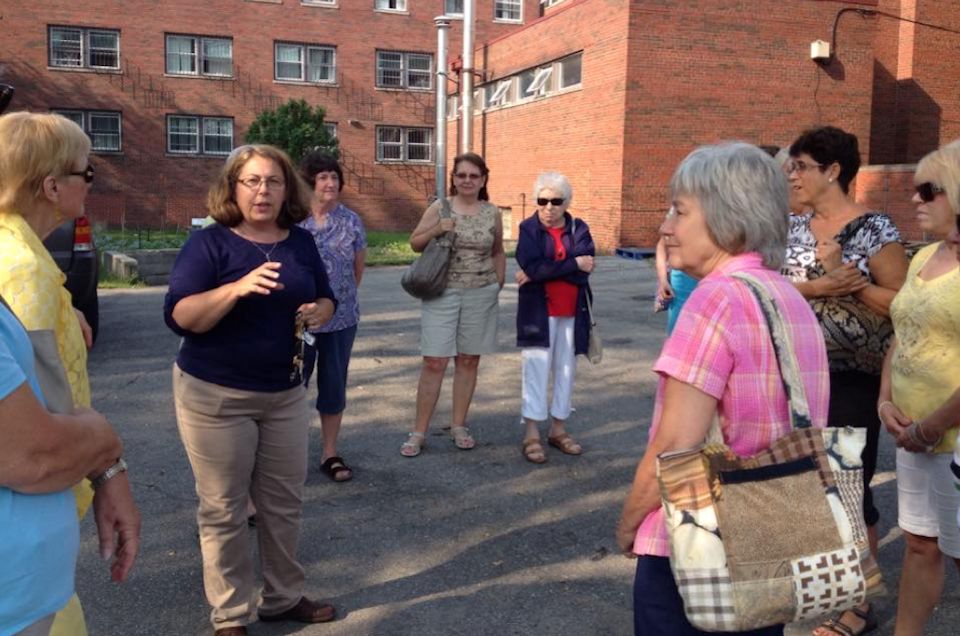 What's Ahead for Cass Community Social Services
If you live in the metro Detroit area or plan to visit this summer, check out the events Cass Community Social Services has planned:
June 4 – Cass Annual Dinner at Fox Hills
June 26 – Bike Ride and Green Campus Tour 
July 17 – Jazz Concert in Taylor Park
August 23 – Golf Outing at Plum Hollow Country Club
For volunteer and mission opportunities, contact Rev. Sue Pethoud at [email protected] or (313) 883-2277 ext. 203. They are an EngageMI Ministry Partner.
Groups can help for a few hours, a day, a few days, or a week. Cass Community Social Services welcomes youth, adults, churches, corporate, school, and Scout groups.
Last Updated on October 20, 2023