A great-grandmother reports how the Linden United Methodist church blessed and was blessed by a faith-filled young disciple named Aubrey, who took the church school lesson seriously.

KAY DEMOSS
Senior Content Editor
Joan Tyree is a member of Linden United Methodist Church and serves as their pianist and choir director.
She also was a very joy-filled great-grandmother during worship at Linden on February 2. 
Joan reports, "We have a small but excellent Junior Church program.  My great-granddaughter, Aubrey, attends each Sunday."
Six-year-old Aubrey and her friends studied the Baptism of Jesus a few a Sundays ago. It was a lesson she took very much to heart.
"After church," Joan recalls, "Aubrey told me she wanted to be baptized. I told her to talk to her mom and Pastor Michelle." Aubrey did just that.
Joan continues, "Our pastor asked why she wanted to be baptized, and Aubrey said, "Because I love God, God loves me, and I want to be a good disciple."
Pastor Michelle Forsyth says, "Aubrey is spiritually mature for her age. Sunday mornings before worship, Aubrey and I have some deep theological conversations. When we talked about baptism, it was evident that God's grace is working magnificently in Aubrey's life. She is growing more in love with Christ every day. And her faith is a testimony of her growth."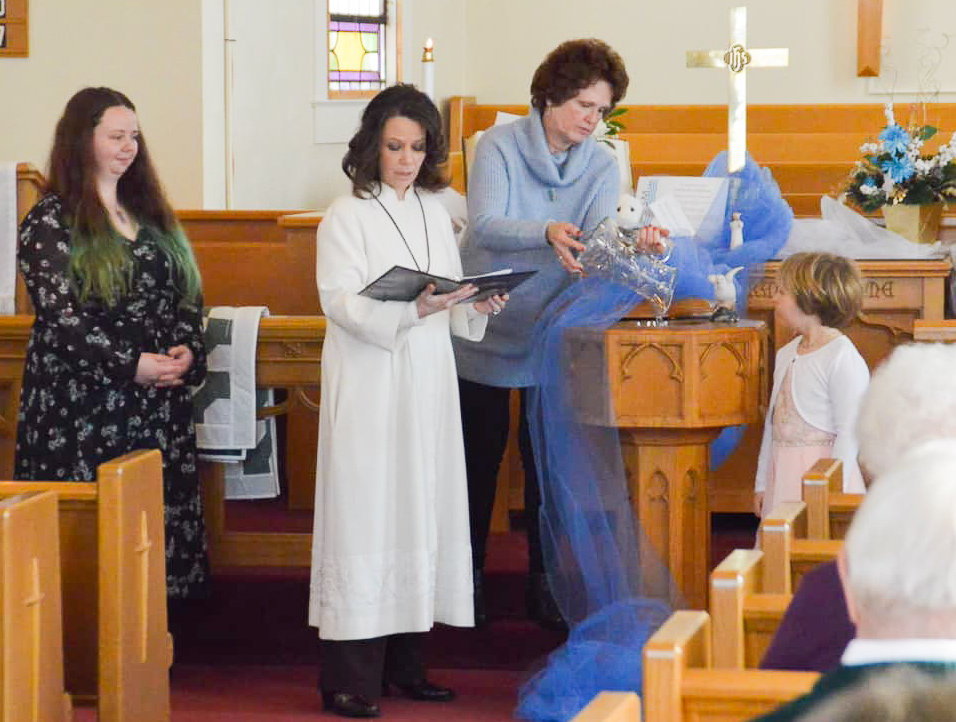 So, on February 2 the Rev. Michelle Forsyth baptized Aubrey in a sanctuary appropriately decorated for the occasion. There was a lamb on the communion table and a dove on the baptismal font as Aubrey stood with her family and responded to the vows. 
Just as she told her pastor, the girl told the congregation why she wanted to be baptized. "She also answered the questions herself," Joan said.
On the Saturday before the baptism, Aubrey was with her great-grandmother. "She told me she was so glad it was her decision to be baptized, and that it was God who wanted her to do it," Joan concluded.   
"It makes my heart leap for joy that Aubrey is responding to God's grace all on her own, " Pastor Michelle comments. 
She adds, "Honestly, I am amazed at how knowledgeable Aubrey is about God's love. She is fully aware that she is saved by God's grace. Not only does she know she is saved, but she is also sharing her faith with her family and her friends."
Forsyth is grateful for volunteers who partner with her in helping the congregation grow. "I want to stress that Aubrey learned about the meaning of baptism during Sunday school. Pastors need to thank the spiritual leaders who, in the words of Proverbs 22:6, who are training our children in the right way, so when they are old, they will not stray. Their spiritual leadership in teaching and preaching is just as important as the pastors."
See more photos of Linden's February 2 worship service here.