There are many ways to take your faith to those who need it most. Sometimes it happens inside the church and sometimes it does not, as these police chaplains can testify.

DIANE BROWN
Michigan Conference Communications
Making a difference in someone's life is what United Methodists strive to do. Police chaplains do so in ways that may never appear inside a church.
The Rev. Andrew Jackson should know. He's been a chaplain with the Michigan State Police (MSP) for 17 years.
"Being a chaplain is where you can serve beyond the four walls and make a difference in people's lives," Jackson said. "The officers will appreciate you in a way you'd never expect or receive anywhere else."
Chaplain duties vary by agency or department. Some agencies look to their chaplain to help build bridges between the officers and the community. Others, like MSP, identify chaplains to provide pastoral services to members of the department and their families, participate in department ceremonies, counsel officers, visit sick or injured members, and officiate at department funerals.
"If you want to be a servant called by God and be an example for people, this is a good place for you," Jackson said. "The (officers) have a need for someone to care for them. Even though they walk around in a uniform and with guns, they see some of the most unbelievable things that happen in our world. They appreciate you being there for them, sometimes when their lives fall apart."
A retired elder from the former West Michigan Conference, Jackson began his chaplain ministry when a fellow UMC pastor, the Rev. Bill Sanders, invited him to serve. Sanders, also a retired elder, recently was honored by the MSP as Chaplain of the Year for 2018.
"We are chaplains for the troopers and their families, not for the community," Jackson explained. "I do whatever I can do to assist the officers. I do ride-alongs and death notifications. But I'm there for the officers. That's the most important thing. I've never ridden with anyone who didn't have a faith-based question of me. I want to be a chaplain not a trooper. I'm not a wanna-be (cop). I don't have to be anything other than a chaplain. I'm just there to assist."
"I've never ridden with anyone who didn't have a faith-based question of me. I want to be a chaplain not a trooper. I'm not a wanna-be (cop)." ~ Rev. Andrew Jackson
The Rev. June Marshall-Smith, senior pastor at Novi UMC, has served as a chaplain for the Novi police and fire departments for 12 years.
"Humbling grace would best describe the work I do," she said. "A call from the dispatch means I will change into my uniform and head to a home or business and forgo what I was doing."
Chaplains receive additional training with the police agencies and often are provided with uniforms and personal protective equipment. Jackson and Marshall-Smith said their hours vary, but average two to four calls or visits a month.
"One day I was asked to meet our officers at Providence Park Hospital," Marshall-Smith recalled. "After asking, I was assured that it was not one of our officers. I was informed that it was a baby. This is highly unusual since the hospital has its own chaplain ministry. They explained that they needed me for the family and our officers.  
"God was present with me when I took the parents to their two-week-old baby. I prayed for God's grace in those moments as I held that beautiful still child of God in my arms and baptized her in the name of the Father, and the Son and the Holy Spirit. The water of baptism still on my hand as the blood from the tube in her head trickled to join the water of baptism. That moment we felt God's presence as mother, father, officer, nurse and chaplain formed the community of believers to dedicate her to God."
Some of the most difficult times for police chaplains are following deaths of officers. Jackson experienced that in his first year in the role.
"We had a trooper killed in line of duty," Jackson recalled. "I was instrumental in assisting with his funeral, but it was very difficult. It was my first time as chaplain. I learned a lot. But I carried with me my experiences, including 30-plus years in public education and as a pastor."
"We see some pretty horrible things. The chaplain corps helps us cope with that." ~ First Lieutenant Chris McIntire
Marshall-Smith agrees that officer deaths can be incredibly difficult occasions for a police chaplain, but also crucially important for the well-being of the agency.
"Tim, a well-loved officer who could have retired, was living a life of huge responsibility. He died by suicide after a full day's work on the job," Marshall-Smith said. "The entire department was devastated, and we quickly set up a schedule for our officers to spend time with the chaplains. After clearing a busy calendar, I spent two weeks, alternating shifts to talk with and pray with our officers. I did the hardest, gut-wrenching and fulfilling ministry with those officers in the weeks after (his) death. It was in those moments that I truly served those officers like I expected to serve.
"Over the years, I have gotten to know all the officers by riding in their cars, baptized their children, volunteered at police golf outings and even buried parents of a records clerk. I serve them without judgment as I listen to their stories of heartbreak, watching families neglect their children, and as I hear of heartbreak in their own lives," Marshall-Smith adds.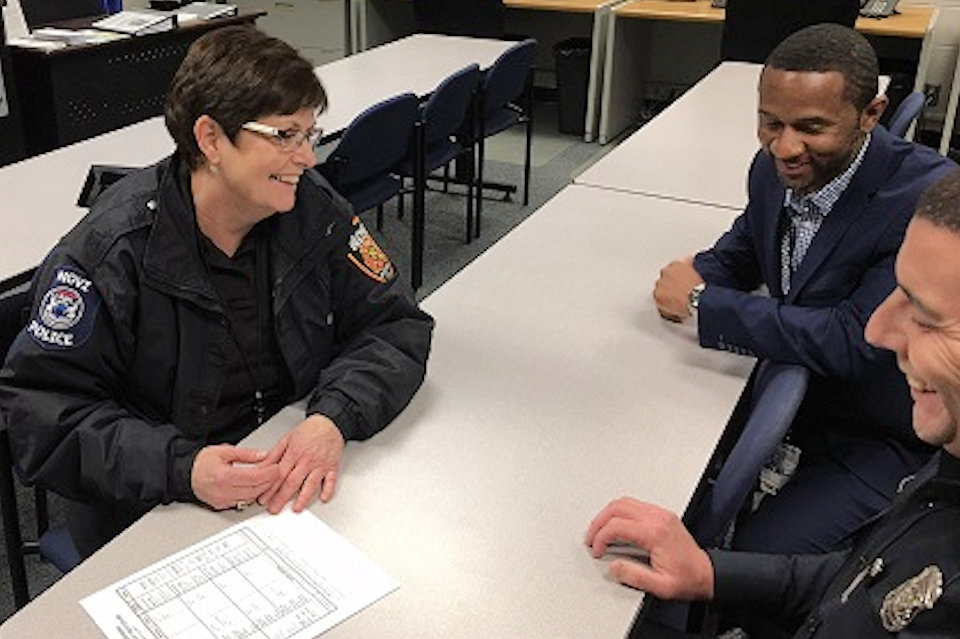 Chaplains assist when making notifications to families of people who just died or were critically injured which often makes a difference with the grieving families and the officers, one of Jackson's MSP post commanders explained.
"One of most difficult things in law enforcement is to deliver a death notification," said First Lieutenant Chris McIntire, commander at the MSP Rockford post. "Our chaplain corps come out no matter what time of day or night to give the horrible news. With their training, they help deliver that news in a compassionate way. No matter what religion."
But occasionally the presence of a police chaplain initially can be misunderstood. Marshall-Smith recalled making a "well-being" check with her officer for an elderly woman who hadn't responded to her son's daily phone call.
"As I held her in my arms and she cried tears of relief, I realized the magnitude of the work we do for the departments we serve." ~ Rev. June Marshall-Smith
"She stood in the doorway of her condo shaking like a leaf," Marshall-Smith said. "It was obvious to me that she was shaken to the core to have the police standing at her door. I asked her a second time if she was okay because things did not seem right the way she was quaking. She looked me square in the eye and said, 'Seeing you on my doorstep has been the biggest fear of my life!' I told her I did not understand, thinking the cop standing next to me invoked a lot more fear than a middle-aged, chubby woman.
"She explained that she was the ex-wife of a Detroit police officer and her greatest fear was to see a chaplain who always delivered the bad news of their loved one. As I held her in my arms and she cried tears of relief, I realized the magnitude of the work we do for the departments we serve."
Mental well-being is a challenge in law enforcement. McIntire and Jackson explained that a vital role of the chaplain corps is to listen to officers and provide counseling, when asked.
"We see some pretty horrible things," McIntire said. "The chaplain corps helps us cope with that. The law enforcement rate of suicide (and divorce) is incredibly high, often because we don't know how to deal with the horrors.
"The goal of the chaplains is to be there, but not too much. Jackson took it upon himself to ride with officers after they had faced difficult situations. He never proactively inserted himself into a situation, but he was there to help."
Jackson doesn't limit his relationship-building to just on-duty time. He's conducted five weddings of officers or family members.
"I also spend fun time away from the post. We play cards, have dinner, meet with them in other places. I see them out of their uniform – and that makes a difference too. Officers are people too. We need to see them that way."
Getting involved in chaplaincy may require a waiting period for an opening and not all police agencies have police chaplain assignments. But Jackson encourages any clergy person to ask an MSP post commander or local police agency chief about the opportunity.
"We don't get paid," Jackson said. "But if you want to make a difference in someone's life. There are people who could use your skills, your knowledge, your nurturing.
"Church has to get beyond the four walls. Be a haven for a person, be a shoulder and a leader even if they never walk through the door," he concluded.