Gifts to HAPI for recovery from the July 6 fire in Mizak now total $21,000. Staff are grateful for ministry partners in The Michigan Conference.
KAY DEMOSS
Senior Content Editor
On July 14, 2021, The Michigan Conference issued an appeal for funding to assist Haitian Assets for Peace International (HAPI) as they restored services impacted by a fire on July 6. The message began, "When the fire erupted in the wee hours of the morning, staff and neighbors of HAPI formed a bucket brigade, racing time and risking their lives to put out flames. The fire at HAPI came in the same week as Hurricane Elsa, and the assassination of Haiti's President." To learn more see Fire in Mizak, Haiti impacts HAPI.   
The invitation continued, "We can join our Haitian brothers and sisters in the bucket brigade for HAPI. Our United Methodist heritage of disaster response is to assist with initial relief efforts and then to partner with those affected to support continued long-term development."
A fundraising goal was set at $20,000 to include facility restoration of $5,000 and cash and equipment replacement of $15,000. Any gifts exceeding this amount will go to strengthening sustainability, development, and expansion of HAPI.
As of August 27, HAPI reports, "We are $5,000 from our target! For those who missed our Aug. 22 webinar, our total replacement costs with the added estimate for network equipment totaled $26,000. With direct gifts and pledges, we have reached $21,000. THANK YOU!!" 
It is still possible to support this effort. Checks may be mailed to the Michigan Conference Treasury, 1161 East Clark Road, Suite 212, DeWitt MI 48820; on the memo line write Fund CCMM #3035 — Haiti HAPI Recovery. To give online, use the EngageMI Michigan-Haiti Covenant Partnership CCMM #3035. 
There's more good news from Mizak. On August 14 HAPI staff transported 24 Trojan batteries to Mizak for their solar system. "Gang resurgence along the road had prevented delivery for months," Valerie Mossman-Celestin reports on their Facebook page. "A recent truce with the government to open the road for earthquake relief provided the timely opportunity for safe passage."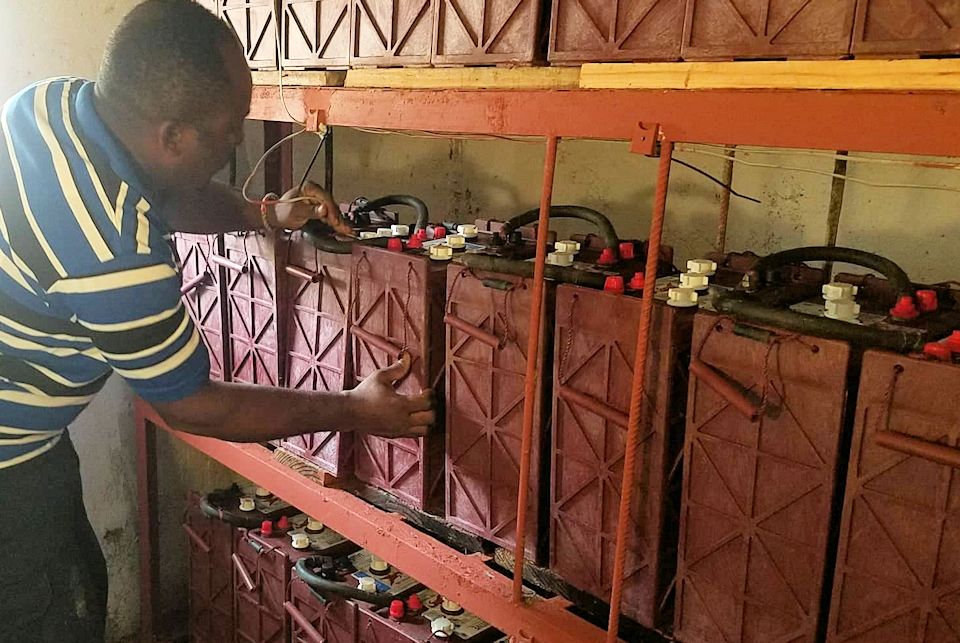 The system was turned off in early August because the batteries came to the end of useful life and showed signs of hazard. Two men, Ulrick and Emmanuel Lauture, who received electrical training through HAPI, safely removed the old batteries and installed the new system. They were assisted by a volunteer from Beaver Island, MI, Ralph Williamson.
A bucket brigade stretching from Michigan to Haiti has "provided resources to save, restore, and sustain Haitian Assets for Peace International in this critical time."
Last Updated on January 10, 2023