On July 10 UM News released a report of a "New Form of Unity," proposed by Bishops David Bard (Michigan) and Scott Jones (Texas). Read the report and more comments from Bishop Bard.

KAY DEMOSS
Senior Content Editor
A story by Sam Hodges, UM News, released on July 10, reported on a proposal by Bishops David Bard and Scott Jones, titled, "A New Form of Unity: a Way Forward Strategy." The Bard-Jones plan would make "The United Methodist Church an umbrella organization for new, self-governing church groups that would offer different approaches on same-sex unions and ordination of gay clergy."
Hodges quoted Bishop Jones, episcopal leader of The Texas Conference. "We both envision a future where the church will focus on its mission of making disciples and spend less time and energy debating issues of human sexuality, which means we need to bless different parts of The United Methodist Church to be about the mission in their own ways." 
The Bard-Jones plan is part of a wider discussion taking place across the denomination focusing on the outcomes of the 2019 General Conference in St. Louis and the 2020 General Conference that will convene next May in Minneapolis. Petitions are being submitted for GC 2020 ahead of a September 18 deadline.
Hodges pointed out that," Though bishops don't vote at General Conference, Bard and Jones said they feel an urgency to stimulate debate and action." Jones called the proposal, "an experiment" for others to consider during the lead-up to GC 2019. Bard added, "Scott and I acknowledge that there's room for other ideas to be incorporated."
In brief, "Under the Bard-Jones plan an annual conference would choose to join one of three groups the bishops are tentatively calling the Traditional Methodist Church, the Open Methodist Church, and the Progressive Methodist Church."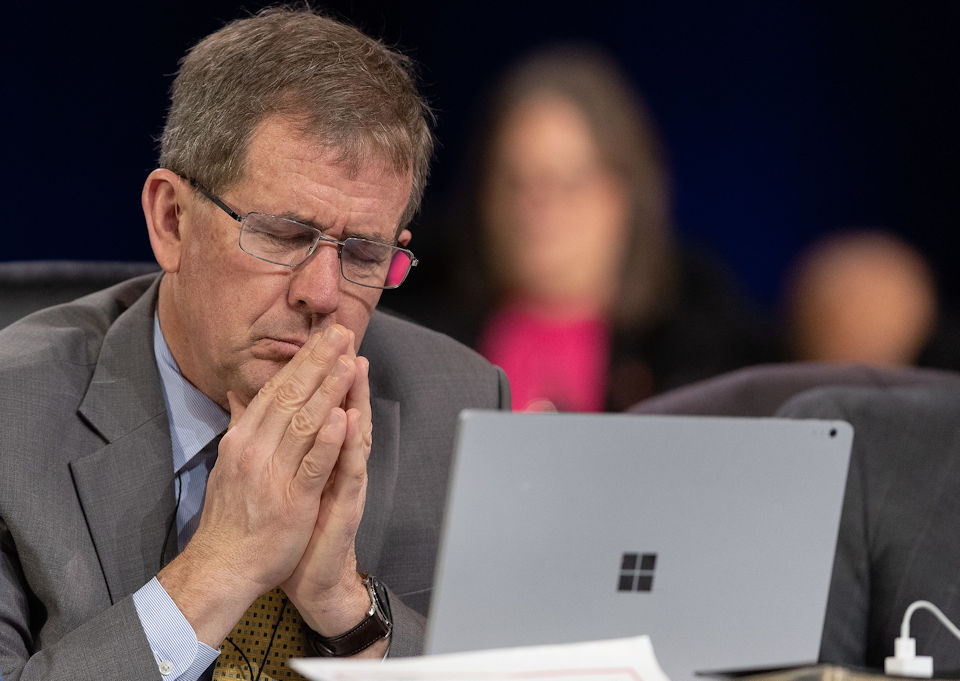 A week after the UM News report released, Bishop Bard made additional comments to Michigan Conference Communications. "Bishop Jones and I wanted to propose an idea we hope moves the conversation about the future of The United Methodist Church forward, that might help us move beyond our current impasse.  Our plan attempts to maintain some unity within United Methodism while recognizing the need to create greater space between constituencies in our church, all for the sake of enhancing the United Methodist witness and mission."
Bard explains that the report of the Commission on a Way Forward did inform their work. "We used ideas from the former Connectional Conferences Plan, but without proposing constitutional amendments. Annual Conferences are critical places for decision-making." 
Addressing a question frequently asked since announcement of the Bard-Jones plan, Bishop Bard observes, "People question whether there would be two or three emerging Methodisms and how they would be distinct. The question of two or three will need to be determined." He clarifies that "an 'Open Methodism' would allow for LGBTQ+ persons to be considered for licensing and ordination and for churches and clergy to hold same-gender weddings. It would also allow room for clergy and churches who, for reasons of conscience, are not yet willing to host such weddings, but are wanting to be part of a Methodism that allows them." He goes on to characterize a Progressive Methodism that "would fully affirm the possibility for LGBTQ+ persons to be ordained and licensed, would have every church open to receive LGBTQ+ clergy, and would expect every church to be willing to host same-sex weddings." Bard adds that, "There is conversation about whether or not these two — Open and Progressive — might continue forward together in one stream of Methodism. There are certainly other questions that remain unanswered."
Bard looks ahead with hope. "Bishop Jones and I are aware that there are a number of important conversations happening about the future of the church. If our ideas contribute to these conversations and if they help move The United Methodist Church forward into the future in ways that circumvent the current cycles of reactivity and acrimony, I will be pleased."
UM News reports that Bard and Jones first became acquainted at Southern Methodist University, where they both earned Ph.Ds, long before taking a seat in the Council of Bishops. Their plan has been share with colleague bishops and with various groups actively discussing the future of the church.
"Our plan offers a vision for keeping as much unity as possible and a pathway for decisions to be made," Jones told UM News.
Input is welcome. "We acknowledge that there are unanswered questions and welcome ideas for improvement," Bard concluded.  Email Bishop David Bard or Bishop Scott Jones.