Awards and recognitions were given to individuals and congregations at the 2022 Michigan Annual Conference in honor of outstanding service.
JAMES DEATON
Content Editor
June 3, 2022 | ACME, Mich.–Throughout the 2022 Michigan Annual Conference, there were opportunities to celebrate the ministry of individuals and congregations for faithful and outstanding service to The Michigan Annual Conference.
Retired Clergy
Recently retired pastors and deacons were honored during a Wednesday evening event. There were 38 retiring individuals, with 1,004 years of service combined. Highlights included music from the Drum Voices of Greensky, a drum band from Greensky Hill Indian UMC near Charlevoix, and slam poems by Jeremy Peters, Dillon Burns, and Jenaba Waggy.
A complete list of retirees is found here.
Higher Education and Campus Ministries
On Friday afternoon, Lisa Batten, Coordinator of Young Adult Initiatives, and Jeff Williams, chair of the Michigan Conference Board of Higher Education and Campus Ministry, invited Wesley Foundation directors and members of local boards, current and former, to stand. Williams noted, "These are among the servants who stand with college students in all the array of their experiences of life and death." Conference expressed thanks.
Williams then honored winners of the Francis Asbury Award for 2020, 2021, and 2022. Named for the early American Methodist Bishop, this award recognizes United Methodist individuals who have made a significant contribution to fostering United Methodist ministries in higher education at the local, district, or annual conference level. It is awarded annually by the General Board of Higher Education and Ministry to one honoree per annual conference.
Rev. Dr. Charlie Farnum was the recipient of the 2020 award. Farnum spent over 12 years leading Central Michigan University's Wesley Foundation, serving with passion and creativity. He authored a curriculum for Michigan United Methodist campus ministries, and kindled a spirit of cooperation among directors that has been a mark of distinction among annual conferences. Unfortunately, Farnum was ill and not present to receive the award.
The 2021 award was given to Rev. Deb Johnson. She started at age 13 accompanying one of her siblings to a CMU Wesley Foundation event, and then later participated as a student. After graduation, she served as a US2 with the campus ministry at Iowa State in Ames, Iowa. Later, as she served local churches throughout the state, Johnson got involved with campus ministries at Grand Valley State University, Michigan State University, and Western Michigan University. Currently, she is serving as the board chair of the Ferris State Wesley Foundation.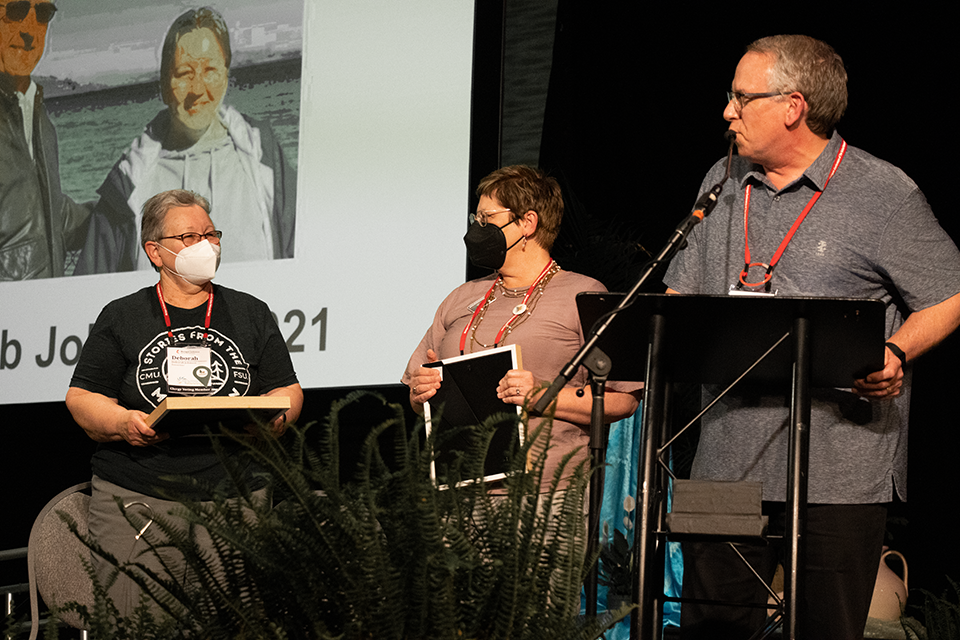 Rev. Dr. Jack Harnish was presented with the 2022 award. Harnish was an Associate General Secretary for the General Board of Higher Education and Ministry for seven years. In that role, he worked with seminaries and programs of clergy education involved in the work of the World Methodist Council. Harnish has served on the Boards of Trustees for several United Methodist seminaries and colleges, and has served several terms on the Detroit Conference Board of Higher Education and Campus Ministry. He also has published two books related to ministry.
John Buxton Award
Angie Anger, CFO of the Michigan Conference, presented the John Buxton Award to Jim LeBaron on Friday. This award honors an individual who offers creative leadership in overcoming difficult challenges in our annual conference. LeBaron has served in many capacities at local and conference levels, most recently as Chairperson of the Conference Board of Trustees. He was instrumental in merging the Detroit and West Michigan conferences. He is known as a self-sacrificing servant leader who is generous, kind, fair, and trustworthy. Anger concluded by expressing appreciation for his business acumen and real estate expertise.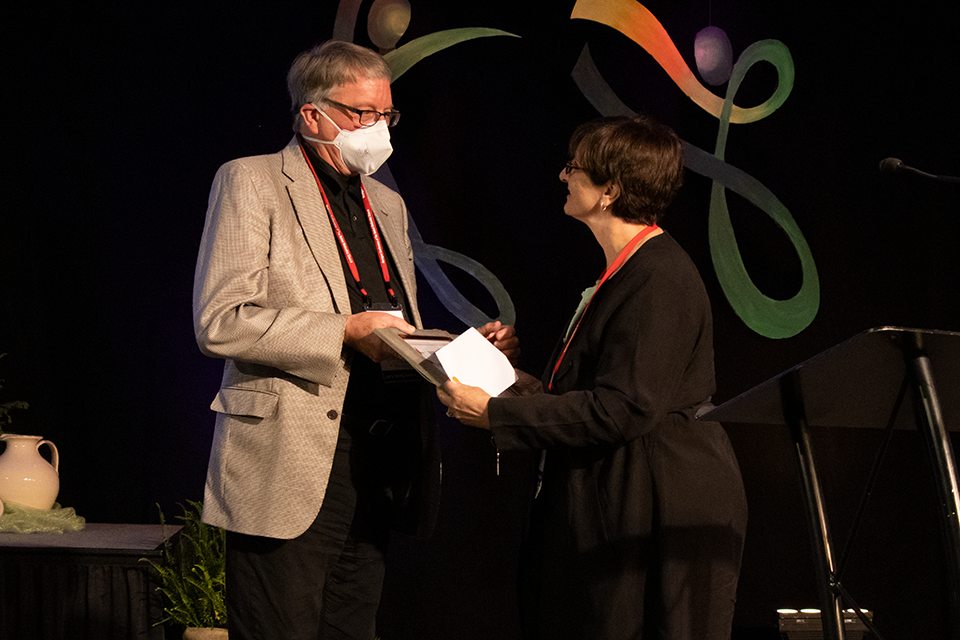 Order of Deacon Anniversary
Also on Friday, Rev. Sue Pethoud, Church and Community Relations Liaison for Cass Community Social Services, celebrated the creation of the Order of Deacons by action of the 1996 General Conference. Deacons are clergy leaders called by God, authorized by the church, and ordained by a bishop to a lifetime ministry of word, service, compassion, and justice. First deacons were ordained in the Detroit and West Michigan conferences in 1997, making this the 25th year of service with deacons. Sue reported that after the RCO service, there will be 36 active, 19 retired, and 5 candidates in process for ordination, making the Michigan Conference Order of Deacons one of the largest in the denomination.
The Rev. Kay DeMoss was among the Deacons to be ordained at the 1997 West Michigan Conference by Bishop Donald Ott. Bishop Bard called her to the stage and thanked her for her lifelong service as a Minister of Christian Education and communicator.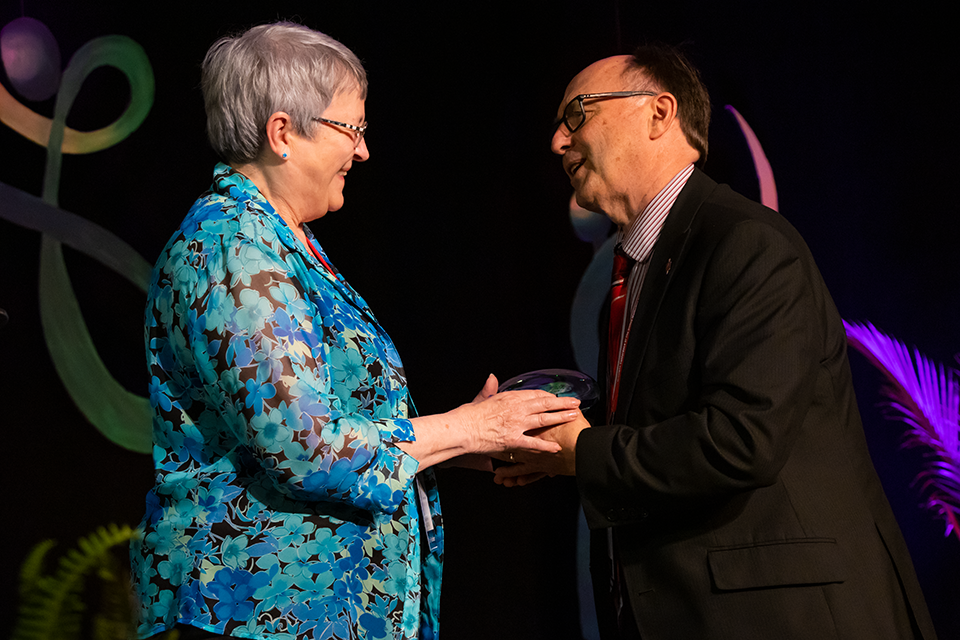 Harry Denman Award for Evangelism
On Saturday morning, Dirk Elliott, Director of Congregational Vibrancy and Leadership Development, presented the Harry Denman Award for Evangelism to two individuals. Named after the well-known evangelist, this award honors United Methodists whose exceptional ministry brings people into a life-transforming relationship with Jesus Christ. It is awarded by the Foundation for Evangelism, whose vision is to be a catalyst to equip disciples to share the good news of Jesus Christ.
Elliott gave the first award to Rev. Craig VanBeek, who serves the Burnips and Monterrey Center United Methodist Churches. He has developed a number of creative outreach efforts, including a back-to-school program called "Haircuts and Hotdogs," which provides kids with free haircuts and school supplies in a fun environment. VanBeek also has partnered with regional foster care agencies to provide a "go" bag with essential items for children who are being removed from parental care and placed in foster homes. As a result of his involvement and advocacy, he has been asked to serve on the State of Michigan's Advisory Council for Foster Care, and serves on the advisory board of Allegan County Community Mental Health. VanBeek considers all this volunteer work as an extension of his ministry and an opportunity to witness to Jesus Christ's transformative power through word, deed, and sign.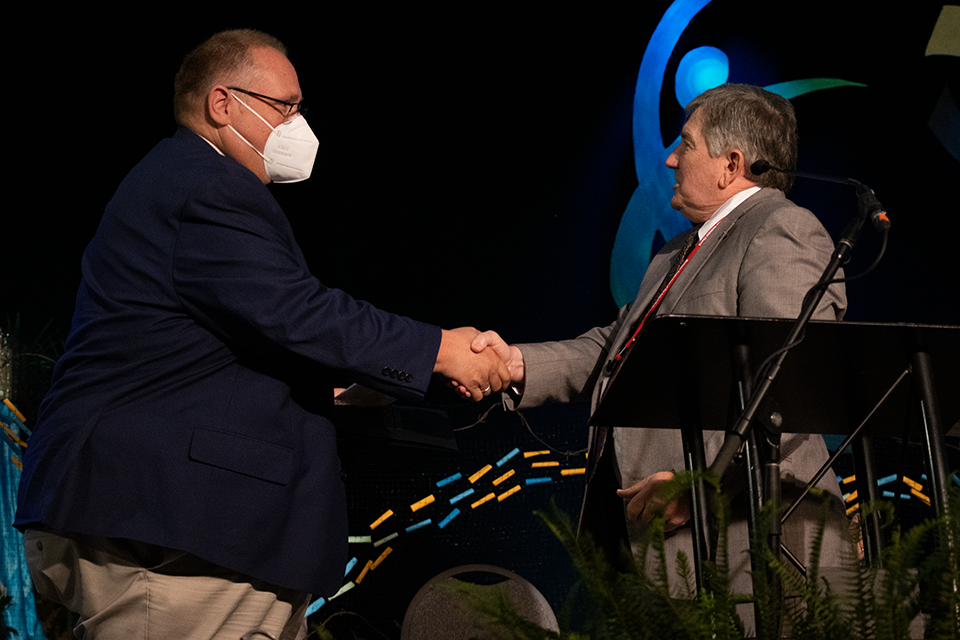 The second recipient was The Michigan Conference's first layperson to receive the award. Michele Weston is a tireless servant of God and shares her faith by what she does out in the community. She works with the Asbury Community Development Council (Asbury CDC), helping with the Asbury Farms ministry, an ambitious undertaking based on the vision of turning once-blighted land in the city of Flint into gardens of fresh fruits and vegetables that they sell at restaurants. She also started an Angel Closet clothing ministry at the South Flint Soup Kitchen and orchestrated a "40 Days of Lent" program, where she challenged people to donate one article of clothing each day for the season of Lent. In her church, Weston has served lay leadership roles at the congregational and district levels. She actively spreads the love of Jesus and the good news in all that she does.
One Matters Award
Dirk Elliott then welcomed Rev. Ken Sloane, Director of Stewardship and Generosity at Discipleship Ministries, to present the One Matters Award. Each conference can nominate a church and share that church's story of how they are turning things around, making disciples of Jesus for the transformation of the world. The award included $1,000, which is designed to encourage continued growth in the area of discipleship.
The One Matters Award was given to New Heart UMC in Saginaw for the amazing work turning that congregation around and making a difference in their neighborhood with the good news of Christ's saving grace. Pastor Melene Wilsey was invited to receive the award and check on behalf of the congregation.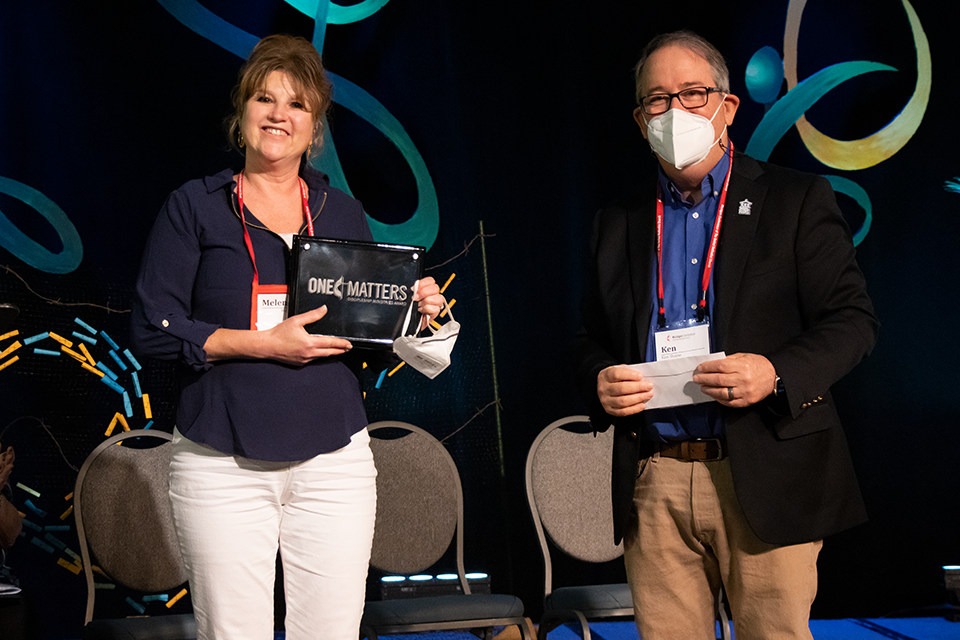 New Heart is a Central Bay District Engage project with a diverse congregation of African Americans, Hispanic/Latinx, and Caucasians. They serve over 7,000 people each year through their day mission trips and other outreach projects. While people are receiving food at their food pantry, they are invited to worship at the "Food Pantry Church," a 15-minute worship service designed for people who do not attend church. Once people encounter Christ at the Food Pantry Church and build relationships with people in the church, they often start attending on Sunday. Food Pantry Church has become the primary entry point for their Sunday morning service.
Another exciting ministry at New Heart is their bicycle ministry. They take used bicycles, repair them, and give them to children, youth, or adults that need a bike. They gave away over 150 bicycles at their last bike giveaway, but still had 142 people in line that needed a bike. Those people received a voucher for a bicycle once they have them ready.