During Lent, virtual worship was a tool used by Williamston United Methodist Church to listen to three powerful and prophetic Black preachers in Atlanta and Washington, D.C.

LINDA STEPHAN
Williamston United Methodist Church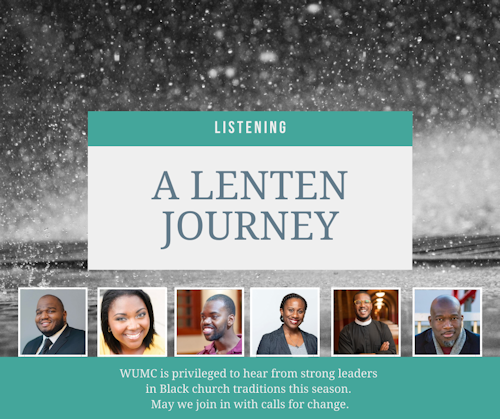 I'm sure this happened in many of our churches in this past year. As we struggle through pandemic and isolation and new modes of worship and safety protocols, we have also watched our nation's health systems and politics with a heightened awareness of our racial divides. Our own Bishop, David Alan Bard, has called racism America's original sin, and there is a growing sense that our churches have a role to play in rooting out racism, bias, and a sense of superiority or supremacy that lingers among white people and white Christianity—like a festering wound threatening to destroy us.
It is sinful. And, as a church, we have a role to play. That was the conclusion our leaders at Williamston United Methodist Church arrived at in January of this year. They set an intentional and measurable goal to be a force against racism in 2021.
But how can we do that?
What impact can we have?
How does a small, largely white congregation in a small, largely white town go about being a force against racism?
Start with Listening
It starts by acknowledging the voices missing in our lives. We start by acknowledging the people we don't hear from. Who is not in our community meetings or leading our schools and city and township commissions in any large numbers? Who is not in our pulpit?
The truth is segregation is not natural—not in our church or our neighborhoods. The separation we experience today was intentionally designed through racist practices and policies such as real estate redlining. Thus, many white people today don't have close relationships with Black people and other people of color.
The same is true in the church. The original Methodists were abolitionists, and our churches were unsegregated. We had Black and white preachers and leaders early on. But the poison of racism, the politics of the day, took root like a virus in the church. America's original sin spread quickly in the church, too, doing irreparable damage.
Segregation was not, and is not, natural.

Giving Up My Pulpit
So to fight against this, I gave up my pulpit for Lent. For six weeks in Lent, Williamston UMC heard from strong leaders in Black church traditions. We decided that our first step was to listen and to begin to develop the relationships we lack because of those segregationist policies.
Our pandemic online worship, a burden for an isolated time, was transformed at least in some part to an opportunity. Without flights and lodgings and per diem costs, we got to listen to preachers and leaders and scholars living in Atlanta and Washington D.C.—people who could be in both their pulpit and ours, thanks to the wonder of technology.
We learned from the Rev. Lahronda Welch Little to perceive and acknowledge the dis-integration we experience and to feel Christ's redeeming work as a return to wholeness and integration—within our beings and our neighborhoods.
The Rev. Kyle Stevenson took us to the First Century church in Corinth, where members of the church were already busy trying to create artificial layers of prestige. The pastor who baptized them was beginning to be more important than God or the family of faith they were baptized into. Stevenson reminds us that God has no interest in these statuses we design for ourselves. "Beloved, Paul's point today is: you give up any right to claim any prestige when your faith centers the cross. Your claim to supremacy, power, prestige, and privilege ends when you claim a man lynched by the Roman government on a cross as Lord and Savior."
The Rev. La Donna Williams asks us to pick up our cross and work tirelessly, not just on behalf of those in the immediate neighborhood but also on behalf of all of our neighbors—George Floyd, Breonna Taylor, Sandra Bland, and Tyisha Miller. "Did Jesus look through time and see people who were broken in spirit and who would need the Jesus, the God, who mends the broken-hearted? That there would be generations of people who need hope in the midst of pandemic, wars, and genocide—the harsh reality that Jesus would not be the first nor would he be the last to suffer under unjust systems," she preached.
She also reminded us that taking up our cross is not a burden to bear—but a life-giving expression of the love we share in Christ Jesus.
Approaching Easter after a Lent full of listening, we have a sense of the enormous work left to be done, but also the enormous plan God has, in Christ, for the redemption and resurrection of our lives. And, as spring comes and the earth again reshapes and rejuvenates itself, there is a sense of honor and wonder in the work. So we are encouraged. We take heart. And, as Rev. Williams quotes the old African-American Spiritual, we "keep (our) hand on the plow."
Thanks be to God.
~ "For Lent, this Michigan pastor gave up her pulpit." Click here to listen to and read an interview Rev. Linda Stephan did with Michigan Radio's Morning Edition on Good Friday, April 2, 2021.