Georgianna Wood, at 14-years-old, worked to provide financial assistance to Africa University student, Gracious Matika. 

EVELINE CHIKWANAH
United Methodist News Service
When Gracious Matika received her diploma from Africa University, it was an answered prayer for her and a triumph for an American teenager inspired to support education for African girls.
Matika, 23, received her honors psychology degree on June 9 from the United Methodist university.
"It had always been my prayer to be able to reach university, but during high school, my educational journey seemed to have come to a halt," said Matika.
The second child in a family of three, she lost her mother when she was 5 and her father six years later.
"I managed to go to school with financial assistance from my mother's sister who saw me through the first three years of high school.  I then got help from a female donor who saw me through the remaining three years of secondary school," she said.
But the future for university seemed bleak for Matika, who could not find anyone to sponsor her education further.
Enter Georgianna Wood, then 14, who took up the challenge to finance Matika's study at Africa University.
"I do not know the reason why she chose me specifically, but I believe it must have been a divine arrangement," said Matika.
Wood, who attended Jesse Lee Memorial United Methodist Church in Ridgefield, Connecticut, was visiting Africa University and the Fairfield Children's Home, an orphanage at the nearby Old Mutare Mission.
She saw the plight of orphans and vulnerable children and learned that education is often not considered a priority for girls in Africa. At times, girls are deprived of the opportunity to learn while boys are favored.
"I understand after that visit Georgie made a commitment to herself to raise funds to take one girl to university," Matika said.
Wood, who is from Ridgefield, raised over $23,900, beginning with asking people for scholarship donations instead of birthday gifts.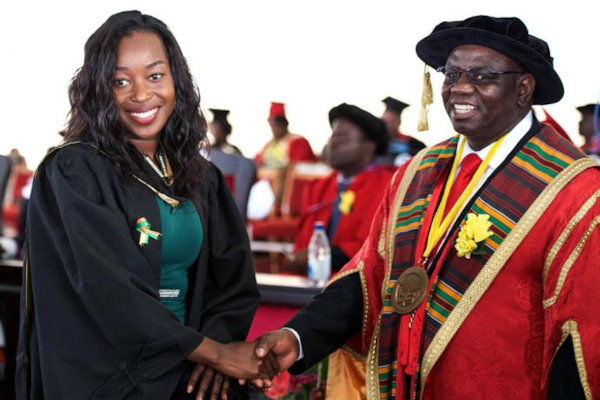 "I saw it was such a big opportunity for them (the students) and that they would value it so much more than you would find here in the United States," Wood said in an interview published in Africa University Today, a newsletter for the university. "It really inspired and moved me."
Makita said the scholarship guaranteed her academic costs, including housing.
"All I had to do was come to school, attend classes and report to the clinic if I did not feel well," she said.
Matika was a beneficiary of the Africa University Usahwira scholarship, an initiative in which the university's Development Office finds sponsors to pay for the education of chosen beneficiaries from enrollment up to graduation.
The Usahwira program allows churches, families and individuals to "adopt" a student for the duration of their undergraduate studies. The Financial Aid Office at the university selects and recommends students for support and sponsors receive regular reports on their students' progress.  Sponsors can also communicate directly with the students, if they desire.
Usahwira is a Shona word meaning "beautiful friendship."  At times, your sahwira (best friend) can assist you better than your family, as Matika discovered.
"I had a smooth academic journey, Georgie ensured I was at par with other AU students. I will not forget the regular checkups I had from Georgie and her mother, Mimi.  They would always check up on me via Facebook and email to make sure all was well," she said.
"I have reached my goal in life. I am living my dream, I am now a psychologist like I always dreamt," she said. "As a psychologist, I am now able to assist my siblings, my family, and also my community.  I see myself as an indispensable asset, able to bring change in my society."
She intends to provide counseling to women in order to dissipate fear and boost confidence.
"I hope to open a counseling firm for young girls and adolescents, victims of social discrimination, to offer them psycho-social support and psychotherapy.  I intend to help them realize who they are, their potential and what they can be," she said.
And she hopes to extend a helping hand to other girls.
"I also want to raise funds for young Zimbabwean girls to enable them to have the opportunity to learn and get an education," Matika said.
Matika's older sister, Varaidzo, 28, was overjoyed to attend the graduation ceremony for Matika, the first person in her family to earn a degree.
She also got a scholarship and is now studying social work at Africa University.
"I feel so happy because it seemed so impossible as we had we lost both our parents.  It's like a dream come true.  It wasn't easy, I still can't believe she's graduated. God is good," Varaidzo said.
Last Updated on November 9, 2023