UMRC and Porter Hills have come together with shared commitment to the best possible care for older adults in Michigan.
March 1, 2019 | LANSING, Mich. — Two of Michigan's top-rated senior living organizations finalized their decision to affiliate at a press conference and official signing event held this morning at LeadingAge Michigan.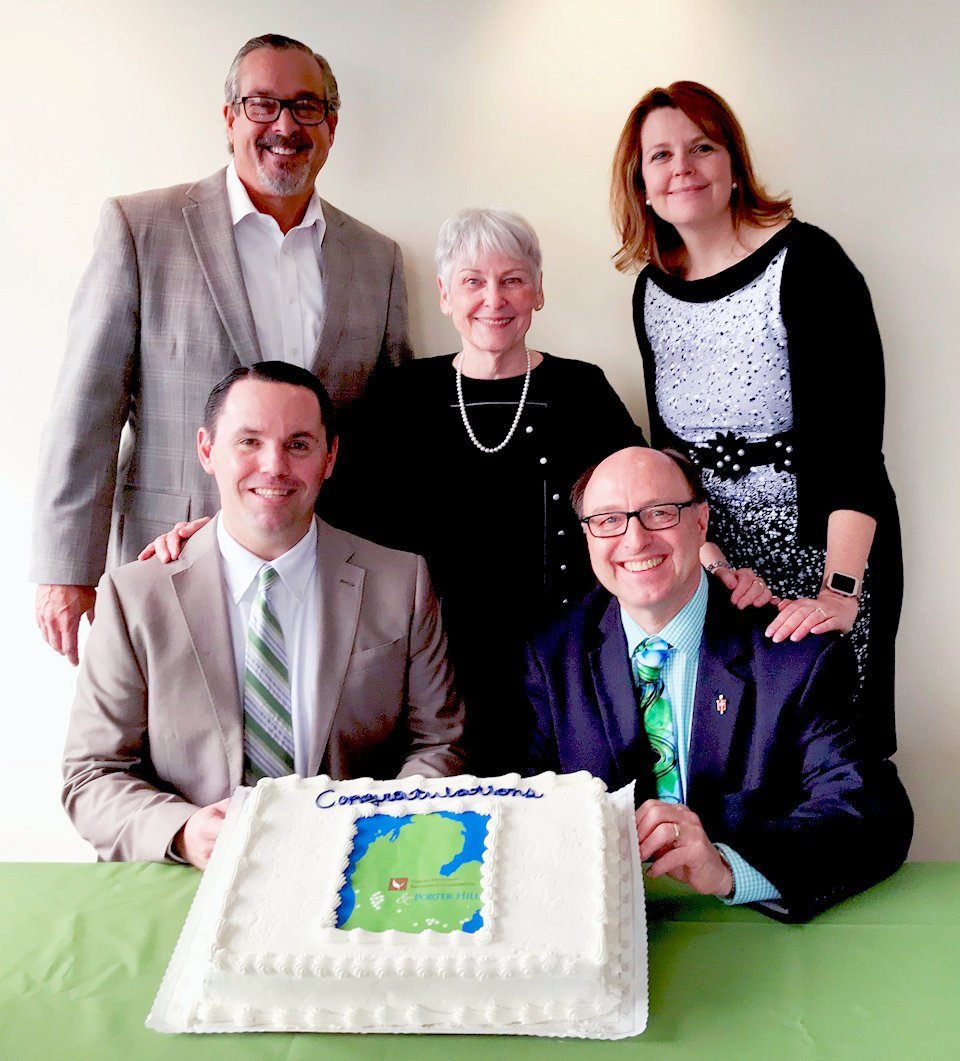 United Methodist Retirement Communities, Inc. (UMRC) and Porter Hills Presbyterian Village, Inc. (PH) have entered an agreement, effective today, to come together under shared governance and leadership.
Together, UMRC, PH and their affiliates now represent a $150 million organization that serves more than 6,700 older Michigan adults annually across 22 counties in the lower peninsula.
"By coming together as we have, our organizations create tremendous opportunities for the people we serve," said John Nixon III, chair of the UMRC governing board.
"Together, our organizations' ability to share widely-recognized best practices, knowledge and financial resources will achieve superior results for older adults and create an even greater dynamic in Michigan's senior living marketplace. This is important as the latest demographics show Michigan as the fastest aging state in the nation."  
UMRC is now the sole shareholder of PH; previously, the share was held by Westminster Presbyterian Church in Grand Rapids, Michigan. Both UMRC and PH remain in existence as nonprofit organizations and will continue to serve older adults as they have since being founded.
There are currently no plans to change these names, given the strength of both brands.
"This decision follows a six-month due diligence process which began in August 2018," said Mary Wagner, chair of the Porter Hills governing board. "We worked thoughtfully to ensure not just the right financial and operational fit, but the right culture and ethos for a truly strong partnership. We are pleased at the outcome and optimistic about the future."
According to the 2017 Ziegler LeadingAge 150 (a listing of the top 150 senior living organizations in the U.S.), UMRC and PH combined create the third largest nonprofit senior living organization in Michigan and rank in the top 75 U.S. nonprofit organizations. In addition, the new organization's commitment to affordable housing places it among the country's top 25 nonprofit affordable housing organizations.
UMRC and PH will maintain separate boards, with representatives of both organizations serving on each board. The UMRC and PH senior leadership teams will combine to become one joint strategic team, with Stephen Fetyko serving as interim CEO and John Thorhauer as President and Chief Strategy Officer. Both will serve UMRC and PH until a president and CEO is chosen by both boards.
"Together, UMRC, PH, and their respective affiliates employ 1,300 staff and share a combined 24 service lines and locations," Wagner said. "Current service lines will grow to meet future needs of older adults, and there are no planned staffing changes at the direct care or individual location level."
The UMRC Foundation and PH Foundation will also remain as separate entities with Wendy Brightman serving as president. Donations will remain local and be used for the purposes designated by the donor.
"We know how important philanthropy has been in our history and how vital it is for our future," Brightman said. "Thoughtful donors have made a tremendous impact on improving the lives of the older adults and communities we serve, and we are committed to upholding each donor's intent. We will continue to be effective stewards of the funds with which we have been entrusted."
Nixon shares the excitement of both UMRC and PH for affiliation to best serve this growing population of older adults.
"Bringing together these two organizations has been a labor of love as well as due diligence, and a shared commitment of both organizations to the best possible care for older adults in our state," Nixon said. "We believe this affiliation will allow us to serve even more seniors, from coast to coast across Michigan. With over 160 years of combined history, serving thousands of older adults and their families, and a strengthened financial footing, UMRC and PH are well positioned for the future."