A $100,000 grant by UMCOR has two case managers at work after June's mid-Michigan flood.
KAY DEMOSS
Senior Editor-Writer, Michigan Area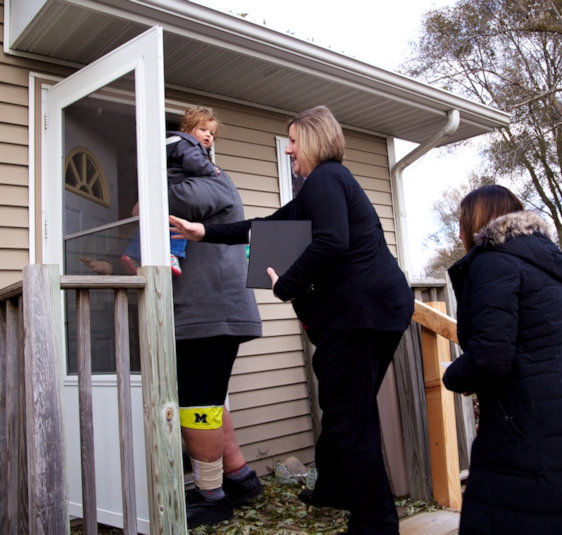 MIDLAND, Michigan  November 28, 2017 (MIC) — For many in mid-Michigan it was a pleasant summer shower. But for residents of Midland, Isabella, and Bay counties it was a deluge of biblical proportions.
Seven inches of rain fell the night of June 22-23, 2017. MLive reported: "The deluge was on top of already saturated ground from days of rain before. The water had nowhere to go but sideways, into low spots in fields, across roads and down ditches and rivers."
As rain continued, the Tittabawassee River swelled, cresting at 32.15 feet by Saturday night, 1.8 feet short of the "Hundred-Year Flood of 1986."
Governor Snyder quickly declared the area a disaster, which cleared the way for state and federal assistance.
Michael, Lesleigh, and their seven children are among those surviving this summer flood. A torrent of water smashed their home's egress windows and poured into their basement where their children were sleeping. All made it up the cellar stairs to safety before the basement filled to the ceiling. But the family now has half the space in which to play, eat, sleep and live. From where would their help come?
To date, not FEMA. Circumstances disqualified them for federal assistance. Fortunately, the United Methodist Committee on Relief (UMCOR) is present in Midland County in the person of two newly-hired caseworkers, Anne Wortley and Katie Vokal.
UMCOR on the scene
Cleaning buckets came first, arriving in Midland from the Midwest Mission Distribution Center just hours after waters started to recede. But that was only the beginning of UMCOR's response. A partnership among UMCOR, the Michigan Conference of The United Methodist Church, and Midland County was formed over the summer. By October a $100,000 grant from UMCOR opened an office in downtown Midland in space donated by The United Way.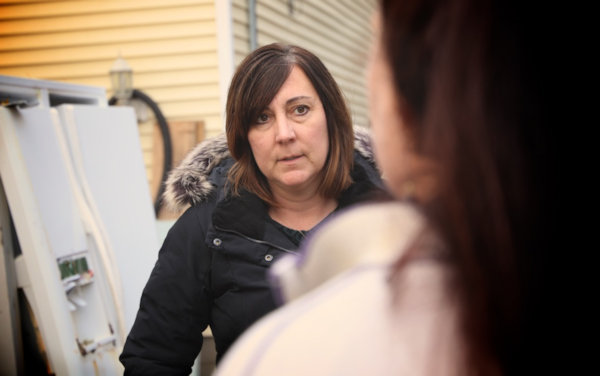 Anne and Katie were brought on board and they immediately began to collaborate with the Great Lakes Long-Term Disaster Recovery Group. Made up of over 50 non-profit and faith-based groups along with local and state government reps, the Group provides oversight for the recovery project that is expected to last for the next 12 months. Michigan Conference Disaster Coordinators, Dan O'Malley and Bob Miller are also members of the Great Lakes Group.
Christy Smith, UMCOR's Case Management instructor, held an intensive four-day training with Anne, Katie and others. Anne shares two important things she learned from Christy Smith. "Case managers are the link between unmet needs and recovery," Anne says. "Our job is to assess and identify needs and then connect individuals and families to resources. Recovery is a partnership."
Another take-away for Anne was the "significance of affirming the dignity and worth of each person by involving them in their own recovery." More partnership. She continues, "We look at each person on an individual basis, keeping in mind, 'What does this survivor in this community need to recover from this disaster?'"
A typical home visit
That background follows them through the door of homes like that belonging to Michael and Lesleigh. Once inside and into the basement, the case managers see the boarded up egress windows, the bare studs where there were once bedroom walls. The family was wakened to the horror of the June 23rd storm at 3:30 a.m.. "The girls were screaming," Michael recalls. 'There's water in the basement! There's water in the basement!' Our initial response was, 'Right. Go back to bed now.'"
But back-to-bed was not an option. Going downstairs to check it out, water was already up to the parents' shins, the bed was floating in the seven-year-old's room and it was "still coming in like crazy." Michael managed to pull the main power switch before everyone raced upstairs.
In the days that followed, family and friends helped Michael and Lesleigh remove carpet, damaged dry wall, and ruined possessions out of what had once served as a playroom, three bedrooms, a full bathroom and a utility room. A $1,000 gift card purchased a new washer and dryer and the Girl Scout Troop helped with clothing, toys and meals as life began to settle into a new routine.
Katie and Anne arrived five months later to tell Michael, "Our goal is to help bring your home back to where it was." Dad was thankful. "The girls used to have their own space and now all nine of us share the same common area," he said. "In some ways that's brought us closer but it would be nice to get back to normal."
For all the physical damage to their home, the emotional toll is greater. "Our seven-year-old is okay with moving back downstairs someday," Michael shared. "But every time it rains our older daughter watches and talks about water. And her stomach hurts at bedtime." Katie and Anne reassured the family that support and counseling are available for them.
Building bridges
Families like this one have been the focus of Anne and Katie's work for the past five weeks. "People are very thankful when we call," Katie reports. "They are glad someone is thinking about them." The case managers are still compiling a list of those who may need further assistance. Their plan is to reach out to everyone, but Katie and Anne will be case managing 10-15% of approximately 1,300 households that have ongoing recovery needs according to FEMA.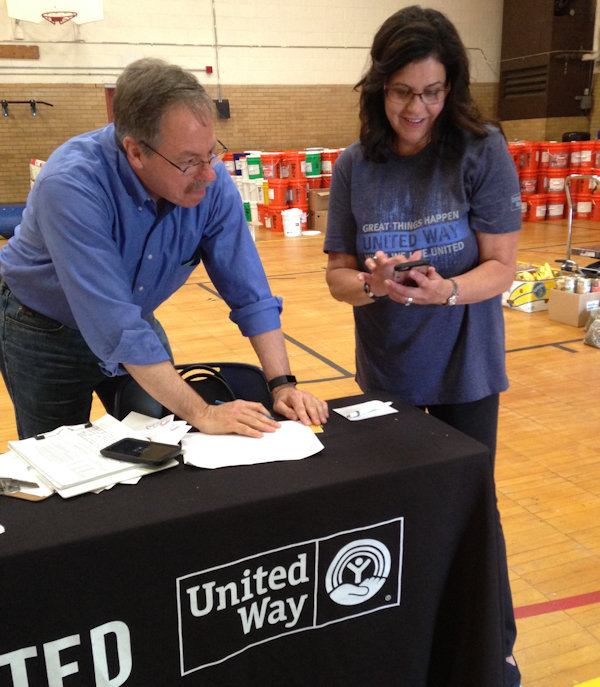 Though it's been five months since the downpour, needs are still great. Flood impact zones exist today all over the area, "though it doesn't look like anywhere there would be a flood," Katie acknowledges.
The Midland Area Community Foundation has made funding available for Midland residents. Many vouchers have already been issued for household goods, bedding, furnaces, water heaters, and appliances.
Anne emphasizes the need to prioritize. "There are still families who have no furnace or hot water; some are still using space heaters." There are homes that have not yet been mucked out. "We want to get through the list to find high-needs people," Anne adds.
"When we make our phone calls," Katie explains, "we ask whether FEMA has provided assistance and if home owner's insurance has paid." Once it is established "what they still need, we help bridge the gap."
Many organizations, including churches, have become partners with both dollars and volunteers. "We try to exhaust every avenue before we go to our donors," Katie says.
Anne stresses that not all needs can be fixed with hammers and nails. "We are pushing to start a support group for those affected, so people know they are not alone." Some are embarrassed to still be living in the middle of mess. "People need to be aware that a lot of others have also lost everything," Anne remarks. She believes Christmas will be especially hard. "Those who lost their tree, ornaments, and decorations in June will be traumatized all over again come December."
Join the partnership
United Methodists in Michigan are in a position to support this recovery effort in several ways. First through Bishop David Bard's Advent Appeal, which is designated for Disaster Relief. Forty percent of the funds received will apply to UMCOR's Domestic Disaster Fund #901670. Note that over the past four years a total of $800,000 has been granted from that fund to projects in Michigan: the Northwest Detroit Flood Recovery; Flint Water Emergency; and now Midland Flood Recovery. Another 20% of the Bishop's Advent Appeal will go into a Michigan Disaster Relief Fund to be administered by a team of Michigan leaders for early response and long-term recovery when crisis strikes.
Volunteers are also being sought to work with the Midland Recovery. Skilled laborers are needed for tasks such as hanging dry wall. Those wishing to go to work should contact Dan O'Malley, who is handling construction organization for the Great Lakes Long-Term Disaster Recovery Group. Dan's email is [email protected]; phone 616-915-6301.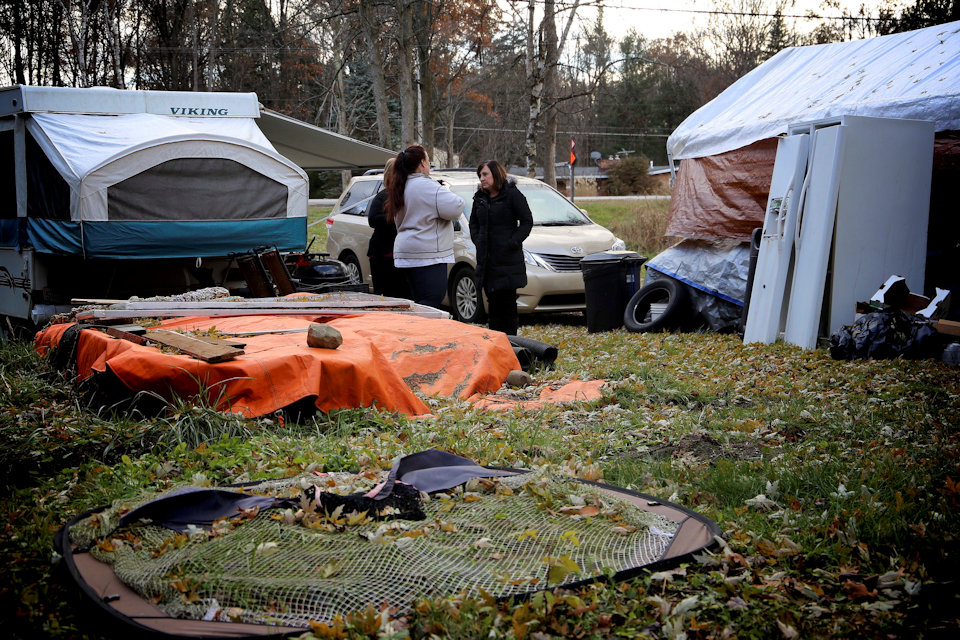 Katie and Anne emphasize that there are many tasks for volunteers as they set up their office, lists and files. "If you can read and write, you can help us. We also need persons to ride with us to home visits." People with counseling or Stephen Ministry experience could be a blessing "to those who are living right on the edge." The case managers' invitation comes with a valuable payback: "People who volunteer will become part of the healing process," Anne says. Email Anne or email Katie to lend a hand.
The Rev. Paul Perez, Detroit Conference Director for Mission and Justice Engagement and Leadership Recruitment, has served as an important liaison between the Great Lakes Long-Term Disaster Recovery Group and the United Methodist Committee on Relief. Paul says, "Anne and Katie are both very compassionate, both strong advocates, and each pays careful attention to detail without losing sight of the big picture."
The "big picture" centers on partnership. These two UMCOR case managers are fulfilling a vital role as members of a community-based team.
"We are perceived, not as government, but as people who want to help," Katie reflects. She passes along a lesson about generosity and hospitality taught by UMCOR trainer Christy Smith. "Open the purse strings and help the survivors." Katie concludes, "You will find that God makes miracles happen and God keeps resupplying as long as you discover needs."
Learn more about The United Methodist Committee on Relief at umcor.org.
Last Updated on September 20, 2022