After the example of Jesus, Son of a Carpenter, UM Men from five Michigan communities came together to use their skills and tools in south Lansing.
GORDON SCHLEICHER
Michigan Conference United Methodist Men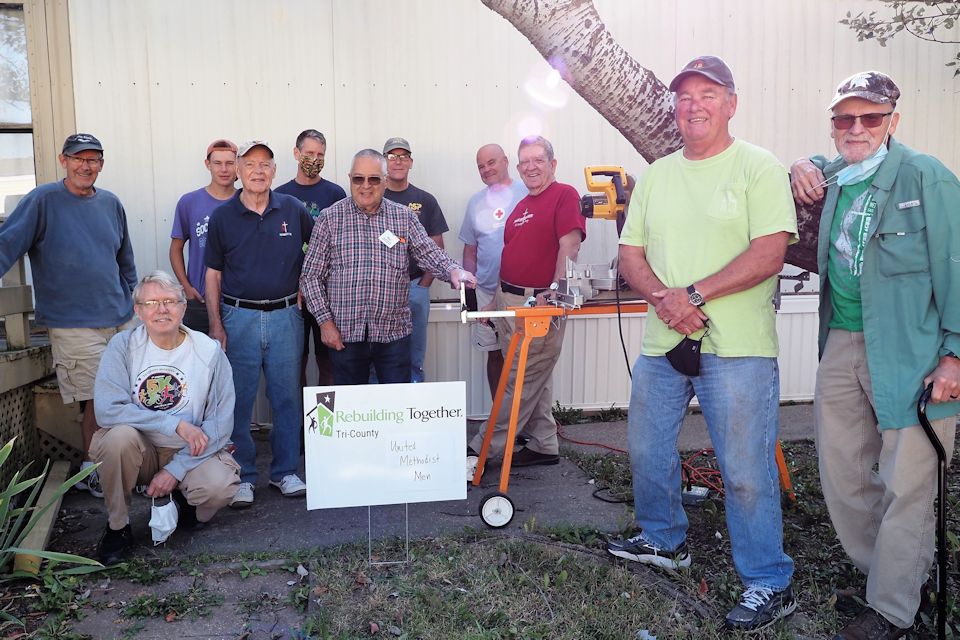 Over two days in September (18 and 20) twelve men from communities of Grand Blanc, Livonia, East Lansing, Dexter, and Chelsea, came together to fix a variety of unsafe home conditions for a woman in South Lansing.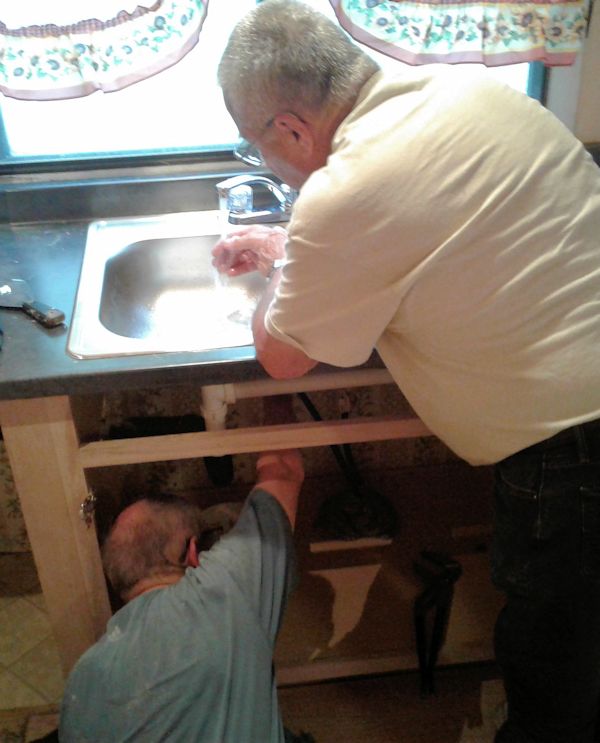 Partnering with Tri-County Rebuilding Together (RT) the Michigan Conference of United Methodist had invited men from across the state to volunteer for what turned out to be a two-day mission project. Tri-County Rebuilding Together had screened the home and provided material at no cost to the homeowner. RT also provided supervision and lunch. The men did the work as volunteers.
The south Lansing mobile home required much work to be made safe for the 65-year-old Rosemary who lived there alone. Over two days the UM Men replaced an entrance door, two entrance steps, missing flooring, a countertop, kitchen base cabinets, and sink plumbing.
Rosemary, the owner, was so pleased with the work. She bought the mobile home five years ago. Even with holes in the floor covered with cardboard and rugs and the cold winter air coming in from around the entrance door, this mobile home was all she could afford.
University United Methodist Church, East Lansing, and their UM Men's unit hosted the event and contributed $350. The Michigan Conference of United Methodist Men contributed $300 all to help defray material costs. Saturday's meal was provided by Paul Tarr. Rebuilding Together Board Member Kris Mellon provided refreshments and  Monday lunch.  It was comforting to know she was also a nurse but, fortunately, no first aid was needed.
Thanks to all, who over two days lived out the mission and work of Jesus, the carpenter from Nazareth. Special thanks to Al Holzhausen who not only worked but took most of the photos, for Ron Waldron, a Lutheran from Chelsea, who provided expertise in counter, cabinet, and plumbing work. Appreciation to Bill Madden who interviewed Rosemary the homeowner.
Conference United Methodist Men and Rebuilding Together look to repeat the event next year.