In this month's blog, the Rev. Benton Heisler expresses his gratitude for helping hands of Annual Conference.
REV. BENTON HEISLER
Director of Connectional Ministry
"How can I say thanks….?"
 As Dale Miller ran his finger the length of the keyboard in a rousing triple forte (that is really loud, for all you non-music types) introduction, we knew we were in for a remarkable moment of worship. David Kim then quietly began the solo for which Dale was accompanying him. As the familiar Andraé Crouch number builds, David then let go his own triple forte from deep within, "To God be the glory…for the things He has done…" 
It was a fitting Sunday morning "doxology" for all God had indeed done in the past couple of days at Annual Conference and frankly across the past couple of decades. Despite struggles and failures, loss and learnings, God used ordinary people to accomplish extraordinary moments of ministry. Two conferences were now one, The Michigan Conference of the United Methodist Church. 
How can I say thanks to Bishop Bard and John Boley who so steadily led with humor, grace and courage or to the multiple members of the Commission on the Annual Conference, led by Nichea Ver Veer Guy, who had worked across the months of the past year and into the late-night hours of each day caring for countless details? 
How can I say thanks to Marsha Woolley and her team of musicians, preachers, dancers, ushers, choir members and liturgists for the powerful and symbolic worship experiences, or to Andrew Stange, GNTV and all the tech assistants that labored alongside them behind the scenes to have the sound be just right, the video cued just right, or the graphics and text be just right? 
How can I say thanks to Sue Buxton, Laura Witkowski, Leslee Fritz, Nancy Arnold, Mara Marsman, Jamie Buchner and all the others who labored alongside them to assure each sessions' logistics went smoothly or to Joy Barrett, Diane Brown, Judy Coffey, Todd Price, the Committee on Rules and the host of legislative session leaders and secretaries who led us carefully along the legislation path and recorded our every step? 
How can I say thanks to Anita Hahn, Denny Olin, Neil Haney and the blanket of volunteers they organized for service in the Grace Patrol, or our Native American brothers and sisters who so generously hosted us for meals and conversations on their sacred space at Northport, Kewadin and Greensky Hill?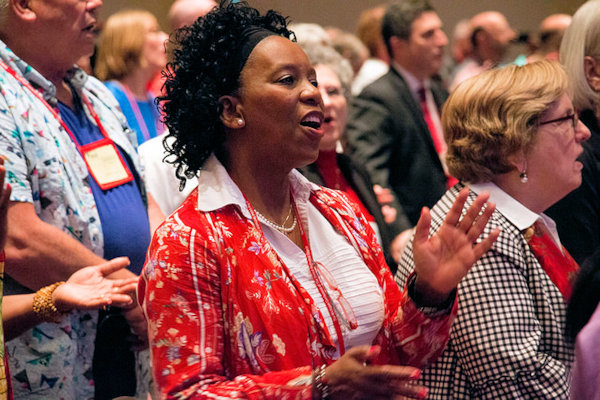 How can I say thanks to all the camping staff for their hospitality at our every moments' need for a "snack", or to all those servants who set up Ministry Fair Displays to help us better understand their places of action? 
How can I say thanks to the staff of the Grand Traverse Resort who so graciously and competently met our every need going above and beyond at times of what might be expected of any mortal hospitality service, or to the TOM Talk presenters who inspired us to action and touched our hearts and minds through their witness? 
How can I say thanks to Don Emmert and the members of the Joint Distributing Committee for the incredible amount of detail work they have invested into a pension and benefits plan that is solvent for generations to come, or to David Dobbs and his Treasury Team who have persevered through multiple office moves, software glitches, and address changes, all while processing thousands of transactions, covering millions of dollars, from over 800 congregations? 
How can I say thanks to Mark Doyal, Kay DeMoss, Kristen Gillette and their team of communicators and photographers for capturing in word and image the highlights of each day, or to the two Boards of Ordained Ministry for the monumental work of combining two unique board personalities, traditions and processes into a seamless path for persons to follow as they respond to God's call and claim in their life? 
How can I say thanks to a Design Team that so creatively and tirelessly labored to create a new thing, or to you the Annual Conference who have responded with such incredible trust and affirmation? 
How can I say thanks….?   
"To God be the Glory… to God be the glory… to God be the Glory, for the things He has done!"
Last Updated on November 9, 2023