The Hebrew people have a term for the old one in each family, Go-el. The Rev. Glenn Wagner talks about how family, church, and the Bible have prepared him for that role.

GLENN M. WAGNER
Michigan Conference Communications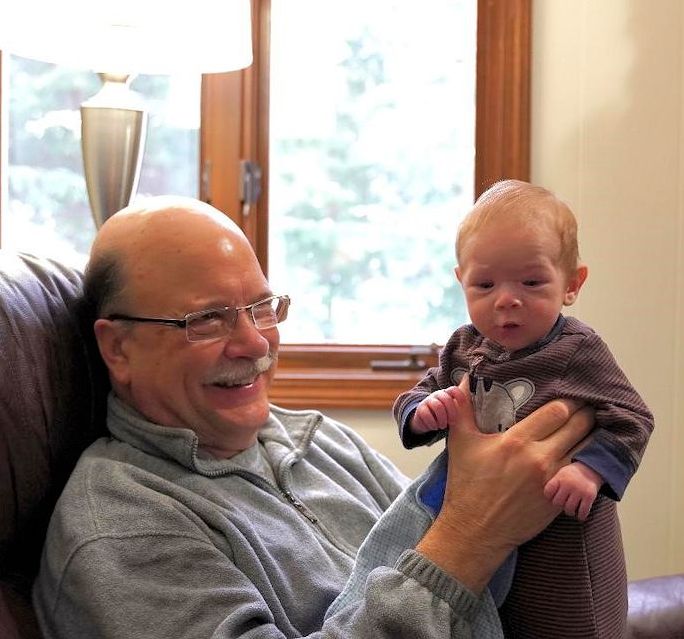 I have inherited a new role in my family. Perhaps some of you can relate. Since there are 79.2 million families in the United States, there are quite a few of us who are considered "heads of households." 
When my older brother Doug died unexpectedly from a stroke on March 10, 2014, I reluctantly became our family patriarch. Since that transformative day, I have been the oldest living male in our branch of the family. 
The Hebrew people have a term for the old one in each family, Go-el, which means "the redeemer." The Go-el is the person responsible. The Go-el looks after the best interests of the whole family, manages resources, and takes charge when necessary to help other family members when they may need assistance and looking after. The Go-el serves as the glue who takes initiative to bring the family together. The family redeemer is also tasked with being the repository of important family memories. There is a discernable weight to this responsibility for "family minding" that resides with family and congregational elders.
Family, Church, and Scripture each have contributed to helping me understand this new role.
Family
As the oldest member of my family branch, I am now the keeper of much stuff passed down from prior generations. Our home contains cherished things like a family history that remembers our ancestors on my mother's side back to the pre-revolutionary war immigrants. George and Alice Maris came to America looking for religious freedom after George, a Quaker, was imprisoned in England for the crime of worshipping God in his own home in an unauthorized manner. I keep the genealogy book and the memories. This thick history book compiled by Maris descendants for a family reunion in 1885 is awkwardly kept in a utilitarian three-ring binder. It has already been read and takes up a lot of room on the shelf. 
But I have packed it up and moved it with us three times since I saved the book when breaking up my parents' home after Mom died in 2006. The contents of this irreplaceable family history help me to know and value deep and important family roots. After this Maris book was written, my late grandmother further recorded her lifetime of memories in a companion volume to fill in the next century. I have accumulated another personal set of recollections yet to be written down for my children. During the pandemic, we have been ZOOMing regularly with my father's sister and her family and have been collecting cherished Wagner memories from Aunt Mary. Being the official keeper of this remembered heritage is an important piece of being the family Go-el for me. Recently, I was pleased to share some of this family lore with our daughter, who asked me to retell the story of our roots so she can remember to share these important tales someday with her infant son. 
As the family patriarch, I am the keeper not just of historical memories but also inherited possessions.  I cherish a painting that hangs in our dining room. It is a picture of my father as a boy fishing with his dog and a friend that was captured by an artistic relative on an idyllic afternoon. This painting used to hang in my grandparents' home, and then my parents' home after that. The painting serves as another visual link to our family's past. When I am gone, I hope the painting will continue to be valued by the family. Remembering and passing along family treasures is another part of the Go-el job description.
Leading for the family further includes financial responsibility for me. I am the named "Trustee" for inherited assets and manage these resources for the sake of the family. 
Family leadership also means remembering to be emotional glue. We maintain our family ties through gatherings, remembering birthdays, and connections by phone, ZOOM, email, text, and correspondence when we can't be together in person.
Church
Congregations, like families, depend on the competent and committed leadership of elders. The Go-els of the communities where I was privileged to serve as pastor entrusted to me their cherished memories they didn't want forgotten. I received these bits of church history like a runner in a relay who grasps the precious baton from a teammate to pass it along to others in life's race.
I remember Hulda's treasure. She was still vital in her late 90s and was the last surviving speaker of German at Faith United Methodist Church. That congregation was founded as Oak Avenue Evangelical church in Freeport, Illinois in 1844 by German-speaking immigrants. By the time I was beginning my ministry there in 1979 Hulda, the Go-el of her own family as well as for the church, wanted me to know and pass along the story of her ancestors. Hulda spoke of the sacrifice they made to come to a new land and grow a great congregation for the sharing of faith in Jesus as Lord and Savior. Hulda was also the last person alive who remembered the traumatic conflict that had split the church decades earlier over the eventual adoption of English as the new official language. She was grateful for the benefit of time and perspective to be able to see how God had enabled the ministry to grow even through the severe language conflict as the originally resistant German founders had eventually died or became acculturated and accepted English as their new language, too. 
Similarly, I still value Francis's memories. At age 96, Francis, the undisputed patriarch, wanted me to remember how Community United Methodist Church in North Muskegon, Michigan, had been started by a circuit rider, Rev. William Wilkinson, and was funded by the mission-minded Holton Methodist Church. The first worship service was held on Sunday, October 18, 1881. North Muskegon was just a lumber camp. Rev. William Wilkinson made the 16 mile trip from Holton on horseback each week to bring the gospel on Sunday to the lumberjacks and their families. A first ministry of the church was to teach the children of the mostly immigrant lumberjacks how to read in English so that they might learn about the saving message of Jesus and the gospels. Francis recalled when the last of the lumber mills closed in the early 1900s, and the North Muskegon church membership shrank from 135 members to just 19. He related those remaining believers had a prayer meeting about the future and decided God still had a mission in North Muskegon. Those stalwarts pledged to keep their church going despite the bleak outlook. Francis was the last living member of that band of 19 and was proud to live to see the church still thriving in ministry and knowing that prayers were still being answered. 
In my church remembrance, there is also gratitude for the influence of past Christians who volunteered, through their church leadership, in ways that transformed my life. Arlene, our children's choir director at First Methodist Church in Elmhurst, Illinois, first taught me how to sing and why we sing in praise to our God. Ellie led our youth group and took us to a picket line for the United Farm Workers to teach us about social justice and to an African American church so we would form bonds of Christian love that are greater than racial boundaries. I still value the witness of Rosemary, who organized a middle school children's theater program at our church and imparted valued lessons in expression and teamwork as we acted out the stories of our faith and grew in self-esteem and biblical understanding before appreciative audiences.
Scripture
Just as family and church have helped to better prepare me for this inherited role as a family elder, the Bible, like a compass, guides my understanding of family and congregational leadership as a Go-el.
The Bible uses the word that we translate as "remember" nearly 300 times and "redeem" 124 times.
In the Old Testament, as the people of Israel were migrating through the wilderness and taking up residence in a new land, they were commanded repeatedly by God and by their Go-els to remember where they had come from and how God had made their new life possible.  A core responsibility of their continuing existence in their new land was to pass this remembrance of their past and its central value on to subsequent generations. The Bible is clear that future prosperity depends on remembering the valuable faith lessons of our past. 
Now that I am a grandparent, I remember the formative influence of my grandparents in teaching me to value Jesus, church, family, and learning. I pray that I, too, can continue to be such an influence on those around me. 
I am grateful for church and family Go-els before me, who encouraged me to take time to study the Bible. I recommend our denomination's Disciple Bible Study as a wonderful resource for growing in faithful understanding and application of biblical texts to life. Rob Bell's book, "What is the Bible?" is another excellent tool for learning how to understand, communicate, and live by the wisdom of the scripture.
Deuteronomy chapters 5 and 6 declare the importance of remembering God's deliverance and keeping God's commandments as articles of faith. Weekly Sabbath-keeping was established in part to help us remember in gratitude God's past deliverance from slavery. The memories of Go-els in the Bible give direction for our present and hope for our future.
The Bible helps us to remember that we are a redeemed people and that God is our Go-el (redeemer.)
Psalm 107:2 reminds us of this truth about God, "Let the redeemed of the LORD say so, whom he has redeemed from trouble."
Isaiah 41:14 echoes the same belief about God's ultimate leadership for us, "I will help you, says the LORD; your Redeemer is the Holy One of Israel."
In his letter to Titus chapter 2 verse 14, the Apostle Paul repeats a theme that he raises in several other letters. Paul acknowledges that Jesus "gave himself for us to redeem us from all iniquity and to purify for himself a people of his own who are zealous for good deeds."
Leading in any context can be hard work. Sometimes our example needs improvement. Sometimes those we love resist being led. Sometimes unexpected challenges like a global pandemic make our leadership even more daunting. Leadership in the role of a Go-el is a rich privilege and responsibility of great importance in every situation.
Pray with me: God, help us to value all of the treasures, memories, and responsibilities you have entrusted to our care. Thank you for the great gifts of family, church, and scripture. Help us to follow your leadership in the exercise of our own in gratitude for your redeeming love.