Churches and members of the 2020 Virtual Michigan Annual Conference supported the yearly mission ingathering at record-breaking levels. The gifts totaled $62,355.  Ministries in Haiti, Liberia, and mid-Michigan are grateful.
KAY DEMOSS
Senior Content Editor
September 1, 2020 | LANSING, MI — When it comes to the 2020  Virtual Michigan Annual Conference, the United States Postal Service delivered! When the sessions adjourned on July 28, persons across the state used an envelope to fulfill their duties as voting members. One month later, Friday, August 28, on "Count Day," the mail was opened. Those envelopes contained the ballots submitted on legislative items. Those ballots were tabulated and that news is forthcoming from Bishop David Bard.
Dollars given to the Conference Offering were also counted, and the total is a tribute to the generous spirit of churches and individuals across the state.
Conference Events Planner Nancy Arnold reports that the total received to date is $62,355. "Phenomenal!" says Arnold. "The generosity of those that had access to the envelopes used to remit the offering was incredible!" She adds, "Most years, the AC offering is around $45K."
The ingathering, as announced, was split 45% for the Bishop Judith Craig Children's Village in Liberia, 45% for Haitian Assets for Peace International, and 10% for Michigan Disaster Response and Recovery. There were a few dollars specifically designated for each project, so totals are:
Liberia $27,145.82
Haiti $28,380.82
Disaster Recovery $6,257.06
But there was more good news. The 4th Annual 5K, held virtually for the first time in 2020, raised a total of $10,455 additional dollars for the Disaster Response and Recovery Fund. "Nearly six times our past earnings," Arnold explains. Previous 5K events were held the Wednesday before the conference on the grounds of the Grand Traverse Resort. COVID-19 forced the tradition to take a new form. The 5K was re-designed. People were invited to be on the move in their space anytime July 26-28 while the conference was in session.
Over 200 adults and children in six different states participated, according to Arnold. They shared their efforts on Facebook. Albion First United Methodist Church and Harper Woods Redeemer were super-supporters. Albion's pastor, Leslee Fritz, reported on #MIUMC5K, "I walked … my church walked … my mom walked … more of my family will walk soon. All to support the work of the United Methodist Church in flood-ravaged mid-Michigan. I'm proud to be a part of a denomination committed to mission."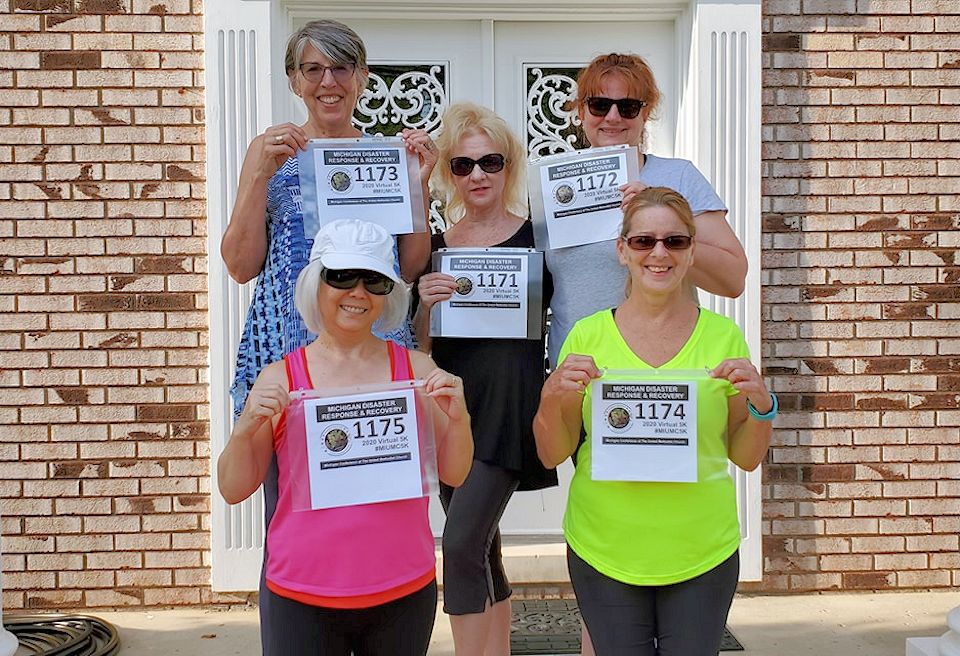 "This challenges our notion that we're in a time of lack," Arnold concludes. "Some churches included notes that they had been closed and didn't have the opportunity to take an offering or hold their mission supper. Yet voting members took matters into their own hands in response to compelling videos."
Those videos are available for view here:
For the past five months, United Methodists in Michigan have struggled through the landscape of COVID-19. Congregations, pastors, laity, and conference planners met many challenges, and the work of the church has gone on. The response to the 2020 Virtual Annual Conference's call to mission was one of abundance, not scarcity. Thank you, Michigan Conference! "We know that for those who love God, all things work together for good, for those who are called according to his purpose." (Romans 8:28)