Twenty children in Melvindale, near Detroit, participate in a summer outreach program called Sugar Crash, hosted by Centro Familiar Cristiano United Methodist Church.
MEGHAN HARTLEY
Mission and Justice Communications Intern
Summer has never been so sweet than at the Sugar Crash Summer Outreach Program in Melvindale.
Centro Familiar Cristiano United Methodist Church (CFCUMC) in Melvindale hosts a month-long program in July for children called Sugar Crash Summer Outreach Program, one of our EngageMI Michigan projects.
It is designed similarly to Vacation Bible School, with themes and stories from the Bible in addition to games, crafts, and snacks. The program teaches kids about the Word of God, so they can feel like the church is theirs, too.
Rev. Patricia Gandarilla, pastor of CFCUMC and creator of the Sugar Crash Summer Outreach Program, says she designed the program to be a safe space for kids, and a place they can enjoy.
"This space is very unique," Gandarilla said. "We allow the kids to have the experience to roam and develop leadership."
In one day, kids will have Bible study, recreation time, and comprehension classes in math and reading, along with a nutritious lunch meal at the local school. These experiences help the children grow up with positive experiences and become little disciples.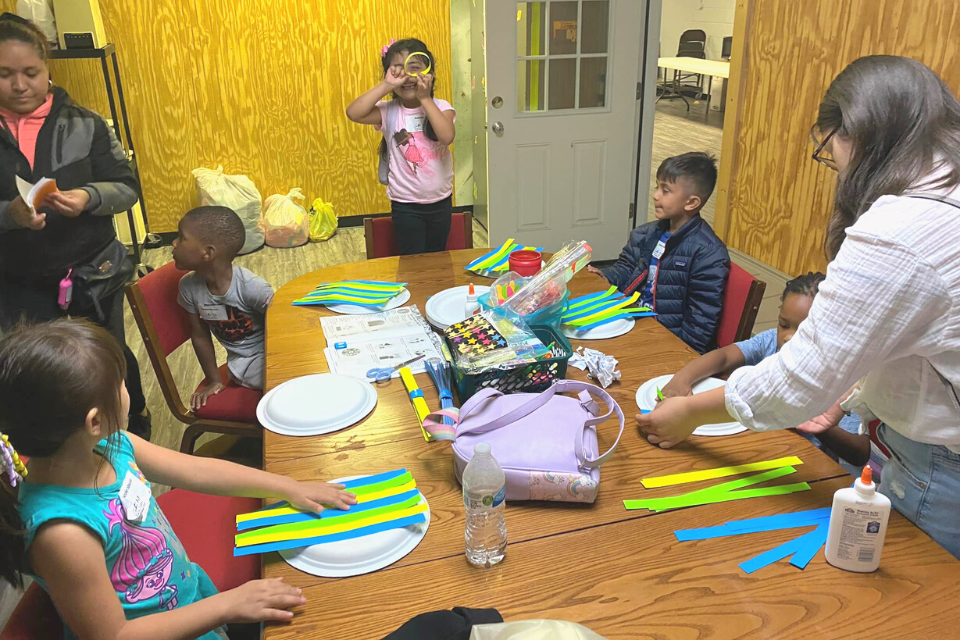 Gandarilla says the kids learn how to become leaders as they grow up, sometimes returning to the program to mentor younger generations. This year, she welcomes three teenagers who were part of her first Sugar Crash in 2015 as crew leaders for the program.
This summer Sugar Crash welcomes 20 children, along with the newly returned crew leaders, from across the multicultural neighborhoods of Detroit.
Gandarilla says in the past mission interns have come to be a part of the program as well, and they play a very important role.
"With the mission interns we are able to connect communities," Gandarilla said. "We're certain they can be bilingual and they like to have a multicultural experience, [and] it's very exciting to work with them and help them to develop those skills."
The Sugar Crash Summer Outreach Program has a big impact on the children and volunteers as it builds connections through community.
"People ask, how can we change the life, with just a little detail, for a child," Gandarilla said. "We mark their own life forever. If we do something for those little ones, it's wow. We touch in the hearts and they're never going to forget."
At the end of the summer program, after so much learning, the children are given the opportunity to receive a new pair of shoes. The children have their feet washed and then put on a new pair of tennis shoes, blessed as they head into the new school year.
Gandarilla says that once the children receive their shoes, they come up to her excited to tell her that the shoes are in their favorite color, fit right, and are everything they wanted.
It is a blessing when she is able to see the joy on the children's faces at this unique event, and she prays to God to protect them as they grow up in a world with darkness.
For those who would like information on how to contribute to the program, through volunteering or donating shoes, send an email to Rev. Patricia Gandarilla at [email protected]
The Sugar Crash Summer Outreach Program is an EngageMI project. Congregations and individuals wanting to support this ministry can submit a check to the Michigan Conference at 1161 East Clark Road, Suite 212, DeWitt MI 48820. Write this phrase in the memo line: "CCMM #3052."