Cindy Johnson, a United Methodist deaconess, recently led a group of church leaders to the Matamoros Bridge in Brownsville, TX. 
KATHY L. GILBERT
UM News
BROWNSVILLE, Texas  | February 7, 2019 — Under a short stairwell, huddled next to a concrete wall, a group of people sought shelter from the whipping, whistling wind at the base of the Matamoros Bridge.
Taking cover from the wind was Isabel who sat on a blanket holding her 16-month-old daughter, Kassandra. The little girl's big brown eyes looked glazed and tired. The pair had traveled from Nicaragua to the Mexico U.S. border only to be stopped and given a number that places them in a long line waiting to request asylum.
Cindy Johnson, a United Methodist deaconess, comes to the bridge most days to talk to people camped out there as they wait for their turn to cross. Getting past Mexican authorities is the first step of the long process of seeking asylum.
Johnson sees the baby is not feeling well.
She speaks to the mother and finds out the child has a fever and has lost weight. She takes them both to a nearby pharmacy. The pharmacist looks at the child, talks to the mother and suggests two bottles of medicine.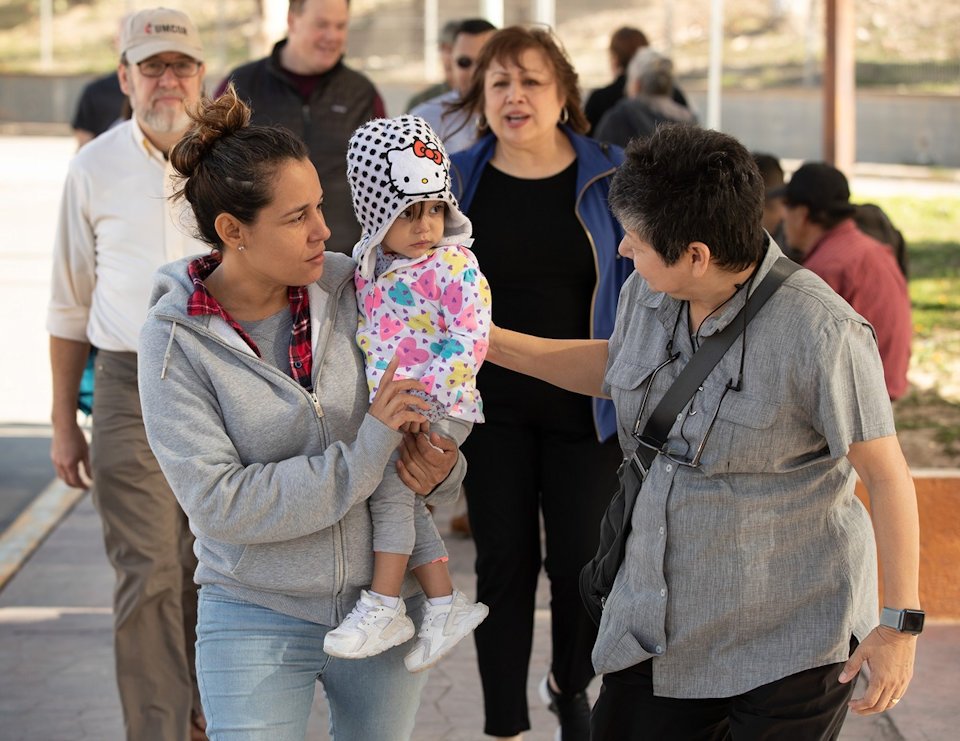 After counting how many people are waiting at the bridge on this day, Johnson and her husband, Mike, order beans and rice from a nearby street vendor. She brings the food back to the group for lunch, something the Johnsons do frequently.
"I like to bring them something hot," Johnson said. She is worried about the baby and later that day she finds a shelter that will take the mother and child for one night.
Johnson is also a member of the United Methodist Immigration Task Force and on this blustery January day she is leading a group of church leaders from The United Methodist Church and Methodist Church of Mexico to the bridge to see firsthand how much has changed in the immigration process in the last several months.
She has asked Christina Patiño Houle, network weaver for the Rio Grande Valley Equal Voice Network, to explain how the process of seeking asylum started changing last year.
"As you may know, seeking asylum anywhere in U.S. is a legal right whether you come in a legal port of entry or you climb over the wall. Asylum law states if you are fleeing and in fear for your life, all you have to do is step one foot in U.S." Patiño Houle explains.
Zero tolerance has made stepping one foot into the U.S. almost impossible, she said.
As thousands of migrants started reaching the border last year, so many people were lining up that Mexican authorities cleared the bridge. An unofficial checkpoint was established in the middle of the bridge manned by U.S. Customs and Border Protection.
If you don't have the right documents, you can't get past the checkpoint, and you can't seek asylum, she said.
"Now what is happening is you can't even get on the bridge in some cases without showing your documents. You are also threatened with deportation before you can get on the bridge because you cannot legally be in Mexico unless you have a visa.
"But who is thinking about getting a visa for Mexico when they are fleeing Guatemala seeking asylum?" she asked.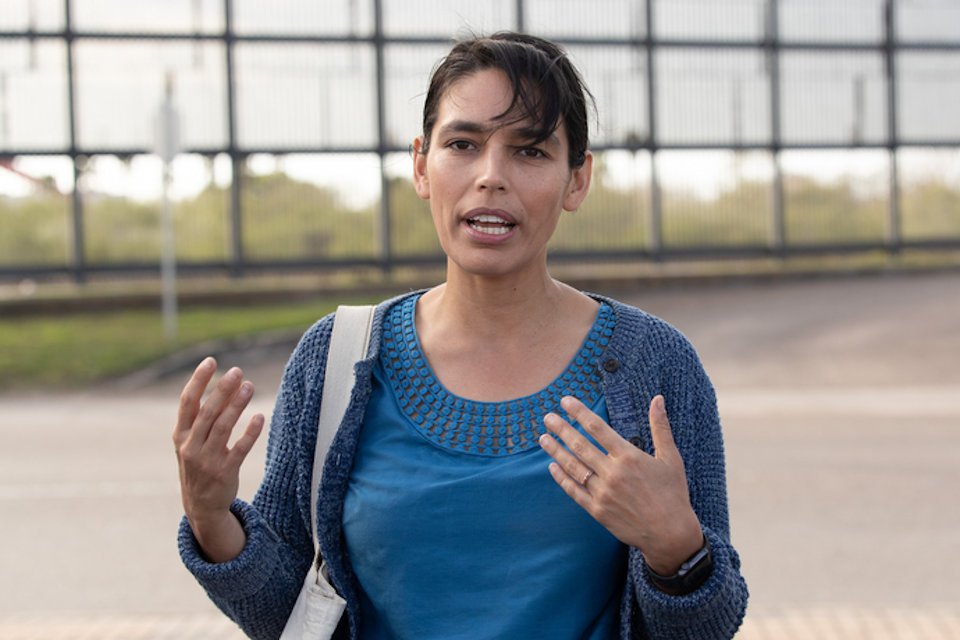 People get their names put on a list in the order they arrive. Patiño Houle said each bridge has a different ad hoc process for managing the asylum line. Some people have numbers written on their arms, some are handed pieces of paper with numbers on them.
At some points of entry, people can "pay" their way forward by offering bribes to Mexican authorities.
Authorities are also chasing people away from the encampments that form at the base of the bridge, which leaves people scattered along the border.
The trip to Brownsville to visit the bridge was part of an all-day trip for the United Methodist Immigration Task Force members meeting in McAllen, Texas.
Other sites visited included Good Neighbor Settlement House in Brownsville, Texas, La Posada Providencia Migrant Shelter in San Benito, Texas, and Catholic Charities Humanitarian Respite Center in McAllen, Texas.
La Posada Providencia was founded and sponsored by the Sisters of Divine Providence. Sister Zita Telkamp, director of the center, welcomed the task force team.
"Of all the churches, you (United Methodists) win the prize," she said, praising the support the center receives from the church.
The Rev. Roberto Lopez, El Valle District superintendent, hosted a dinner the night before the day trip. Immigration task force members had conversations with local United Methodists about the work going on in the community with migrants.
Azalea Aleman-Bendiks, assistant federal public defender for the Southern District of Texas, said zero tolerance criminally prosecutes everyone.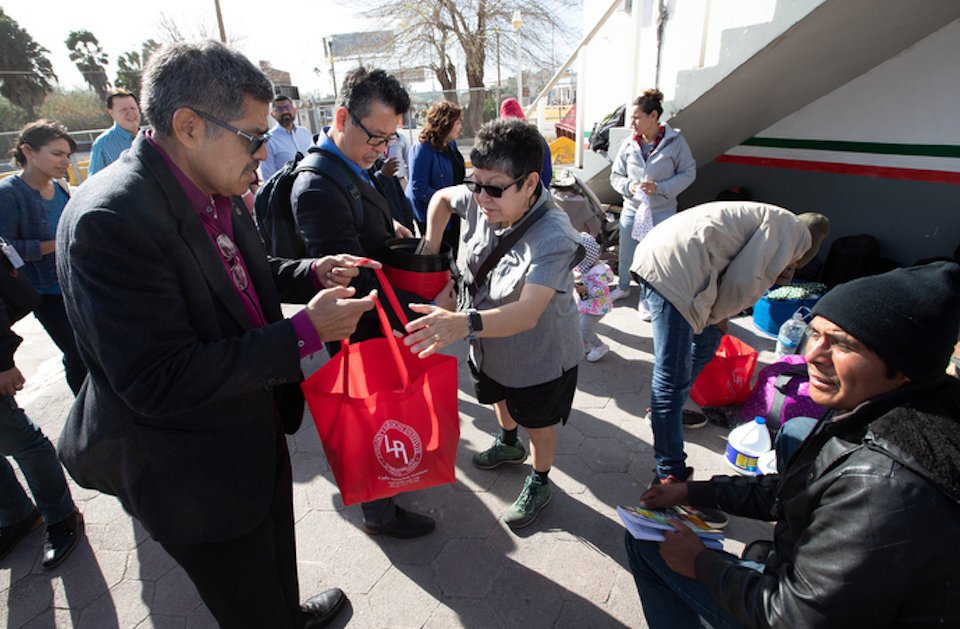 "What we have seen in this past year is this incredible surge of misdemeanor cases. Now there are people being prosecuted for coming into the river (crossing illegally)."
People still get their credible fear interview, she said, but now they have a criminal record.
Aleman-Bendiks said the numbers reported on how many children were separated from their parents is too low. She said she saw almost a thousand children removed from their parents in her district in a matter of eight months.
"And I need you to know it is still happening," she said. "Every day we still have people telling us they were separated from children."
She told the story of a father traveling with three of his children who received a 20-day sentence because of a past conviction.
"The court told him that his children were already at a center in the Bronx, New York," she said.
"All of this is a sad commentary about how these people are treated unfairly," she said. "Regardless of people's position on immigration and how tough we need to be, once these people are here they need to be treated with dignity."
Aleman-Bendiks said she has always relied on her faith to do her job. She is a member of First United Methodist Church in McAllen, Texas.
"I have faith that The United Methodist Church has the moral authority to demand better. Every religious organization has the authority."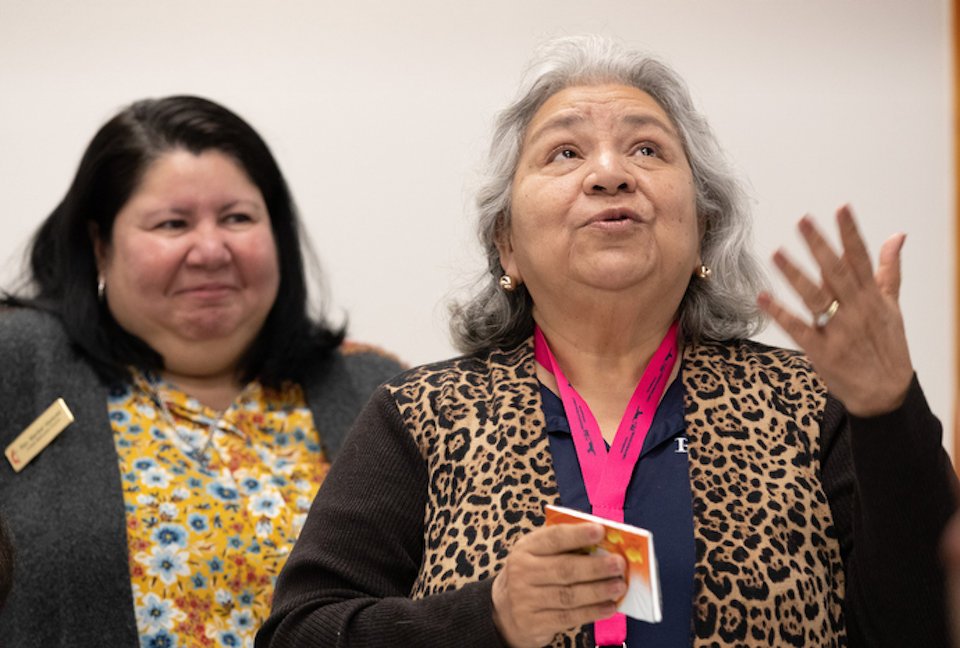 Kiko Villarreal and Rodrigo Garza came with their pastor, the Rev. Maribel Vazquez, to tell a personal story.
The couple has lived in the U.S. for almost 50 years but a simple trip across the border one day ended with Rodrigo arrested and put into a detention center for three months. He had an old DUI on his record and even though he had paid the fine and taken care of the criminal portion, the immigration violation was still open. He was immediately deported.
Rodrigo, a shy man with many health problems including a tracheostomy — a tube surgically inserted in his windpipe to help him breathe — sat with tears running down his face as his wife explained the terror and confusion she felt when he was suddenly taken from her.
An attorney with Justice for our Neighbors, a United Methodist program that offers legal help for immigrants, helped the family bring Rodrigo home.
Both Kiko and Rodrigo said though it was a hard time, it was also a blessed time because Rodrigo was able to share his faith with several men in the center during morning and evening Bible studies.
The Rev. Maribel Vaquez and the congregations of Los Wesleyanos and Principle de Paz also offered support and love during the time.
"You are the bridge, the door, the frontline workers showing us how to love the stranger, the stranger who is not that strange but our brothers and sisters," said Bishop Minerva Carcaño, episcopal leader of the California Nevada Conference and director of the United Methodist Immigration Task Force.
Last Updated on November 1, 2023