Puerto Rico has trembled in a series of earthquakes over the holidays. Gifts to Advance #901670 will support relief efforts by UMCOR and REHACE.
DAN CURRAN
UM News
A series of earthquakes in recent weeks has left the people of Puerto Rico in a constant state of unease and distress.
The Methodist Church of Puerto Rico has shared in that unease but also is responding to the situation through its own disaster response organization and through partnership with the United Methodist Committee on Relief.
Experience gained from the Hurricane Maria recovery has been an asset in this response, said Glorymar Rivera-Báez, program director for disaster recovery with Rebuilding Communities With Hope (REHACE). Rivera-Báez was in touch with UMCOR's U.S. Disaster Response team immediately after the earthquakes began.
"Although this is a time of great hardship, one positive aspect is that we already had a strong disaster response system in place because of our Hurricane Maria work, plus we have an ongoing relationship with UMCOR," she explained.
"The advice, trainings, and financial support they have provided to the people of Puerto Rico will most certainly help us respond to this current situation."
According to the U.S. Geological Survey, more than 500 earthquakes of magnitude 2 or greater have rattled the area since Dec. 28. Of the hundreds of earthquakes, 32 were magnitude 4 and above, including the ones Jan. 6 and 7.
News reports indicate that the  Jan. 7 deadly 6.4 magnitude earthquake — the strongest of the series of quakes — left a man dead and injured at least eight others, caused dozens of homes and structures to crumble and cut power and water service to large swaths of the island.
Days later, the island is still struggling. More than 5,000 people are sleeping outside of their homes, with 2,200 of them in government-run shelters and 3,400 sleeping in parks, parking lots and other places. The Methodist Church of Puerto Rico has opened the parking lots of its churches in Ponce and Jayuya to families in need of a place to sleep.
On Jan. 6, the Methodist Church's central office staff and the REHACE disaster case managers, who serve people living in 26 municipalities across the island, were advised to work remotely and travel only if it was safe to do so.
REHACE staff and contractors are still repairing and rebuilding homes damaged by Hurricane Maria in 2017. All work projects eventually were canceled for the week of Jan. 6.
The agency's structural engineers and case managers then started the process of evaluating the structural integrity of the more than 600 homes REHACE has repaired during the past two years. Staff also assessed the condition of camps and host sites where some of the more than 2,500 volunteers from mainland United Methodist congregations have stayed when visiting the island to work on these homes. Early reports indicate minimal to no damage so far.
On Jan. 8, Bishop Hector F. Ortiz, episcopal leader of the Methodist Church of Puerto Rico, traveled to Guayanilla — located on the island's southwest coast near the earthquake epicenter — to inspect damaged churches and residences.
He toured the damaged Methodist Church of the Resurrection in Ponce and the Methodist Church of Guayanilla, both of which suffered extensive damage. The stained-glass windows in the Church of the Resurrection in Ponce, previously damaged by Hurricane Maria, had been repaired with hurricane recovery funds.
"Our duty right now is to provide all the support, help and hope we can to our communities," Ortiz said.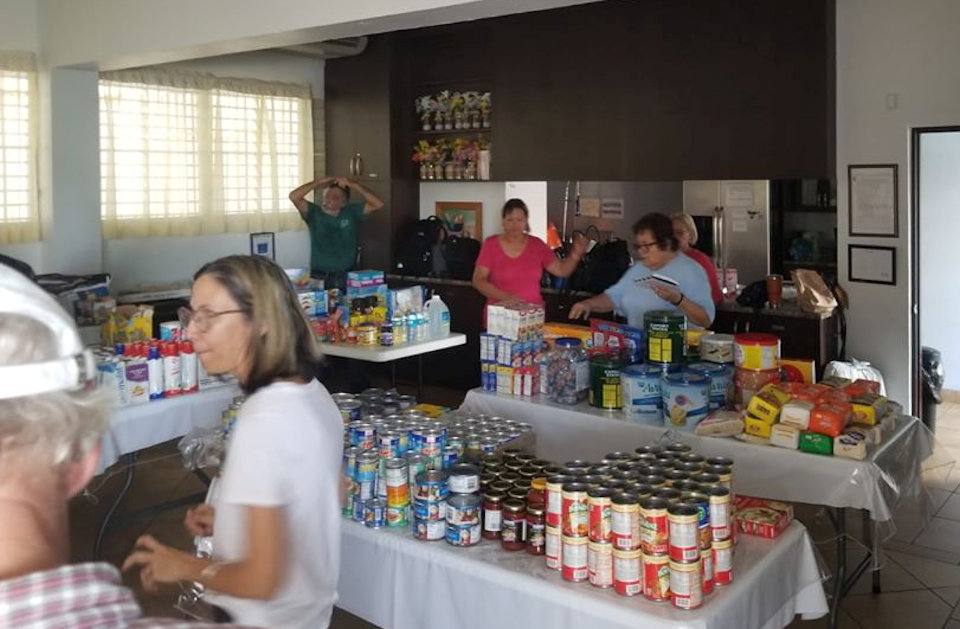 UMCOR has awarded a solidarity grant to help with immediate needs. An UMCOR special assessment team will be traveling to the island the week of Jan. 13 to conduct site visits and determine how best to support the Methodist Church of Puerto Rico and REHACE in their response efforts.
The church and REHACE have teamed up with Caribe Girl Scouts Council and members of Puerto Rico Voluntary Organizations Active in Disaster on a project to obtain tents and canopies that will be distributed to families affected by the earthquakes.
Meanwhile, the earthquake aftershocks are expected to continue for several more days and keep people on edge.
"The mental stress that these earthquakes are causing, and the tremors that don't seem to ever stop, is amazing," said Gusmary Blanco Mersie, the church's social media director and the mother of two young children.
"Everyone is afraid to sleep because they're worried about a building collapse, babies don't want to be in their rooms because everything moves and kids only feel safe in the park or on the street. The aftermath of this is going to be much bigger than we can imagine."
~ Curran is a communications consultant for the Methodist Church of Puerto Rico and for UM Global Ministries.