Non-profits and churches can reap renewable energy from the sun with little or no upfront cost and with significant savings in the long run.
FRED ELMORE
Keswick UMC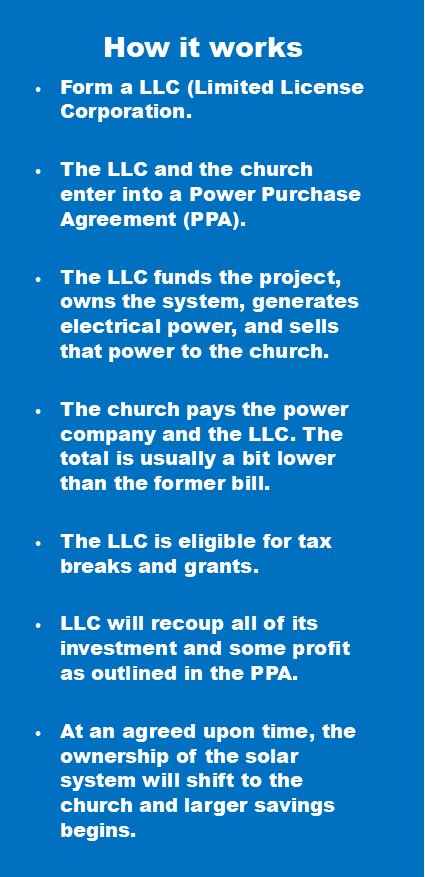 Keswick United Methodist Church in Suttons Bay gives new meaning to the phrase, "solar system." No, it's not about planets and stars. But it does revolve around the sun.
When the installation of solar panels was proposed for Keswick UMC, the predictable response of "We can't afford this," was heard.
But after consultation with Michigan Interfaith Power and Light and Northport Energy, Keswick's finance committee discovered a plan that would cost the church virtually nothing. That's when a church member stepped forth to form a private LLC (Limited License Corporation). The LLC  is called Keen Weh, an Ojibwe word meaning, "All of us together."
This new business covered the total cost of installation of two solar systems designed to provide close to 100% of the electricity needed for the church and the parsonage. The LLC's solar systems generate and sell power to the church at the same rate as Consumers Energy, our local energy supplier. End result? No increase to the church's budget!  
Churches and non-profits pay no federal income tax so they cannot benefit from the current 30% tax rebate. But the LLC is eligible for this 30% rebate and was also awarded a 25% REAP grant through the U.S. Department of Agriculture (USDA). Because of these factors, Keswick's system is more than half paid for in just one year.
The remaining debt to the LLC will be covered by normal energy payments in about six more years. At that time ownership of the solar system will revert to the church and significant savings to the congregation's energy budget will occur.
Bob Chapman, Director of Interfaith Power and Light at the time of our installation, gave encouragement. "Around Michigan and the entire country, we are seeing houses of worship exercise good stewardship of creation and their own finances by adopting solar energy. This is true faith in action."
The Rev. Patti Haas, the pastor of Keswick UMC, said, "I m excited as Keswick moves forward to be able to practice creation care in a very tangible manner with our solar energy plan. Not only are we attempting to take care of our earth, our church stands to benefit financially in the long run. It seems like a win/win situation to me."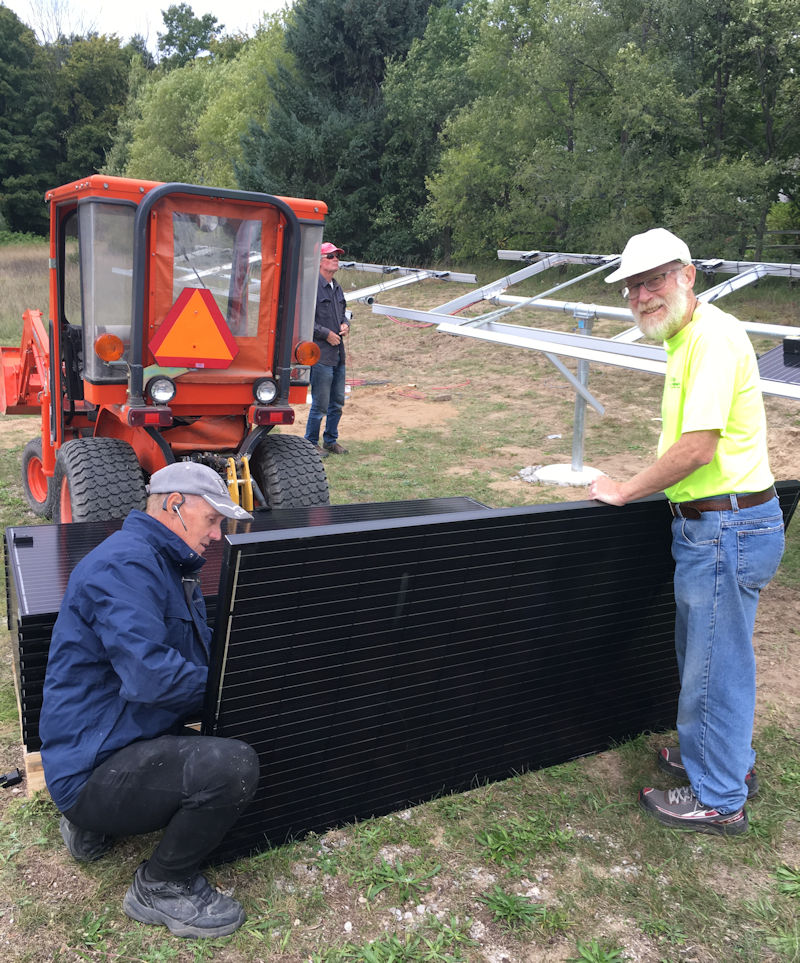 We United Methodists have a clear mandate, as shown in our Social Principles, to move in the direction of renewables. Actually, we have lots of things we should be doing and most of them cost us money. Changing to some form of renewable energy will very likely save us money.
Please be aware that the tax rebate is decreasing to 26% in 2020 and will continue to decrease in the future. Churches should act soon to realize maximum financial benefits from the installation of a solar system.
The Rev. Anita Hahn was Superintendent of the Northern Waters District at the time Keswick undertook this project. She said, "Thank you Keswick UMC for seeking to take responsibility for how you are using God's creation. This is an exciting step up and a model for how we all can be better stewards of the energy resources that God has entrusted to us."
The Rev. John Scott, Properties Committee Chair for Northern Waters, added, "Hat's off to the Keswick UMC folks for thinking outside the box with a bold and innovative way to strengthen the church while being good stewards of our natural resources." Scott encourages other congregations to learn from Keswick's experience. "After carefully wading through some uncharted territory, they have arrived at a great place. Don't hesitate to call upon them to help guide your church through this process," Scottt concluded.
Your guide is Fred Elmore, 231.631.0405 or fredelmore0405@gmail.com.