An opportunity for transformation … the Michigan Office of Congregational Vibrancy hosts the REACH Summit November 2-3 in East Lansing. 
LESLIE SCHNEIDER BENNETT
For Michigan Conference 
The world is changing rapidly and the United Methodist Church in Michigan has the opportunity to be on the forefront of these changes. But it will take intention, planning and the courage to follow the Holy Spirit to move forward.
"We can choose life. We do not have to be passive passengers in a ship," says theRev. Dr. Jerome (Jerry) DeVine, district superintendent for the new Mid-Michigan District. "When Jesus said, 'I came that you might have life and have it abundantly,' it wasn't just someday. He was saying here and now."
Each year, the two-day REACH Summit offers clergy and lay leaders encouragement, renewed energy and focus to reach new people for Christ. Its speakers and workshops provide fresh, new ideas and practical tools already successful in leading Michigan churches and those across the country.
When people agree to attend the REACH Summit, they step into "the DNA of possibility," says DeVine, adding that the former Lansing  (now Mid-Michigan) District Conference will take place during this November's REACH Summit. "When you have common conversations about vitality and vibrancy, you can transform local communities and congregations (so they can) engage people in healthy, vibrant ministries in their communities."
Those who participate in the REACH Summit discover they are not alone, nor do they need to reinvent the wheel to transform their church. Instead, they make connections, develop action plans and may even decide to join a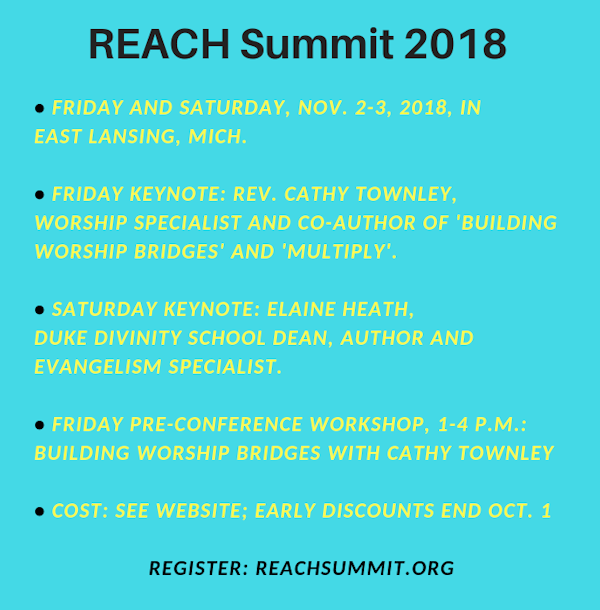 REACH Network Group. Five or six network groups meet monthly the following year for a deeper dive, working together and sharing ideas and accountability.
When Ed Ramos, a member of Marshall UMC attended last fall's REACH Summit in Grand Rapids, "It was like a fire was lit inside of me. It was amazing," he says. He signed up for the new Multi-Ethnic Church Reach group meeting this year and this fall will lead a multi-cultural conversations class at his church.
One fire-starter at the November REACH Summit is the Rev. Cathy Townley, author and worship specialist. On Friday, Nov. 2, she will draw from the book Building Worship Bridges that she co-wrote. "Most existing churches are pretty isolated from the neighborhoods where they are serving. They're kind of stuck," explains Townley, who coaches clergy and congregations to be more effective in reaching out to neighbors.
"Churches need to learn how to get out and read their community, and get a sense of who they can realistically reach," Townley says. Then they need to think about how to create an engaging, compelling worship experience with guests in mind.
Fortunately, it's not that hard, she adds. "But they have to determine that this is really what they want to do. There's got to be a passion and a heart for people and a burning inside them to offer the love of God through Christ. If that's not paramount, it's really hard to do anything else."
The Rev. Don Gotham of Utica UMC has participated in the REACH Summit for several years now and Townley coached his church when they began a new worship service. "The intentional focus on new people has made a huge difference in the revitalization of the church," Gotham says. "(Townley) has the amazing ability to notice things in your community that people who live there just become blind to. Also, her passion for excellent worship really shines through."
Besides keynoting Friday evening, Townley will lead a new Friday pre-conference workshop as well. "Cathy gets the church," says the Rev. Gary Step, Associate Director of Congregational Vibrancy for the Michigan UMC. "She gets where we're at, where we need to go, and the barriers that are holding us back."
On Saturday, Nov. 3, the Rev. Elaine Heath, dean of the Duke Divinity School and professor of Missional and Pastoral Theology, will keynote the REACH Summit. An ordained elder in the United Methodist Church, she co-founded the Missional Wisdom Foundation, which studies missional community formation, new monasticism, social enterprise and reimagining church.
Her keynote will correspond to her 2016 book, God Unbound: Wisdom from Galatians for the Anxious Church. Heath will "help us understand some of the cultural changes and what churches need to do to 'keep in step with the Spirit,' as Paul says in Galatians," she says.
The Rev. Dirk Elliott, director of Congregational Vibrancy for the Michigan Conference UMC, knew Heath when she was a pastor in the East Ohio Conference. "She was a phenomenal pastor in casting vision and helping turn around a church," Elliott recalls. "In the early 2000s, she was doing a lot of the things that now are commonplace as far as contemporary worship and single-board governance of the church. She was really ahead of her time."
Heath is not only deeply spiritual, but engaging and easy to listen to, Elliott continues. She is also relevant and very practical.
Which is exactly what churches need today, since there is pivotal work to be done. "Life is more than simply existence," DeVine says. "For so many of our churches, they exist but they haven't necessarily chosen life. They're slumbering. Transformation in our communities won't happen if we're slumbering."
There are no formulas or magic bullets, Townley adds. "There is an unchurched culture where the average person is looking for deep meaning in life. The church is not the first place they think of to get that. So it's incumbent upon churches to go out and meet them where they are with an unabashed presence of being a Christ follower."
~Leslie Schneider Bennett is a freelance writer in the Detroit area and a member of St. Paul's United Methodist Church in Rochester.