A Michigan United Methodist joined a disaster response team from Northern Illinois to assist with cleanup in Florida following the destruction of Hurricane Ian.
JACK WILSON
Northville: First UMC
As a recently certified Early Response Team (ERT) member, I got the opportunity to join a group from the Northern Illinois Conference to help with the cleanup from Hurricane Ian in Port Charlotte, FL. Even though I have participated in several mission trips abroad and through our mission team at the First United Methodist Church of Northville, MI, what I was about to witness up close was devastating and heartbreaking.
Seeing the destruction of a Category 4 hurricane up close is not like seeing it on YouTube or TV. Debris lined the streets everywhere with twisted metal roofs and siding, drywall, cabinets, insulation, appliances, and furniture piled high. We saw trees uprooted randomly while the ones still standing were tilted from the wind's powerful directional force. In some areas, it reminded me of snow drifts up north, piled as high as 6 feet and as long as the property allowed.
Over one million homes were affected by catastrophic flooding, winds, and rain. Besides all the damage and destruction we saw, those who lived in these homes were uprooted from their normal lives. Their personal items were strewn along the streets, and they were unable to live normally due to the lack of so many amenities. It will never be the same for any of them. Once we had conversations with them, we learned that some would be unable to rebuild because of the costs involved. Some would be leaving the area and never coming back, for the risk far exceeded the benefit of living there. They had formed a community of friends, and it seemed like that community was already fracturing. Could they get back to what it was like before the hurricane?
The Port Charlotte United Methodist Church hosted our group and gave us a place to sleep, a kitchen to cook in, and a shower trailer for daily use. It worked well for us, but I questioned why the church would bring us in when they had their own significant issues caused by Hurricane Ian. The sanctuary's roof was severely damaged, making it unusable, and it could take one to two years to rebuild. Additional water-damaged areas forced them to constantly move church functions into suitable spaces, including Sunday services. The staff worked hard making those changes, but you knew they were struggling from the additional tasks Ian had put on their shoulders.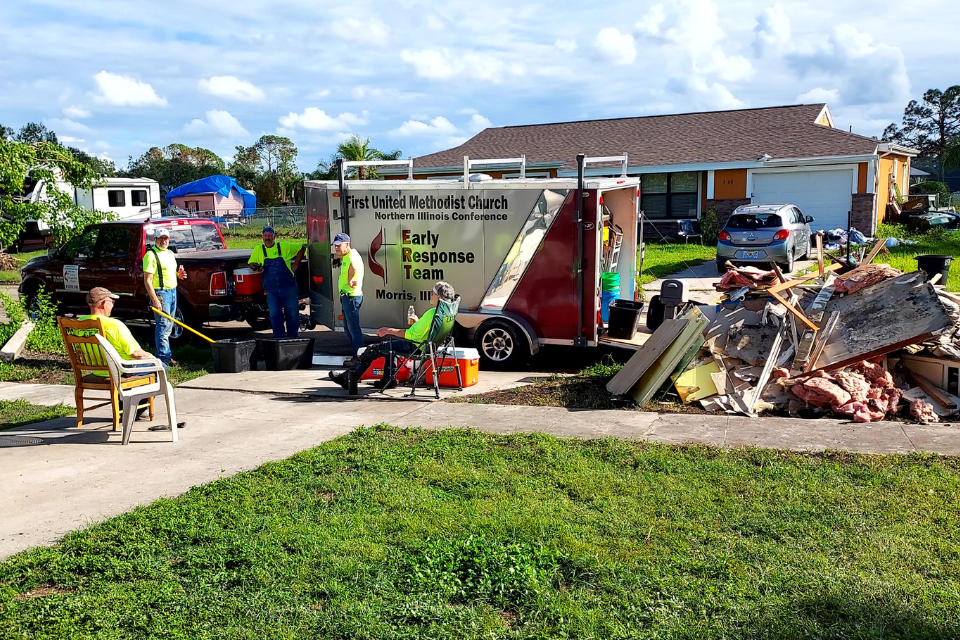 Our morning started early on the first day as we drove out to a home that experienced over three feet of water in the house. It's incredible how mold can grow so quickly. Drywall, insulation, cabinets, and even flooring needed to be removed. The pile of construction debris on the side of the street grew wider and longer. Three generations, including a daughter and her son, lived there. They stayed in their home during the hurricane and evacuated in a boat due to the flood waters. Their story of the pounding wind and torrential rain was unthinkable. We spent the entire day removing drywall and cabinets, repositioning sinks on frames, and installing plastic material for privacy and water protection in the bathrooms. Last, we made sure the appliances worked before we left. When we said our goodbyes, the mom requested a picture of us with her. Then came a constant flow of appreciation for each of us from the entire family.
For the next few days, we worked on various mobile homes, tarping roofs and removing flooring, drywall, and insulation and taking it to the side of the road. Furniture and personal items were already out on the street except for small appliance items and kitchen dishes left by the homeowner for any of her neighbors to take. The homeowner made it very clear to us that she was done living in Florida and was moving up north with her children. We continued working at her home for a few days and met some neighbors who came over to share their appreciation of all we were doing.
Most homeowners we worked with were retirees living off their nest eggs with fixed incomes and, in most cases, uninsured. Flood insurance is even more expensive if you could get it.
Our duty was to make their home safe to live in and put some order back into their lives without them having to pay for it. Some had families helping them make decisions, coordinate living quarters, and contact FEMA, but so many others did not. Unless you have gone through a hurricane before, it can be extremely confusing and frustrating. They needed an on-site advocate to help them sift through the process of gaining access to work crews, temporary shelter, and funds available through FEMA. Most of all, they needed help in communicating their actual needs. Our group leader, NIC Disaster Response Coordinator Colin Monk, did an exceptional job listening to individuals and giving them information about the process of our mission of assessing the damage.
Our ERT deployment in Port Charlotte was not only about the work that needed to be done but the connections we made with our team members and the homeowners. It's hard to look for God when you are surrounded by such devastation. Perhaps God brought us not just to help with tasks but to instill some hope in people's lives.
My first deployment with an Early Response Team was a great experience. It brought fellowship and the message of Jesus Christ to those who needed it most at such a difficult time.
I am grateful for our leader and all the individuals I worked with during the week. We not only brought some hope to those in need but also strengthened our own hope. We made a difference, and because of that, I will be back for more.
If you or other members of your congregation are interested in joining an Early Response Team going to Florida or other places affected by recent natural disasters, contact Dan O'Malley, Michigan Disaster Response Coordinator, at [email protected] or 616-915-6301.
~ This article was reprinted and edited with permission of the Northern Illinois Conference of The United Methodist Church.
Last Updated on December 20, 2022