"For Each and All:  The Moral Witness of Asa Mahan," recounts a significant era in Michigan and the Methodist Church.

JOHN E. HARNISH
Michigan Conference Communications
If you are looking for a warm-hearted, inspirational biography or perhaps a good sermon illustration about a Michigan Methodist, you've probably come to the wrong place. Christopher Momany describes his purpose in "For Each and All:  The Moral Witness of Asa Mahan": 
This book is not a biography. It does not pretend to cover every aspect of Asa Mahan's life. It is an attempt to trace powerful ideas in the teaching and writing of ethics through the Civil War, and it asks how these ideas were embodied among the debate over slavery in America. Asa Mahan's life serves as a lens through which to view the interaction and sometimes the outright mutual exclusivity of these ideas.  (page 14)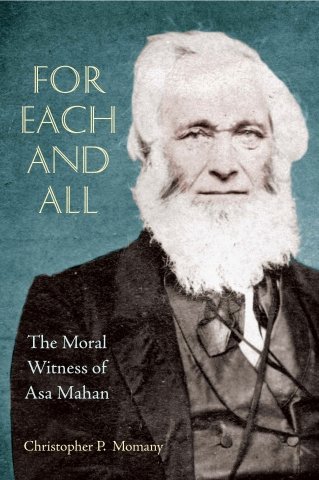 A daunting task to say the least, but one worthy of the person and the author. Momany takes us back through the strands of philosophical thought which were present in America leading up to time of the Civil War and shows how Mahan's work connects with those traditions. He describes Asa Mahan as a pastor and a philosopher, an evangelical revivalist preacher and a college administrator, a person of deep Wesleyan piety and also passionate social engagement. He says Mahan believed that "…the evangelical spirit was both intensely personal and unconditionally social. God's comprehensive love burned like an all-consuming fire." (page 160). 
And of course, in our day when the divisions between evangelical faith and social application are often so sharply drawn, we need Asa Mahan to remind us that the Gospel must include both our personal relationship with God through Jesus Christ and our active engagement in the world. Mahan was passionate about slavery and abolition, but he also spoke out on dietary and health improvements, women's rights and higher education reform. He was part of several major international peace conferences which developed after the Civil War and consulted with Abraham Lincoln during the war, all the while continuing to administer a college and preach and write on Christian Perfection, Sanctification and the tenets of Wesleyan faith.
Mahan also bridges the gap between academia and the "real world". In that sense, I express appreciation to the General Board of Higher Education and Ministry for their willingness to publish the book as it represents their commitment to connecting the denomination and our church-related colleges in shared ministry. It's refreshing to look back to a day and time when college presidents were also expected to be philosophers; a time when the various literary societies on campus held regular debates on issues of theology as well as global issues. Once again, Asa Mahan represents the balance which should be part of the life of the college campus and the church.
For Michigan United Methodists, of course, Mahan's tenure as the founding president of Adrian College sets him apart as a unique personality and leader. He had been the President at Oberlin College, working alongside the great evangelist Charles Finney. The tension and eventual split between them is  a fascinating chapter in his life and in the book, but ultimately Mahan's departure from Oberlin opened the way for him to come to Adrian, then the second largest city in the state, to establish a new school. The Michigan Union College in Leoni, MI has been planted earlier by the Wesleyan Methodists and provided the foundation for Adrian College.  The rest, as they say, is history.
Chris Momany, professor and chaplain at Adrian College, has made the life of Asa Mahan and his commitment to the "intrinsic worth" of all persons a hallmark of his ministry on and off campus. He connects Asa Mahan with the current issues of racism and human trafficking in a way that gives depth to the discussion and a historic anchor for our social witness. Momany's book has a definite scholarly tone, I assume with the hope that it could be used as a college text book, so it is written with the desire to meet the standards of academia. Some readers might be a bit overwhelmed in the first three chapters with the discussion of the various philosophical movements leading up to Mahan's time, but it is well-worth the challenge. 
For Michigan United Methodists, the story of Asa Mahan and the witness of his faith and life should be much better known than it is. Therefore, we are indebted to Chris Momany for his thorough, thoughtful and respectful treatment of Asa Mahan. 
~ The Rev. Dr. John E. Harnish is a former staff member at the General Board of Higher Education and Ministry and a member of the Adrian College Board of Trustees