Justice For Our Neighbors-Kalamazoo is still standing with their clients, safely and effectively, during the threat of the health crisis.
KAY DEMOSS
Senior Content Editor
COVID-19 has radically changed the landscape of ministry everywhere. That's true for local churches, and that's true for agencies like Justice For Our Neighbors (JFON). And while the challenges to ministry are many these days, the ministry is needed more than ever.
Justice For Our Neighbors Michigan explains in this statement on their website:
They're stocking grocery shelves. Sanitizing hospitals. Caring for our elderly in nursing facilities. And so much more. While the hands of immigrants are hard at work for all of us, the national hand of justice should reach for theirs. Instead, things have been made even more difficult and unpredictable during this perilous time.  
 Even now, the immigration legal system is maintaining strict deadlines for submitting documents. If missed, immigrants face potentially dire consequences, even deportation. Some legal requirements now change at the last minute. 
Additionally, undocumented immigrant workers can't count on the social safety net, such as unemployment insurance, if they lose their jobs. And many low-income residents can't trust that their efforts to become permanent residents will not be jeopardized if they receive public benefits during this crisis.  
At present all staff for the four Michigan JFON sites are working from home. JFON-Michigan has sites in Grand Rapids, Metro Detroit, Traverse City, and Kalamazoo. JFON attorneys remain on the job for their clients, "preparing them for any possible legal requirement, even for court hearings that may or may not be held."
Heather Haigh is the Site Manager for Justice For Our Neighbors-Kalamazoo. Heather says, "We are still working toward our mission, still meeting with clients via phone and online, and still meeting the government-sanctioned deadlines." Kathy Purnell serves as the Staff Attorney for JFON-Kalamazoo. Coral Cervantes is a Legal Assistant for the site.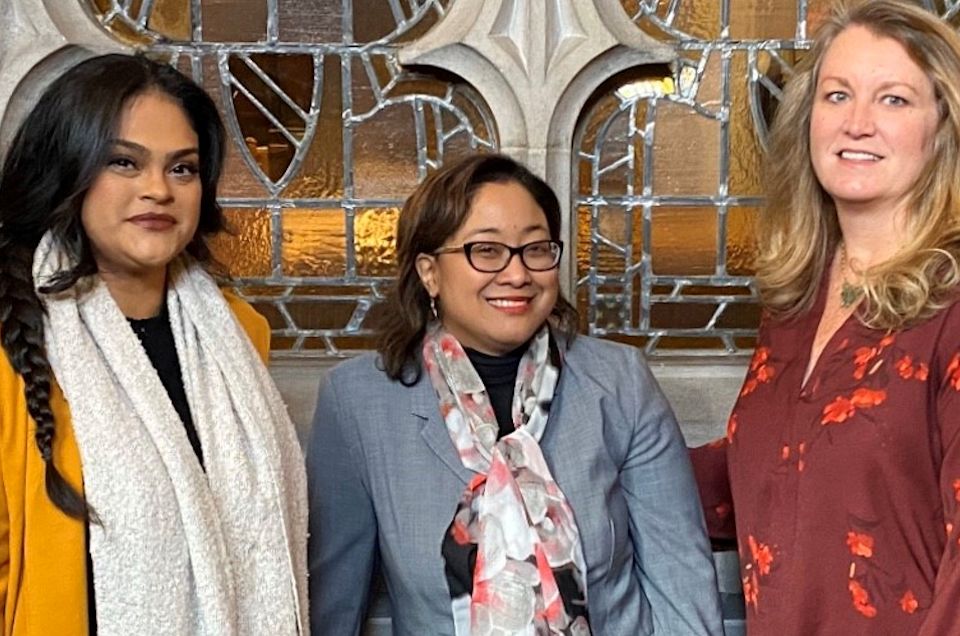 This is the third in a series of MIconnect features about JFON-Michigan. This week, our focus is on the southwest site hosted at First United Methodist Church in downtown Kalamazoo.
The Kalamazoo site opened in 2015. In 2019 JFON-Kalamazoo processed 219 cases. Clients came from 32 nations across six continents. JFON comments, "The world is truly in the southwestern region of Michigan. Practicing radical hospitality, therefore, is a given for the Kalamazoo team and something they believe all humanity should embrace."
Walking with clients
Kathy Purnell shares a client story. "One of the most amazing privileges I have had as an attorney with JFON," says Purnell, "is representing youth who are eligible for Special Immigrant Juvenile Status (SIJS)." She has worked on eight such cases with young people from Haiti, Mexico, Guatemala, Honduras, and El Salvador. Purnell notes, "This work has been gratifying because all of the children eligible have faced some form of abuse, neglect or abandonment, and the approval of their SIJS petition opens a pathway for them to legal permanent residency status." JFON-Kalamazoo staff are delighted that "these youth will now have an opportunity to work and become full participants in American life."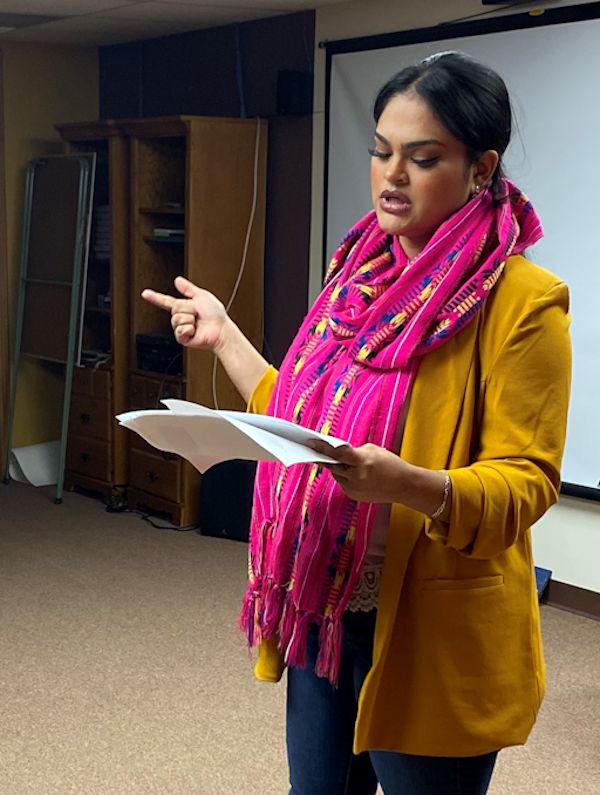 Legal Assistant Coral Cervantes speaks of the challenges that JFON clients face. "We help our clients understand the process involved in their cases. That allows for some relief in the anxiety they may feel when dealing with such uncertainty." And that's under "normal" circumstances, only magnified during the season of COVID-19. Cervantes adds, "Often our clients face financial hardships and have the desire to work. Because of JFON, those who are eligible can apply for work authorization and begin that journey of self-sufficiency."
Purnell notes that compassionate listening is critical to establishing trust and connection with clients. The goal of the staff-client relationship is to attempt "to identify if there is either a humanitarian or family-based immigration pathway for the client to obtain legal status in the U. S. either on a permanent basis, such as a green card and/or citizenship, or on a temporary basis, such as is the case with DACA renewals. 
Kathy Purnell continues, "What I love about JFON's mission focus on hospitality is that it encourages us as attorneys to walk with clients and their families to navigate different stages of the process." She is excited when clients become engaged as partners in their legal journey, and shares an example of a recent Venezuelan asylum case.
"Initially, the client did not know who to turn to for help and decided to file the asylum application on his own," Purnell reports.  After several continuances, he decided to seek help. During several interviews with him, "We developed a strategy to obtain work authorization (which he secured) and filed a revision of his application." His desire to work "was fueled by his anxiety about his family and what they were experiencing in Venezuela."  
Staff Attorney Purnell recalls another client, a refugee from Eritrea. "I experienced the client squealing, rather loudly, when I told her that her application for a green card was approved. I was a little concerned that she was so happy she wasn't really hearing everything I was saying. But I totally understood." The woman had experienced violence and life in a camp, living with uncertainty about the fate of her family members. "She was so grateful to have a home as a legal permanent resident. She immediately asked us to help her apply to become a U.S. citizen."
Volunteers assist
Manager Haigh notes, "Kalamazoo is especially proud of its strong grassroots tradition of training and integrating volunteers in the three core mission activities of JFON." Local faith communities, regional universities, and retired professionals contribute to the volunteer pool that is critical to the operation of JFON-Kalamazoo.
Purnell comments on the impact and legacy of these volunteers. "We just lost the 'Founding Mother' of JFON-Kalamazoo, the Rev. Mollie Clements. She was a JFON volunteer, who was also a global missionary, an active member of the United Methodist Women, and truly a force of nature aiming at justice." Clements died on March 1. Purnell went on, "I miss her tireless dedication to the lives of all God's children and her drive and passion for JFON's core mission. That mission is to ensure that all immigrants and refugees have access to high quality and free legal services regardless of their financial ability to pay. Her spirit continues to animate and inspire all of us."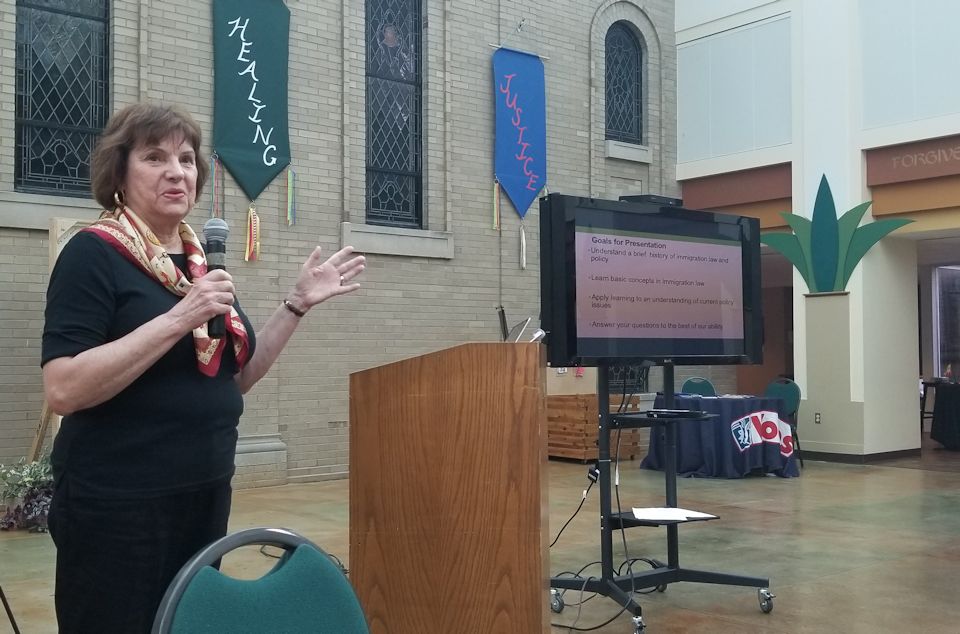 Haigh says that volunteers are trained to staff JFON-Kalamazoo Legal Intake Clinics and Asylum Crew (human rights researchers) and to serve as interpreters, advocates, and guest speakers. "In 2019, our volunteers spent over 500 hours working toward our mission!" Haigh observes. "One of our regular clinic greeters comes from West Africa and speaks three languages."
Making a difference
Coral Cervantes values a role that "allows me to pay it forward and provide the support that may not be readily available to immigrants and refugees." Her hope for the future "includes dignity, respect, and permanent protection for all immigrants. This means protection beyond immigration status."
Kathy Purnell calls herself, "Blasian-American." She speaks about the life lessons of her parents and how they impacted her work. "I am the daughter of an African-American soldier and a Korean immigrant mother, who are both very proud to call themselves citizens of the United States." She celebrates her parents' 40-year marriage, during which they welcomed extended family to the United States. Purnell says, "I feel a lot of empathy for the struggle of immigrants to thrive in a new country and know that a community of support committed to hospitality is essential for that purpose."   
Speaking to changes she would like to see in U.S. immigration law and practice, Cervantes states, "Presidential proclamations that negatively impact and circumvent current immigration law cannot continue to be the norm." Purnell adds, "At present, despite there being well-established legal protections for asylum seekers in U.S. law, we are now experiencing an unprecedented level of changes to asylum procedures both at the U.S. border and in terms of who is eligible for asylum." She is concerned over the "environment of uncertainty and exceptional stress for so many of JFON clients" related to those changes of procedure. As she and the nation await a comprehensive and equitable immigration reform, Purnell notes, "I hope that changes that have life-altering consequences for so many are done with less politicization and more of a primary focus on the persons affected."
What can Michigan United Methodists do to be supportive of JFON?
Utilize their Amazon wish list or donate supplies;
Monetary gifts designated "Kalamazoo Office." Currently, a matching gifts campaign is in progress;
Purchase the book of poetry and reflections by immigrants, Immigration and Justice for our Neighbors;
Volunteer to be an interpreter. Persons with language skills in French, Swahili, and Arabic especially needed at this time.
Participate in Quarterly Friends of JFON meetings;
Train to become a JFON volunteer.
Contact Heather Haigh for details on these and other opportunities.
Rob Rutland-Brown, Executive Director of National Justice For Our Neighbors, recently said, "The COVID-19 pandemic has changed all of our lives. And who knows what normal will be on the other side of this crisis? … Our amazing attorneys and staff at each of our JFON sites around the country are not about to give up on their clients. … We are all working together to find new, safe, and effective ways to carry out our shared JFON mission." Included in that network, of course, is JFON-Michigan, one of the 18 affiliates of National Justice For Our Neighbors.
Rutland-Brown concludes, "We are still standing. Still standing together. Still standing with our immigrant neighbors. We hope you are, too."
~ Justice For Our Neighbors is an EngageMI partner.
Last Updated on October 31, 2023