Friends of Africa University across the globe welcome James H. Salley to an expanded role at Africa University in Zimbabwe. The school will celebrate its 30 year anniversary in 2022.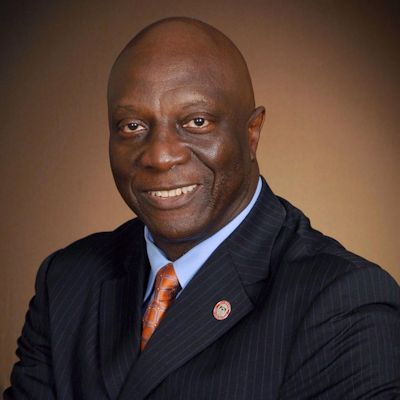 October 22, 2021 | NASHVILLE – James H. Salley, a passionate,  charismatic, and demonstrably effective leader in institutional advancement, has been named President and Chief Executive Officer of Africa University (Tennessee) Inc. effective immediately.
The Africa University (Tennessee) Inc. Board of Directors, meeting in a virtual plenary on October 18, 2021, voted to create the position of President/CEO and name Salley to it as part of the ongoing evolution of governance within the United Methodist-related institution. The new role is in addition to Salley's current responsibilities as Associate Vice-Chancellor for Institutional Advancement.
"We are thrilled to name Mr. Salley the first President/CEO of Africa University, Inc., the US organization that raises, holds, and distributes funds for the benefit of Africa University," said Board chair, Mrs. Lisa Tichenor.
Africa University (Tennessee) Inc. is the oldest of three legal entities that comprise Africa University. It is a registered U.S. 501c3 non-profit organization, created in 1988 to enable the birth of Africa University as part of the global mission and ministry of The United Methodist Church.
Two Zimbabwe-registered entities were subsequently added—Africa University (Zimbabwe), which delivers the teaching/learning, research, and community outreach operations of the institution; and the Mutare United Methodist Educational Company (MUMEC), which holds title to Africa University's physical assets in Zimbabwe such as land, buildings, and other infrastructure.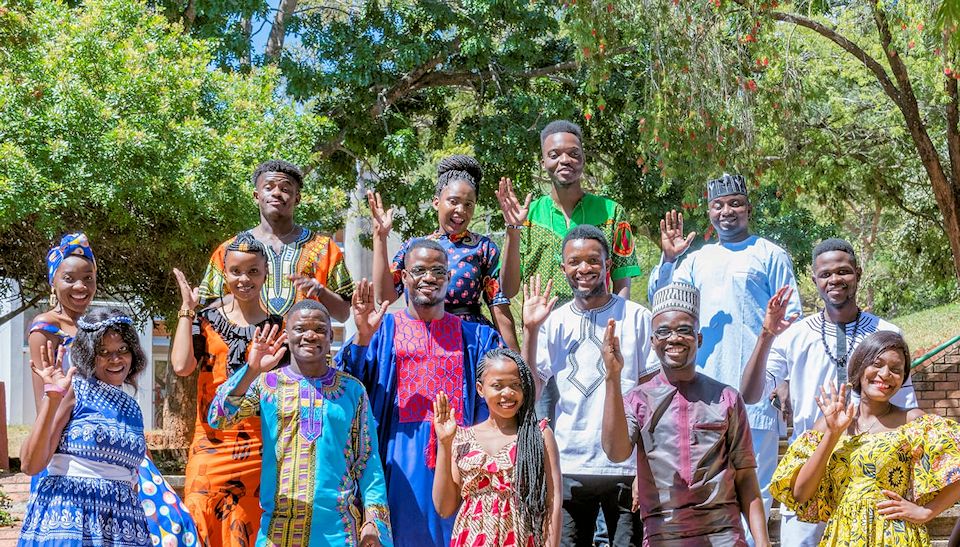 Members of the board of directors serve on all three corporations. Among them is Bishop Julius C. Trimble, who leads the Indiana Conference of The United Methodist Church and is both a major donor and a tireless advocate for Africa University. As chair of the AU (Tennessee) Board Development Committee as well as the Advisory Development Committee, Bishop Trimble helps to guide the institution's friend-making and fundraising initiatives.
"Mr. Salley's record of leading the efforts to raise friends, funds, and institutional stability and growth for AU is well documented," said Trimble. "The growth in enrollment of students and the expansion of buildings and partnerships is a reminder that with God all things are possible. This new role allows Mr. Salley to continue to cast the vision and open partnership windows for resources as he works with his Africa University Development Office (AUDO) team, the Vice-Chancellor, and the leadership team of Africa University (Zimbabwe), and friends of Africa University across the globe."
Known to many as "Mr. Africa University", Salley was a member of the site selection committee which chose Old Mutare, Zimbabwe in 1988 as the future home of Africa University. He served on Africa University's founding Board of Directors, representing the General Board of Global Ministries. In 1992, Salley left the AU Board and a senior institutional advancement role at South Carolina State University to become Africa University's chief advancement officer. He established the Africa University Development Office (AUDO), located within the headquarters of the General Board of Higher Education and Ministry (GBHEM) in Nashville, Tennessee.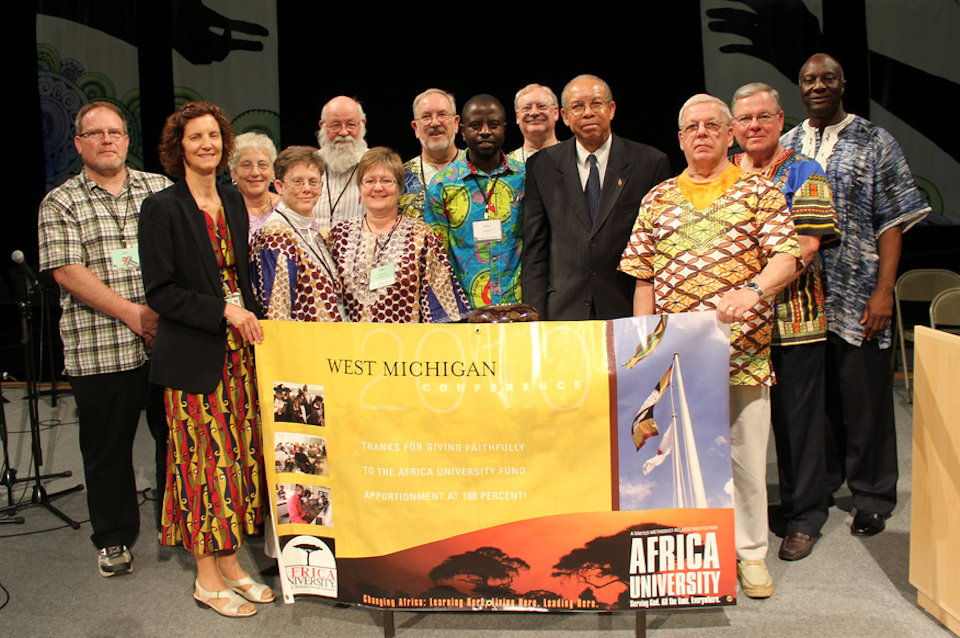 "The AUDO, managed by Mr. James H. Salley since 1992, has developed into a major organization requiring leadership of a CEO," said Tichenor.  "With over $100 million in endowed funds, it requires the structure and leadership to continue to build Africa University.  As The United Methodist Church determines its course, Africa University will have a strong presence to ensure support for future African students."
Bishop Mande Muyombo, a two-time graduate of Africa University, leads the North Katanga Episcopal Area and chairs the Africa University (Zimbabwe) Board of Directors. He highlighted Salley's hard work and dedication. 
"He has been the face of Africa University and has been preaching Africa University in the power of the Holy Spirit throughout the USA and the world," said Muyombo. "To name  Mr. Salley as President/CEO of Africa University (Tennessee) Inc. is a recognition of the growth of Africa University, and its nearly 30 years of investing in Africa's future. It is also a celebration of the hard work of the General Board of Higher Education and Ministry (GBHEM), the agency that has been the focal point for implementation of the vision of The United Methodist Church of 'a university for all of Africa'."
A task force chaired by the general secretary of GBHEM, Rev. Greg Bergquist, is currently examining how Africa University and GBHEM will relate to each other and work together in the future. The task force is focused on governance and issues of sustainability and will report its findings and recommendations for Board action in 2022.
Throughout their deliberations, Board members celebrated many positive developments and successes that cement Africa University's position as a leader in African higher education:
Despite the challenges posed by the  COVID-19 pandemic, more than 700 students are currently in residence on Africa University's main campus. Zimbabwe's progress with vaccinations and in containing coronavirus infections led to a relaxation of restrictions. Africa University was able to invite students who are benefiting from scholarships and those for whom access to physical learning facilities such as laboratories is essential to return to the campus in September.
There is significant growth in student enrollment: Africa University has 3,116 students enrolled for the 2021-2022 academic year, of whom 540 are studying part-time. There are 27 African nations represented in the student body this year and 57.5 percent of the students are female.
Demand for on-campus housing continues to grow, leading the East Ohio Conference of The United Methodist Church to respond: East Ohio United Methodists, under the leadership of Bishop Tracy S. Malone, are set to complete a three-year campaign to fund the construction of a women's residence hall one year early. With gifts and pledges exceeding $1.5 million, and close to $1.2 million already collected, the East Ohio Conference's "Teach*Reach*Bless" campaign committee expects to reach its goal by December 2021, instead of year-end 2022 as initially projected.
Enrollment is driving growth in faculty numbers: The university is hiring ten new lecturers this year due to the growing trend in its academic programs. Student numbers in several degree programs—Social Work, International Relations, and Health Services Management—have more than doubled in the past year. The tuition fees of these new students will cover the cost of the additional faculty.
Students, faculty, and alumni are contributing vital and innovative solutions to Africa's current challenges: Africa University's U-Safe hand sanitizer, developed to address a critical shortage in the early days of the COVID-19 pandemic, is a market leader in Zimbabwe. Sales of the hand sanitizer and a new lozenge formulated from the  Zumbani plant by university researchers have great potential as sources of enterprise income.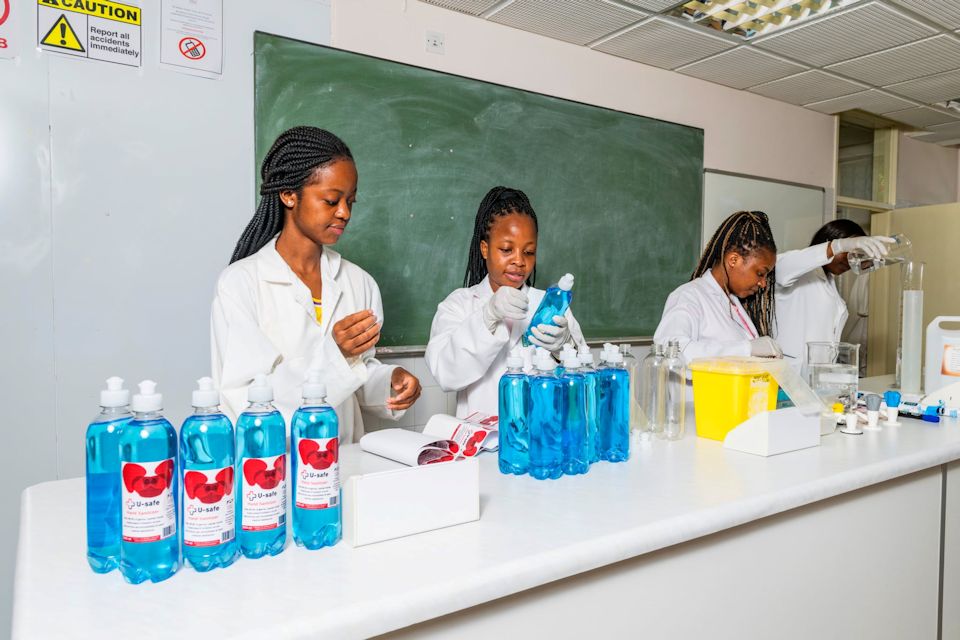 "Out of its laboratories,  Africa University produced the U-Safe hand sanitizer and the Zumbani herbal cough lozenges to mitigate the impact of COVID 19," said Bishop Eben Nhiwatiwa, who leads the Zimbabwe Episcopal Area.
"These products have pushed the university up the ladder of recognition in the area of research," said Nhiwatiwa.
Board members and senior administrators acknowledged, celebrated, and expressed their gratitude to the individuals, local congregations and agencies that make Africa University's growth and impact possible with their generosity and steadfast investment.
"Africa University is approaching its 30th anniversary in March 2022 and is ranked #1 in Zimbabwe and 39th among the top 200 universities in Africa," said Salley. "There is growth in enrollment, internationalization, and in the level of investment from indigenous Africans to Africa University, so we are moving towards sustainability. Africa University needs its friends and donors and the resources they provide for the work ahead. My message is 'don't leave us now, let's finish the work that we have started for the benefit of the emerging leaders for the continent of Africa that are coming out of Africa University.' The work of sustaining ministry is never finished, nor is the work of building a university to confront the evolving challenges of our times—pandemics, climate change, injustice/inequity, and economic decline, among them. Thank you for what you have done and for what you will do. It is God's work, and God's work shall be done."
The formal celebration of the 30th anniversary of the opening of Africa University is scheduled for October 22-24, 2022. The celebration will feature virtual as well as in-person events in various parts of the world.
Last Updated on September 20, 2022