The first of a series of articles that explains how an initiative called "EngageMI" helps churches take steps to be in "ministry with" others.
KAY DEMOSS
Michigan Conference Communications
"Where did you see God today?" That's a question the Rev. Jackie Roe asks volunteers at the end of a day's work at God's Country Cooperative Parish. GCCP is a mission station serving the communities of Michigan's eastern Upper Peninsula.
GCCP is an EngageMI Ministry Partner. EngageMI is the mission engagement initiative of the Michigan Conference. It encourages congregations to widen their scope of learning, acting, and giving to projects in their neighborhoods and around the world. In Jackie's words, EngageMI helps us see God at work around us and relate to God's people in caring and compassionate ways.
EngageMI Step 1
There are six steps to becoming an EngageMI congregation. The first is 100% payment of Ministry Shares.
While churches tend to think of Ministry Shares in terms of dollars, Ministry Shares are really about people and making a difference in their lives. The Rev. Paul Perez, Director of Connectional Ministry for the Michigan Conference, explains, "Ministry Shares are a way for local churches across the conference to share and pool financial resources to both provide shared, connectional services and fund missions and ministries no one local church could do on their own."
Perez adds, "God's Country Cooperative Parish is an excellent example of the strength of our connectional church and connectional giving through Ministry Shares and EngageMI."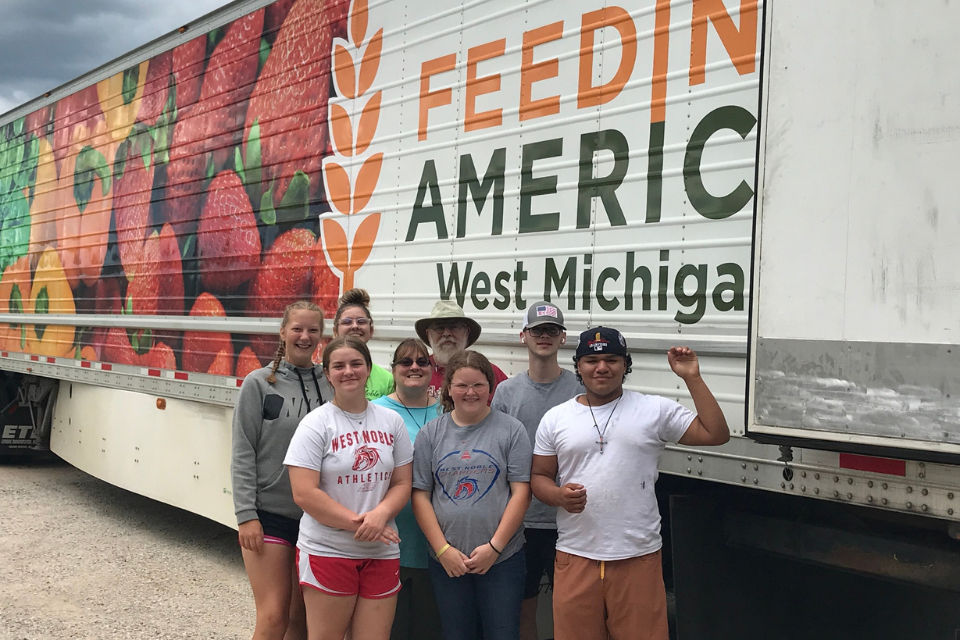 Ministry Shares of The Michigan Conference and Northern Skies District pay a portion of Randy Hildebrant's support. Hildebrant is the Church and Community Worker who has been in leadership at GCCP since 2013. In 2020, Jackie Roe took on the role of GCCP Director, in addition to serving as pastor of Newberry and Engadine United Methodist Churches. Ministry Shares pay $4,000 of the director's salary. An additional $7,500 enabled GCCP to hire Program Assistant Loren McFadden. Ministry Shares dollars from the Michigan Conference Board of Young People also provide wages for a Summer Mission Intern. In 2022, that person was Jenna Levering, a Spring Arbor student from Hudsonville, MI, who later designed the new website for GCCP.
These Ministry Shares grants have provided capable leadership that has helped God's Country Cooperative Parish reach out to persons across a 2,500-square-mile area up north. Perez says, "Michigan United Methodists have and continue to invest in the important ministry and social services GCCP engages in with communities across the Upper Peninsula."
Stronger Together
In 1983, seven United Methodist churches in the Upper Peninsula, then Marquette District, came together as God's Country Cooperative Parish: Grand Marais, McMillan, Germfask, Engadine, Hulbert, Newberry, and Paradise. Today these communities combine resources and "work to bring self-esteem, hope, and faith to all God's children throughout their vast parish."
They sponsor cooperative mission trips, Bible studies, youth activities, training events, mission projects, and fellowship activities, and host UMVIM (Volunteers in Mission) teams from around the state and across the Midwest.
The Dunlap Center in Newberry, MI, is the home of GCCP's free store, The Church Mouse. Dunlap Center also serves as the site of a monthly food giveaway. Formerly the Pentland Township Elementary School, the facility has been rehabbed over the past five years. It now houses volunteers who come to the area to do home repairs for those residing within the parish. Funds provided by the Northern Skies District have helped with the renovation of the Dunlap Center.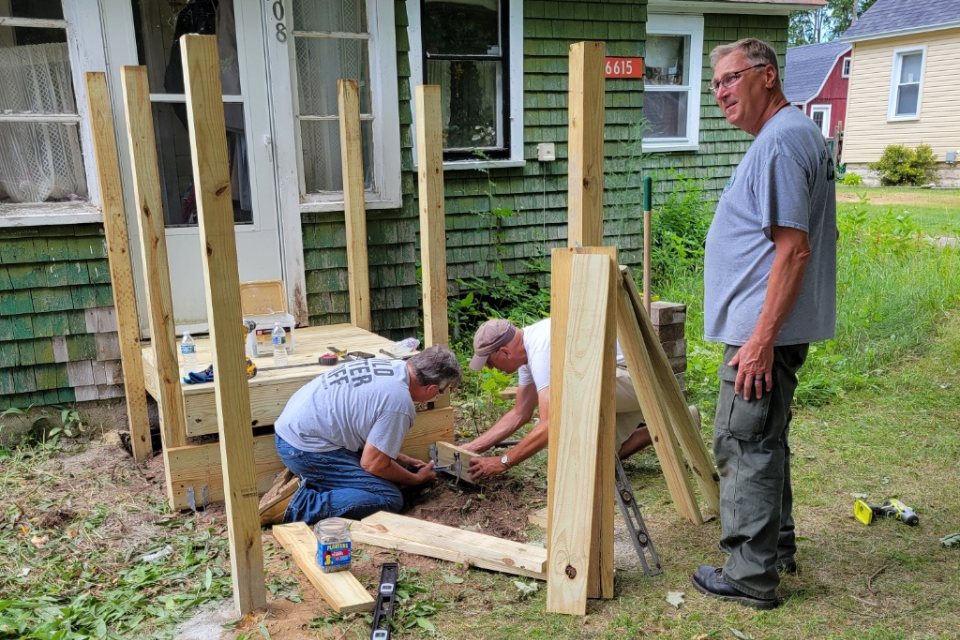 Other GCCP efforts include a backpack project for grades K-12, winter clothing distribution, and holiday food boxes.
Randy Hildebrant says, "Your support allows for lives to be changed. Throughout the summer, we were very blessed by your support, and it can be seen in our outreach. Through our Church Mouse program, we have been able to serve, on average, 32 families every week and build a relationship with each of them. As we have become the new Feeding America Distribution site, we have served on average over 300 households and over 670 individuals with the help of our ministry partners."
The missionary also reports that 13 Volunteers in Mission (VIM) teams completed 41 home repair projects in 2022, including the installation of five permanent wheelchair ramps. But, he adds, "Three of these ramps were 'doozies.' These volunteers give so much more than their labor to the families they serve. I have seen them step in to help with everything from childcare assistance to domestic violence intervention to a quiet time of shared restorative prayer. I know this is you, God."
Sharing God's Love
After almost three years of experience as GCCP director, Roe reflects, "Since coming to the parish on a full-time basis, I have grown in awe of its depth—both in the people served and in those who serve. People who live in the parish, and so many people from beyond the borders of the parish, serving in so many ways."
Roe points out that God's love goes full circle at GCCP, saying, "All involved in the parish experience God's love, both when they serve or are assisted by its ministries." Roe's first involvement with God's Country Cooperative Parish was leading a volunteer work team of Marquette District Youth. Roe was the pastor of Gwinn UMC at that time. That was 20 years ago, and since then, she led a second VIM group and became acquainted with the two former GCCP Church and Community Workers, Margaret Madison and Katie Peterson. She is now happy to be sharing in leadership alongside Randy Hildebrant.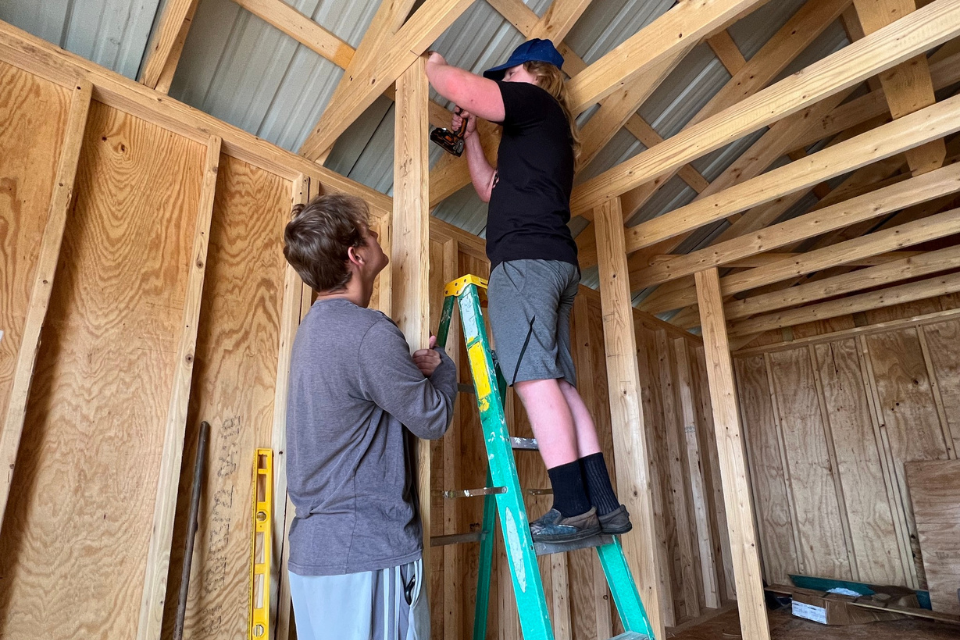 GCCP is not just about hammers and nails. Jackie understands the value of relationships. She notes that someone on each work team has the primary role of talking with the homeowner. That "working with" draws everyone closer to God, the residents, and other team members. Roe recalls a teenager from the Gwinn group who said to her at the end of the day, "I never knew people had to go through challenges like this." She gives God credit for helping such awareness grow.
Why is the ministry of GCCP so important? Pastor Roe says tourism is part of the answer to that question. "It hurts October through April, when tourists aren't here," she says. "For example, one waitress I spoke with says her tips drop from $200 to $50 during the off-season. I am amazed how people cope." The ministries offered at the Dunlap Center provide vital assistance when times are lean.  
Source of Hope
Randy Hildebrant and Jackie Roe express heartfelt thanks for the gifts that make GCCP ministries possible. Ministry Shares help their outreach grow.
The Rev. Brad Bartelmay is the chair of the Michigan Conference Council on Finance and Administration. Bartelmay states, "If someone were to ask me to list the top five reasons why I'm United Methodist, the ability to be in shared ministry with other churches would be number one on the list. I encourage congregations to think of Ministry Shares as a way of pooling resources with other congregations in shared ministry to impact the lives of persons across Michigan, our society, and the world."
He concludes, "No single congregation, even the largest congregation, can have the impact that United Methodists have when we work cooperatively through our Ministry Share dollars. In short, through your Ministry Shares, ministry is shared!"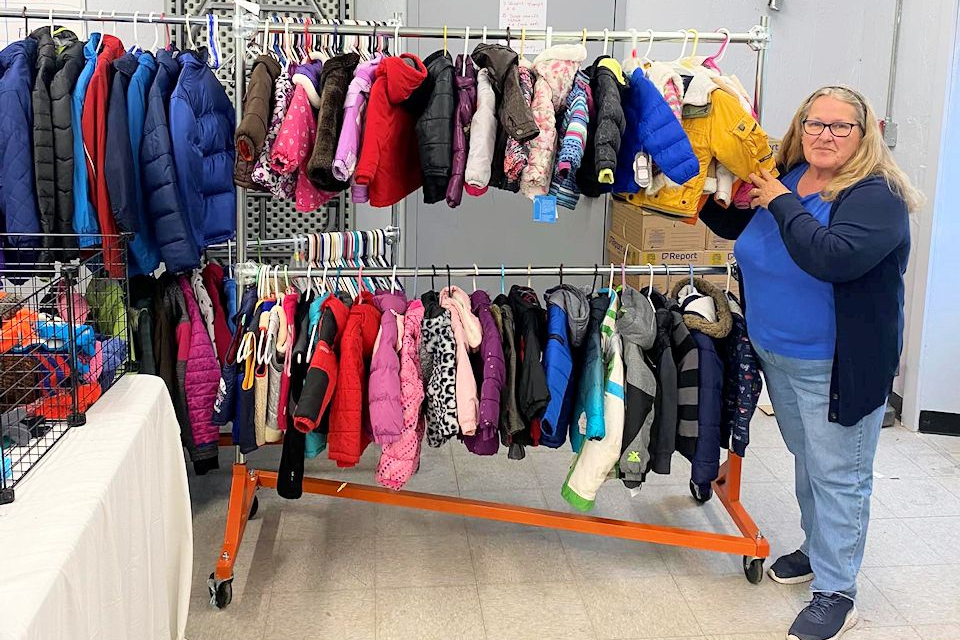 Randy Hildebrandt tells a story that captures the importance of giving, of which Ministry Shares is a part. Because of generous donations to the Winter Clothing Giveaway, 321 adults and children received warm jackets and boots just as wet snow and high winds came to the area in mid-November.
Hildebrant recalls, "This year, a young boy, probably age 10-11, needed a jacket in a size we did not have. The best we could do at the time was a jacket that was too large and possibly too thin and a couple of sweatshirts to wear underneath. I was troubled that night and wished we could have done something better for him."
The story continues. "The next morning, when I arrived at the Ministry Center, I found a bag with a boy's new winter jacket in the size we needed for this youngster. I knew it was you, God, and the one you chose to act on your behalf. You and your 'earthly angels' have been there for us time and time again as these seven small United Methodist Churches struggle to be your 'earthly angels' here in God's Country Cooperative Parish."
EngageMI is more than just a program. EngageMI is a way for persons and congregations to become "earthly angels" in response to God's call to be in ministry with neighbors.
Editor's Notes: To learn more about how you can support the ministries of God's Country Cooperative Parish, contact their office at 110 West Harrie Street, Newberry, MI 49868; (906) 293-5711; [email protected].
Funds to support the ministry of GCCP may also be made through their partnership with EngageMI: Step 2 God's Country Cooperative Parish CCMM #3044; Step 2 Mission Interns CCMM #3039; Step 2 Michigan Volunteers in Mission CCMM #3058; and Step 5 Randy Hildebrant Advance #982961.
Go to the EngageMI website to learn more about other Ministry Partners of the Michigan Conference and how to become an EngageMI congregation.
Last Updated on February 8, 2023