South Wyoming is home to one of The Michigan Conference's newest congregations. Meet Pastor Banza Mukalay leader of Restoration Community Church UMC. They want people to "leave this place blessed forever!"
KAY DEMOSS
Content Editor, Michigan Conference
One does not need to hop on a plane or board a ship to have a global experience. One can have a global experience just downstate or just across the street, depending on one's point of departure. Destination for an awesome global experience … Cornerstone Church – South Wyoming Campus. Every Sunday afternoon 1-3 pm in that location, Restoration Community United Methodist Church gathers to praise God and support one another with witness and prayer.
Restoration Community UMC is among the newest United Methodist churches in The Michigan Conference. At the 2018 session of The Michigan Annual Conference, its pastor, Banza Mukalay, was called to the stage, along with others, by the Rev. Dirk Elliott, Director of Congregational Vibrancy. Those others included the Rev. Jon Reynolds (Cass Community: Midtown Detroit); Rev. John K. Ilunga Ngoi and Rev. Gertrude Mukalay (Detroit: African Diaspora UMC). Conference members gave their blessing on the growth of these congregations.
Pastor Banza Mukalay was born in the Democratic Republic of Congo. How did he make his way from Africa to Grand Rapids? He arrived in Michigan in 2012 after 15 years in a refugee camp in Tanzania. It was in the camp that he received his pastoral training. Bishop Nkulu Ntambo ordained Mukalay as a pastor in the North Katanga Area of DR Congo.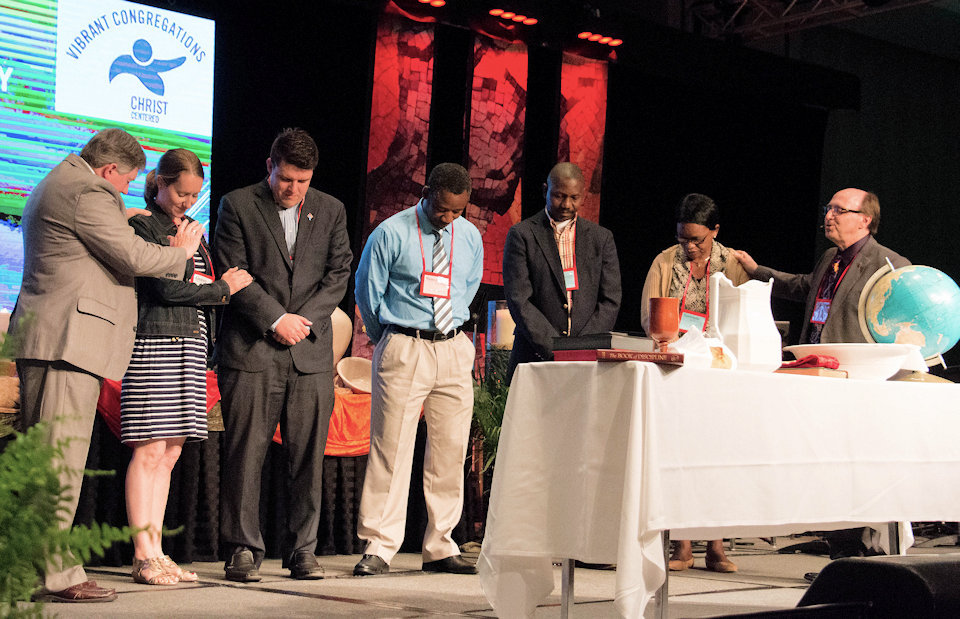 Eventually, like many refugees immigrating to the U.S., Pastor Mukalay went where he had relatives. For him that was Grand Rapids, where he now resides with his wife, Ngoi, and four children, ranging in age from college to 8th grade. ""My cousin's wife came here before me," he relates. "But I can say it was God who brought me to Grand Rapids." An evangelist in Tanzania, he identifies himself as "a church planter." He believes God wanted him in Grand Rapids and adds, "I even like the cold!"
Today Pastor Mukalay is recognized as a citizen by the U.S. government. It also took him some time to be formally recognized by The United Methodist Church. He said that his attitude as he met with committees and superintendents was, "Be patient. God knows who you are."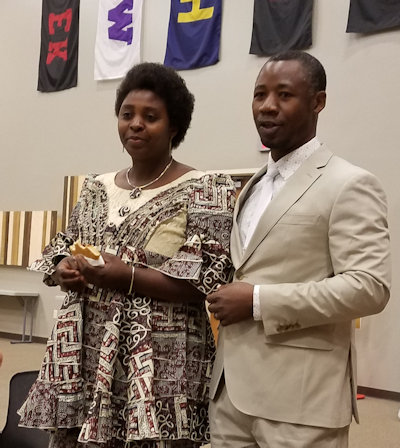 In 2018 the church was recognized as a fledgling United Methodist church. Mukalay now has a Local Pastor's license and is appointed quarter-time to Restoration Community. He is assisted by two colleagues, Pastor Paul Mamba and Pastor Ebenga Alimafi.
Soon after arrival in Grand Rapids, Pastor Mukalay had 50 persons worshiping in his basement. The Rev. Marcia Elders, then pastor of South Wyoming United Methodist Church, invited Pastor Mukalay to move his flock to their building. Another year passed and there were 100 in worship. When South Wyoming became a campus of Cornerstone Church, hospitality continued for the Restoration Community. Today there are 200 in the Swahili-language service on Sunday afternoon.
One challenge to his ministry is finances. "A tithe is a problem for many in our congregation," Mukalay says. But that does not dim his passion for God's work. He is employed by a construction company in Grand Rapids. When Banza shared his desire to be a pastor and to work in refugee resettlement, the company agreed to pay him three days to work for them and two days to work for the church. He feels very blessed.
Many in the congregation, like their pastor, came to Grand Rapids from refugee settlements in Rwanda, Burundi, and Sudan. "The church is made up of different people," the pastor explains. "Most are not United Methodists at this time. Some are not Christian." But the Spirit is moving in their midst. Pastor Mukalay has helped develop strong lay leadership. Restoration Community Church has programs for youth, men and women. He says, "These leaders are my pillars. I can fail but these people help me to be strong."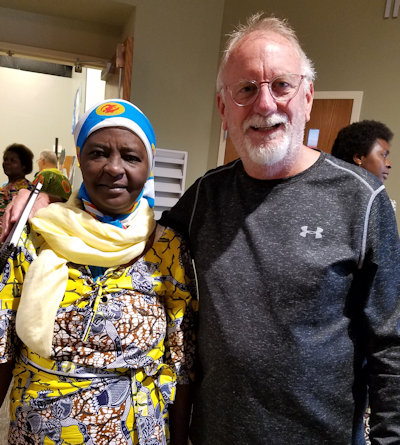 MIconnect was recently in worship at Restoration Community Church. It was everything the worship leader promised: "We want people to leave this place blessed forever!" There was testimony from a new United Methodist converted from Islam. She is now in charge of hospitality for Restoration CC. Three choirs sang and danced. The worship leader said, "This is the way we worship in our country all the time. We want to join together with the angels as we sing!" A sermon was shared by the co-pastor Paul Mamba, who has been in the U.S. for three years with one year at RCC. Like Pastor Mukalay, he came to the U.S. from a refugee camp. He preached from 1 Samuel 1:9-18 and with great fervor encouraged everyone present to, "Pray like Hannah! … Pour out your heart because something will happen to you when you do the unusual."
Guests in the service that afternoon included the Rev. Bill Johnson and members of the Cedar Springs United Methodist Church, new friends of Pastor Banza and the congregation. Cedar Springs is building a relationship and partnering with RCC in a sports ministry focused on soccer competition. "We are one person in Christ," Mukalay said to Johnson.
The Rev. Marcia Elders was at the door throughout the service, greeting persons as they arrived. Pastor Mukalay calls Marcia and her husband, David Apol, "my sister and brother who gave us space." The couple founded THRIVE, a refugee support program, in 2011 while in leadership at South Wyoming UMC. THRIVE continues its ministry now hosted at St. Paul's United Methodist Church in Kentwood.

Apol introduced Monike, a mother of seven, who was one of the original Congolese families to come to the area and South Wyoming UMC. He recalls, "They came through the door with a note from their pastor back home. It said, 'Please take care of my people.'" He continued with a broad smile, "Think of the thousands of miles between Congo and South Wyoming! The United Methodist connection is huge!"
In addition to serving as a spiritual leader, Mukalay also cares for the material needs of the people. He has been personally involved in refugee resettlement for six years. Clothes, shoes, bedding, housewares, furniture are all things he procures and shares. "It's in my heart to help people," he says. "People come here after years of living in the forest in Africa and are expected to be self-sufficient," he explains. "God helped me and taught me how to express myself so now I help them look for jobs, practice the language, and learn to drive." It is estimated that there are over 2,000 Congolese living in Grand Rapids.
"People call me crying and I want to respond," he says. What Pastor Mukalay lacks is a place to store the items he needs to respond to people's needs as they resettle. Yet he does his best to provide.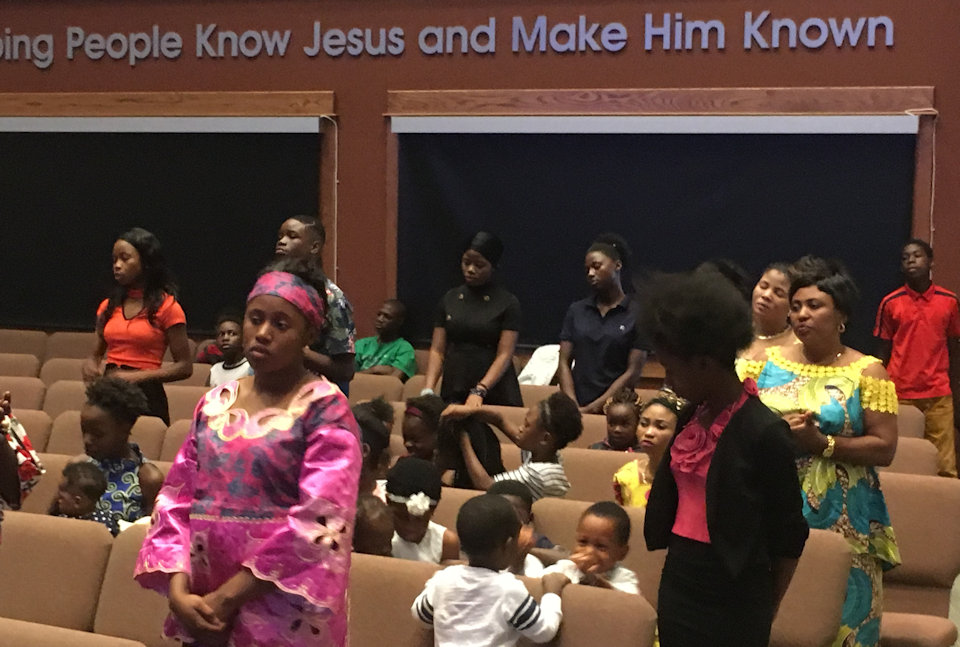 Those who have received help have an opportunity become helpers themselves. Pastor Mukalay is leading a Mission Team to Tanzania in September. Their purpose is to bring relief to those living in the refugee camp there. There are 70,000 in the Nyarugusu Camp. Their aim is to reach the widows, orphans and elderly. "We will start with the vulnerable," Pastor Mukalay says. "God has given me the burden not to forget those who suffer." Learn more here.
Those wishing to lend encouragement to Pastor Banza Mukalay and the Restoration Community Church UMC may reach him at [email protected].
Pastor Paul Mamba's words, preached on August 12 in South Wyoming, pretty much sum up the life springing forth in one of The Michigan Conference's newest churches: "If you don't change things, things will not change! Go in peace and do new things!"
Last Updated on October 17, 2022