Flood recovery is about dollars. But it's also about people who love their neighbors, like Cheryl Tipton and many other across Michigan. An update on the response to June flooding in Detroit.
KAY DEMOSS
Senior Content Editor
August 25, 2021 | DETROIT — When disasters happen and help is needed, thoughts immediately turn to large organizations with the big money that's required … FEMA, UMCOR, Church World Service, and others. As important as those agencies and dollars are for relief and recovery, equally important are dedicated, compassionate people who are on the scene with helpful hands and hopeful hugs.
When heavy rains soaked the southeastern part of the state in late June, flooding parts of the area for the third time in seven years, leaders from the Michigan Conference and Greater Detroit District mobilized to help. UMCOR Cleaning kits were soon in the hands of those working on site. Volunteers from local United Methodist churches assisted with mucking out. An appeal went out to churches for gifts to the Michigan Conference Disaster Response Fund. A team (see photo above) visited the United Methodist churches where water and sewage had destroyed boilers, walls, floors, and more.
A familiar face and voice began to be seen and heard as assessment of damage got underway. Cheryl Tipton was trained by UMCOR in 2015 when she became a part of the Northwest Detroit Flood Recovery team. She served again in 2019 when 3,000 homes in Dearborn were flooded. On August 16, 2021, Cheryl was hired as the Greater Detroit District Disaster Recovery Manager, and she has already heard from those she served in the past.
Cheryl says, "Clients are calling me from 2015 and 2019 who are flooded again. Their losses are the same. A brand new furnace, only two years old, is gone. Hot water tanks gone. I meet them even at the store, and they tell me, 'Miss Tipton, we got hit again.'"
At the present time Conference leaders – Rev. Paul Perez (Director of Connectional Ministries), Nancy Money (Project Director for the Great Lakes Bay Region Flood), and Dan O'Malley (Conference Disaster Response Coordinator) — continue to work toward a plan for the long haul that lies ahead.
Perez explains, "I anticipate the Michigan Conference will establish a long-term recovery project in the Metro-Detroit area. We hired Cheryl to begin laying the foundation for this work. We are waiting for FEMA to finish its assessment process and for local communities to form Long Term Recovery Groups that help us to determine the scope and scale of the work. Once we have this information, we will approach UMCOR about a grant to support the project."
When that long-term project is established, work can begin with residential clients. In the meantime, Cheryl is setting up an office at the Ellison Center at Second Grace United Methodist Church. Her present focus is walking alongside the seven churches that suffered damage what the water came in June. Those churches are Detroit Resurrection, Second Grace, Trinity Faith, Cass, Metropolitan, Beverly Hills, and Clawson United Methodist churches. Damage estimates now hover around $130,000.
Perez notes that "We have allocated $125,000 from the Michigan Disaster Fund to assist the churches Cheryl is working with. We made a first round of allocations and are awaiting the outcomes of insurances claims to make a second round."
Pastors reflect
The Rev. Taek Kim, senior pastor of Detroit Metropolitan UMC reports that their utility room was filled with 42 inches of water during the June 28 storm. The electrical system, boilers, hot water tank, and air conditioning were damaged. As church leaders took care of cleanup efforts and repairs, the congregation did not flag in their ministry. "Metropolitan held its first in-person service since March 2020 on July 11th, 2021," Kim says. "This was my second worship service as the newly appointed senior pastor. With no a/c, everyone was notified so they could choose to stay home and join the worship services online. The congregation continued to joyfully worship, provide ministries such as the Good Samaritan Food and Clothing Pantry, with a few adjustments as well as a few inconveniences."
Metropolitan's a/c was "repaired enough to cool the sanctuary" by mid-August, and the church now faces replacement of the boilers before winter. "The congregation is very thankful and felt incredibly cared for when Bishop David Bard, Superintendent Charles Boayue, Rev. Paul Perez, Dan O'Malley, and Cheryl Tipton visited Metropolitan on July 29," Kim added.
The Rev. Dr. Darryl Totty, shares, "Detroit Second Grace UMC, proudly proclaimed as "We Are One In Christ," sustained thousands of dollars in water damage to its Joy Road facility on June 25, 2021. The storm's impact not only caused substantial loss of the boiler, hot water system, and computers, it also delayed the opening of the church's early childhood program 'HeadStart.'" 
Totty is grateful for Trustee Chair Gordon Marshall, who stepped up to meet the daunting task to rebuild and restore the church. Marshall says, "I'm of the firm belief that the church leads the way and sets the example in situations like this, we will do our best with the help of God, and good people like Cheryl Tipon." Totty adds, "We are not always able to meet every need that comes our way. However, at times like this, the Michigan Annual Conference and connectional church demonstrate how Jesus Christ shines his love into the moment's darkness after a flood." Totty also expressed gratitude to "Bishop Bard, Dr. Boayue, the Rev. Beth Titus, Dan O'Malley, and the Rev. Paul Perez, who responded to the local church in an hour of disaster. Every little bit helps." 
Case Manager's task
When asked what UMCOR taught her that has been the most helpful in her work with three floods, Cheryl Tipton says, "Do no harm. Be a good listener. Always be a connecting neighbor." Her initial training in 2015 included "connecting neighbors training in Iowa. "I utilize that in my daily walk in my neighborhood," Cheryl observes. "Every day we must all try to notice situations and what might make a difference in those situations. It's about connecting dots and having as many resources available as possible."
She describes the work of a Case Manager as someone who helps people connect with resources to get back to normalcy. Sometimes "normalcy" seems far away. "I have been hearing from people since June 25," Cheryl says. "They can't believe this is happening again. Many feel lost and hopeless." She notes that while the city responded with clean-out assistance, that doesn't include rebuilds or replacement of appliances. "That was a help, but it's not everything," she observes.
Tipton also reflects, "My thing is, 'It's always more than just the flood.' The water caused damage but, at the end of the day, there are other losses. When you talk to a resident, they may have been facing foreclosure or they don't have enough food for the month. They may not have enough money to keep the utilities on or a bed to sleep in. I've seen all of this." And, so, she passes on information about food pantries, free stores, and other resources that are out there. "We don't know how people are living inside the house and it's not ours to judge," Cheryl says.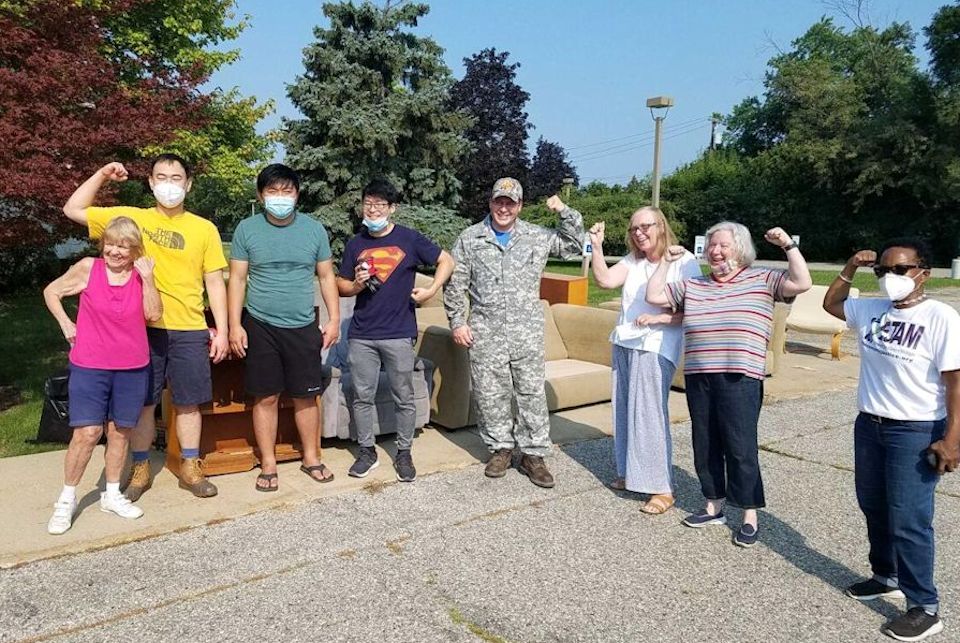 Tipton's can-do approach pre-dated her UMCOR training. "My gift of service started with my mother, grandmother, and aunt Vera," Cheryl recalls. "When there was a neighbor in need of groceries or a cup of sugar or a meal, these women would share what we had, even if we didn't have much. I watched them lead by example. That carried on with me, through all my years. Knowing there is a need is all it takes for me."
Tipton puts connecting with others, networking, and sharing resources at the top of "what a Case Manager is." She observes, "Sometimes you go into nasty situations, depending on how long the water has been in a basement. You deal with many different things. But you are there for the people who have prayed and thought that nobody would ever come."
Next steps
The Detroit Flood Recovery Program as set a goal of 100 Cleaning Kits (flood buckets) by September, 25. Click here to learn what goes in a bucket. Complete kits or bulk supplies that go into the kits are both welcome. Completed buckets and/or items can be dropped off at the Flood Recovery office, located at the Ellison Center across from Second Grace UMC, 18900 Joy Rd., Detroit, 48228. Please call Cheryl Tipton at 248-520-5501 to schedule drop-off of supplies.
Beth Titus, the Director of Mission and Justice Engagement for the Greater Detroit District, has included volunteer opportunities for flood recovery as part of the annual Hands with Detroit event coming up on Saturday, October 2, 2021.
Contributions to the Michigan Conference Disaster Response Fund will make additional grants possible. To donate by check, please mail to Michigan Conference at 1161 East Clark Road, Suite 212, DeWitt, MI 48820. It is important to include this exact language in the memo: #4407 Michigan Area Disaster Response. Those wishing to donate online may do so here.
The Greater Detroit District's Disaster Recovery Manager concludes, "Connecting neighbors is what it's all about, whether in flood recovery or in daily life. We are always stronger together than we are apart."
Thank you, Michigan United Methodists, for being connecting neighbors.