Rev. John Harnish reviews the book, "Dying Well: the Resurrected Life of Jeanie Wylie-Kellermann, published by Cass Community Publishing House.
JOHN E. HARNISH
Michigan Pastor, Retired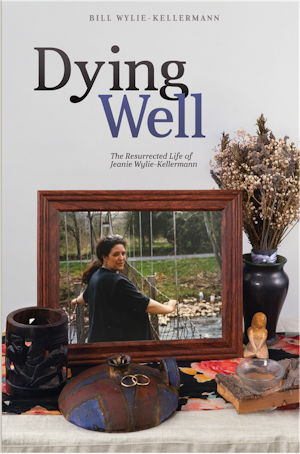 When the book arrived in the mail, my first reaction was, "It looks long, a pretty big book for a book on dying."
I have read quite a bit of the literature on the subject from the days of Kubler-Ross to the current, "On Being Mortal," and I have read quite a few personal tributes as well, so I was not sure about a book entitled, "Dying Well" coming in at 383 pages. But once I started reading, I realize this is more than just another memorial to a departed loved one and more than just a book on death.  
The book is, as author Bill Kellermann says, "…partly pieced together from assorted texts:  poetry, talks, letters. It is autobiography and spiritual memoir. It takes the form of narrative theology and political critique. It is a reflection on death and dying, personal and political." (page 123)  It is all of that and more.
The presenting subject of the book is the seven-year journey of Jeanie Wylie-Kellermann through the valley of the shadow of death from brain tumors. It is gentle and raw, loving and direct, full of faith and doubt and teaching us all the way through about what "dying well" means. There are places where Bill is downright poetic and places where he is outspoken and direct. Above all it is a book about community and the role their circle of faithful friends played in the drama as it unfolded. Of that community, Bill says, "Jeanie's story of healing finally turned to a story of dying. To understand the graces of both that healing and that dying, it would help to understand the community in which those graces have been nurtured. The mentors who formed our family and community, who helped us live well, also tutored us in dying well. Jeanie died so well because she was part of a community that tried its best to unmask the power of death, refusing both fear and denial." (page 101)
Anyone who knows Bill and Jeanie Wylie-Kellermann will not be surprised to learn that the book is public and political as well as personal. Bill's ministry and Jeanie's life have been marked by their melding of faith in the Word and witness in the world. Their obedience to the Gospel led them to action in standing up against the "principalities and powers" of this world. This comes through in Bill's reflections on death in our culture as well. "To die well, to die sacramentally, in this culture virtually requires an act of resistance. Death is everywhere—not just in our hyped fear of random terror death or in our military projections around the planet, but in our streets and cul-de-sacs. A good death is thoroughly preempted by American culture's deep anxiety about death, expressed in fear and denial. Put conversely, a truly good death subverts the culture at its worst."  (Page 101)
But the truly powerful parts of the book come through the letters which were written by the Wylie-Kellermanns, their daughters, and their friends. These letters shared in their entirety reveal the highs and lows, the struggles and successes, the pain and the joy of this community of grace and hope even in the face of impending death. Perhaps the little motto which originally came from Jeanie's father and family as she was growing up sums up the journey: "No, not triumphantly, but somehow…" He says when her father first spoke the words the children "…giggled uncontrollably and made it a family dictum of sorts.  Years later, on her altar, Jeanie had a little painted glass representation of the motto, made by one of her nieces."  (page 11)
The final pages of the book, however, come through "triumphantly." The gathering of hundreds of friends for a four-hour funeral in Detroit's Central United Methodist Church witnessed to Jeanie's triumphant life and faith and the on-going witness of her husband, daughters, and community of friends carries her life forward. As Bill says, "Dying well means naming death, and facing death, in freedom and grace. There will be other names for it, but I call it the freedom of the Gospel."  (page 113)
For all who wish to learn the meaning of "dying well", I recommend Bill Wylie-Kellermann's book, published by Cass Community Publishing House in Detroit, Michigan.
~Note: Profit from the sales of CCHP books benefit the work of Detroit nonprofits including, but not limited to, Cass Community United Methodist Church and Cass Community Social Services.