HAPI has been changing lives in Mizak since 2007. Mario Damis, Coordinator of HAPItech, came to Michigan to give an update on the work of Haitian Assets for Peace International.

KAY DEMOSS
Senior Content Editor, Michigan Conference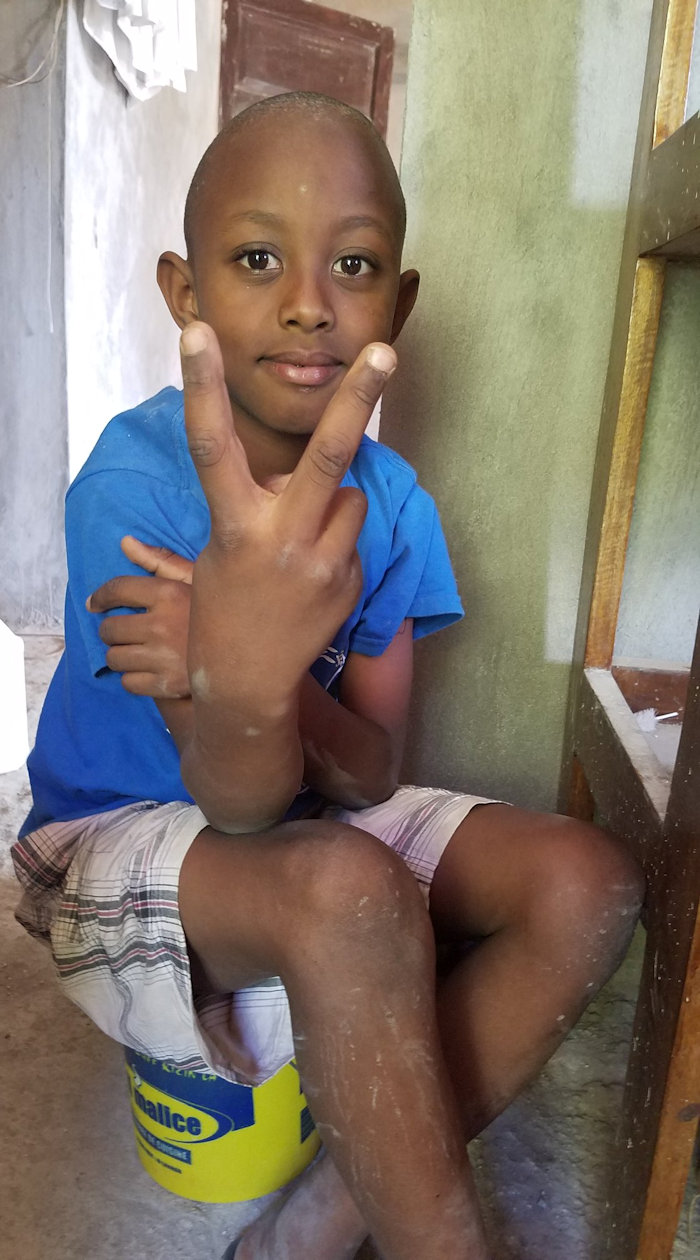 Last week Jim Patterson reported for UM News on current conditions on the ground in Haiti. "United Methodists with longtime ties to the embattled nation say it is tough to intervene with any effectiveness," Patterson began.
The feature quoted Brulan Jean-Michel, manager of the Methodist Guest House near Port-au-Prince: "The mood of the Haitian people right now is sadness and disappointment. Adults and kids are depressed. The businesses are closed. Schools are closed. The roads are blocked."
Several days after that report was released, the Executive Team of the Haiti Covenant Partners met to consider what, if anything, could The Michigan Conference contribute to such a desperate situation. Present in the room was Mario Damis, a young man from a rural area of Haiti called Mizak.
He told the Covenant Partners, "Our schools and clinic are open. We have food. The people of Mizak are hopeful." With Mario was Valerie Mossman-Celestin, co-founder of HAPI, an organization that calls Mizak home.
Haitian Assets for Peace International has been empowering leaders and changing lives in that mountain-top community since 2007.
The Covenant Partners prayed for all those suffering through the present crisis in the country; for friends in places like Jeremie and Petit Goave. They prayed for the  Methodist Church of Haiti, one of the eight districts of the Methodist Church in the Caribbean and the Americas.
In addition to prayer, the Covenant Partners decided to call The Michigan Conference to action through support of "points of light" that exist in the midst of the nation's darkness. HAPI was identified as such a "point of light."
How is it that HAPI has kept the light on in Mizak?
Valerie says, "For one thing, the majority of HAPI employees are from the communal section of Mizak. That encourages others, like the students, to be able to project themselves into a similar job."
Valerie gives an example. "High school students stop by to speak with Monique, our Operations Manager, to ask her how she got a job like that. They ask her, 'What do I need to do to prepare myself?'" Valerie adds, "Monique is someone they know and can approach. 'If she did it, I can!'"
Mario is himself another such "someone." Mario, who grew up in Mizak, has been the Director of HAPI Tech since 2016. At the time of the Covenant Partners meeting, Mario was in the U.S. to tell the HAPI story. "I am here," he says, "to strengthen the relationships we have and to build new relationships for HAPI."
 His dream growing up on a farm supporting a family of eight children, was to go to university and become a pastor.
Mario's family was able to afford his education through high school in Mizak but was unable to "pay the lot of money" it took to enroll in university in Port au Prince, a three-hour drive down the mountain from Mizak. When he was in 12th grade in 2011, Mario had the good fortune to serve as a translator for an Indiana team volunteering at HAPI. An individual from the team supported him as he studied Computer Science for four years in Port au Prince.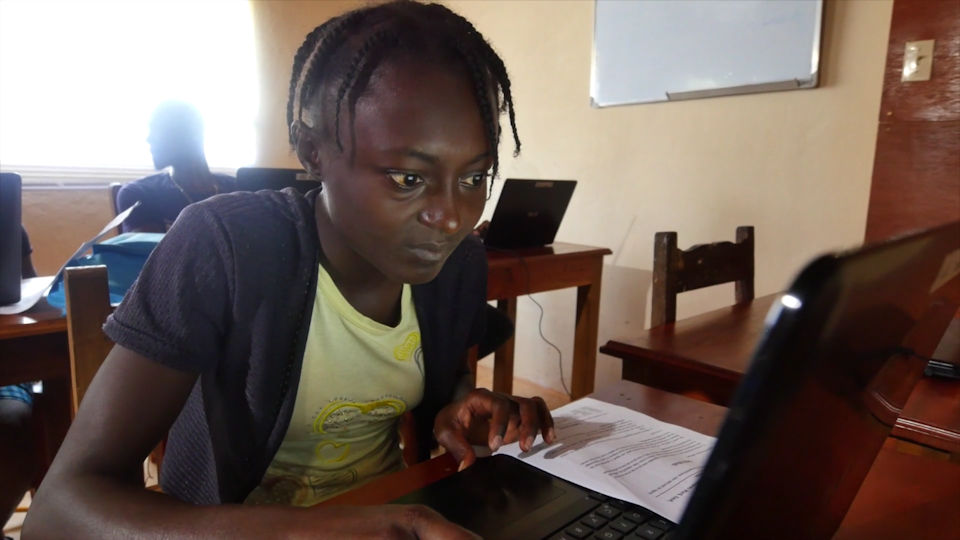 In the meantime, HAPI acquired 20 computers. So, upon completion of his degree, Mario returned to Mizak in 2016 as IT Manager (Information Technology) for HAPI. "I believed this was a good idea," he says. "When I grew up in the community, I couldn't use a computer," Mario relates, "so, when I went to university, I had a problem. I wanted to help people be updated and prepared to get their education."
He invited adults and teens to learn the technology and ESL (English as a Second Language). Mario observes, "Most were more interested in learning English." He says one of his biggest challenges is the economic hardship his students suffer. "Sometimes they want to stay but they have to leave," he explains. "People don't come to HAPI and just get everything free."
Next, due to a staff change, Mario continued as IT director but also took on new responsibilities as Coordinator of HAPItech, vocational training for youth and young adults. Courses include Computer Basics and ESL, both two-year programs; Electrical Training one-year; Floor Tiling six-months; Electronic Trouble Shooting six-months. Those were the trade skills people were asking for. Mario teaches the computer classes but hires and supervises instructors in the other areas.
Mario had an opportunity to in 2017 to spend two months as an intern at CQL, a digital agency based in Grand Rapids. He took his new knowledge of software development back to Mizak and began to teach students things like how to build a website. Valerie adds that the management skills he learned as an intern also has been of direct benefit to HAPI staff. While HAPI's plan was to do online instruction, they cannot afford the internet bandwidth to support it.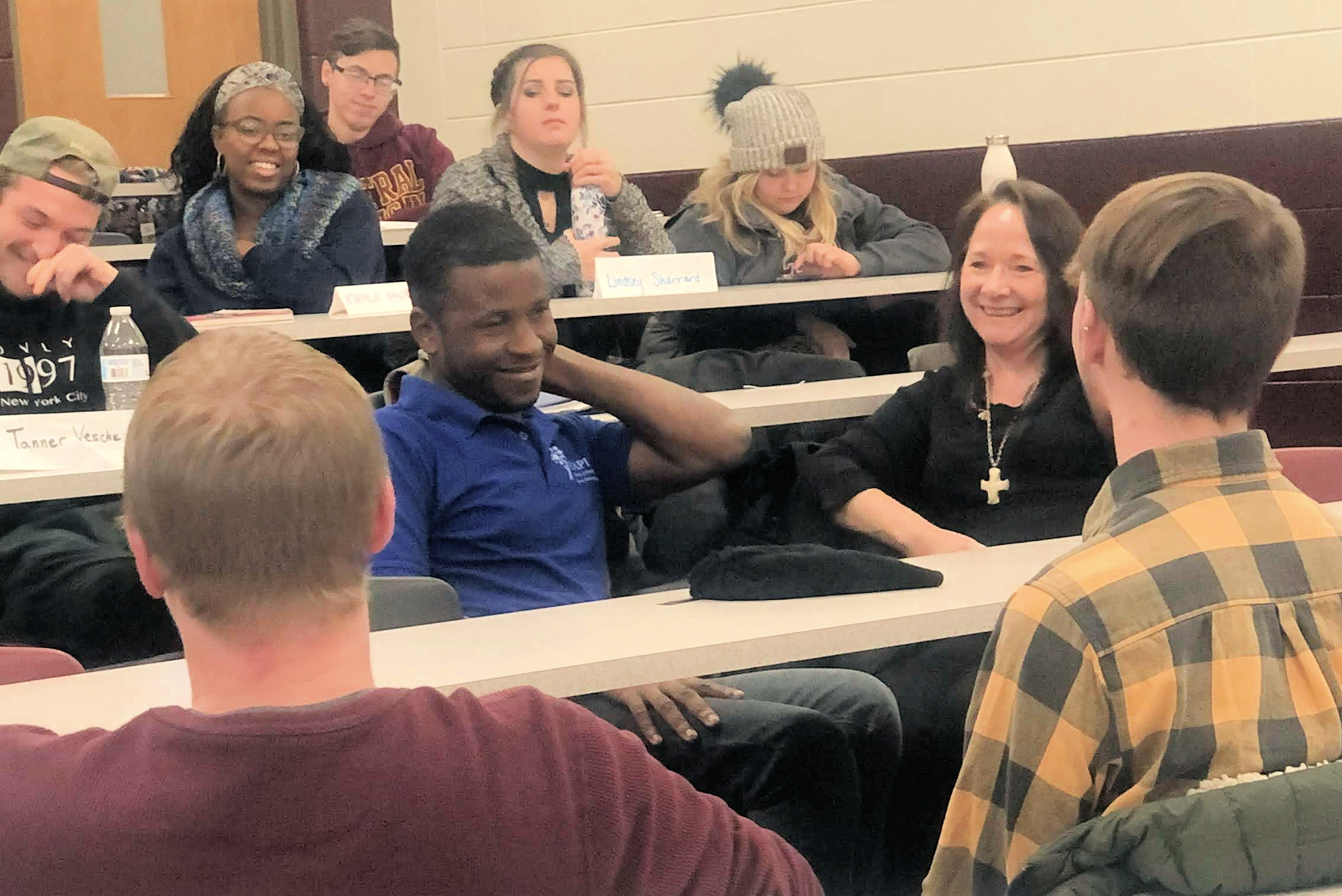 Mario Damis is most excited about a unique partnership between HAPItech and Central Michigan University, now in its second year. He describes it: "There is a group in Mizak studying ESL and another group int Mt. Pleasant is taking a business class. They would like to learn from another culture and my students want to practice English." So, for an hour a week by the internet, "I connect them. My students learn English and the others learn from the Haitian Culture."
A personal encounter took place during Mario's recent time in Michigan. He met with CMU students enrolled in Professor Mike Pisani's "Managing Cultural Differences and Diversity in a Global Economy" class. "Tuesday was a wonderful conversation on everything from gender roles, international politics, God, and dating!" Valerie reports.
Does he still want to be a pastor? "I want to serve my community better but maybe not as a pastor," he reflects. He celebrates the difference HAPI makes in his community. "If HAPI didn't exist, we would have more kids die," Mario says, "and HAPI creates jobs that help people send kids to school to learn a profession." He adds, "What I do gives people hope."
Upon his return to Haiti this month, he will be handling "a good problem." Valerie says, "Until this fall, we've never had greater than 35 students in HAPItech. We have jumped to 105 and are turning students away. That was an unexpected 'wave.'" Now Mario will assist in gearing up for an enrollment of 50.
HAPI takes an integrated approach to development through "Jobs-Health-Education." Which comes first? "Mario would say education. Our nurses would say health," Valerie answers. Currently, HAPI focuses on the expressed needs of the community. "We aren't there yet," Valerie states, "but I hope that, later, we can offer more on business with a lot of emphasis on ethics, handling money, accounting, project management, and marketing."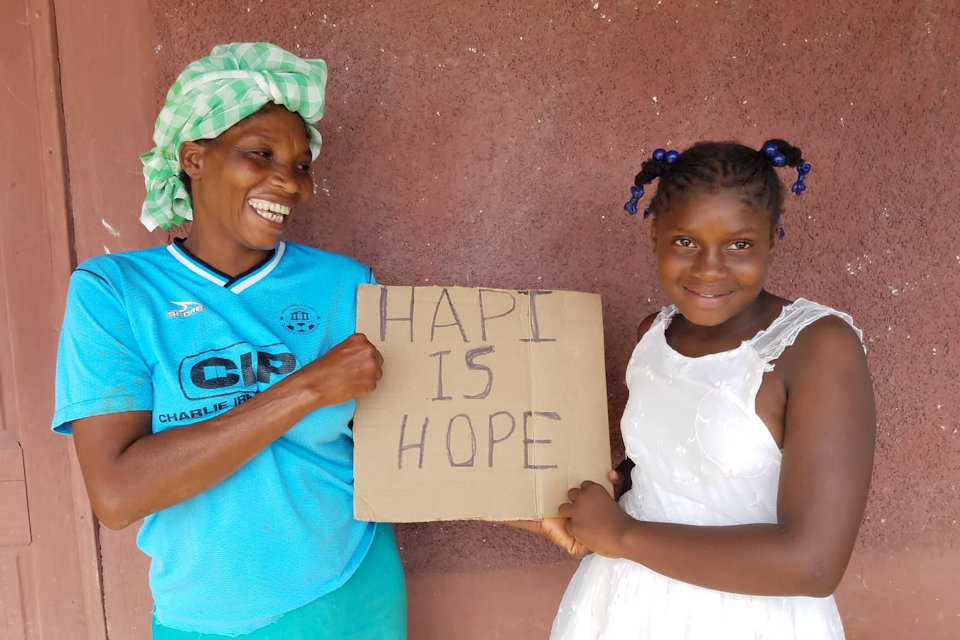 She identifies three additional aspects of HAPI's "light-keeping" in Haiti.
The first is the fabric of that community before HAPI existed. "There was a strong sense of 'community,' of people being peaceful and wanting to work to better their lives. Tranquility. Dignity," Valerie observes. That fits with HAPI's basic approach that, "We all have assets and something to contribute."
Another bright factor is HAPI's staying power. "Haitians are not quick to trust," Valerie says. "Our programs adapted across the years, but we have been there. People have openly shared that they look for consistency because so many nonprofits are there and gone." There is also a high return rate of visiting volunteers. "Those who come back have maintained relationships," Valerie adds. 
Finally, over those years HAPI has "touched many persons in the community, directly or indirectly." Some have received health care, others have been employed as artisans, builders, and translators, and there are those who had their houses fixed following earthquake and hurricane. Valerie emphasizes, "Many have received some kind of benefit at some point through HAPI."
No one can deny that Haiti is in turmoil, politically, economically, and socially. Valerie Mossman-Celestin asks people to "see Haiti through a new lens. There's a dark side right now but that's not the whole picture." She concludes, "There is still good that can be done despite the huge, overwhelming needs."
As they struggled to determine what good The Michigan Conference can do, the Covenant Partners asked Mario Damis, "As a Haitian, what do you think when you listen to us ponder?" Mario answered, "I think about education. You need to do something that is transforming and sustainable."
"It only takes a spark."
~ HAPI (Haitian Assets for Peace International) is an Advance Special of The United Methodist Church #3020490. It is also a Ministry Partner with EngageMI. For more, go to their website www.haitianassets.org.