Three young missionaries, US-2s, were commissioned this month. One leaves Michigan for service in Florida. One arrives in Kalamazoo from Florida. The third left Illinois and is now in Detroit. God bless them all!
KAY DEMOSS
Senior Content Editor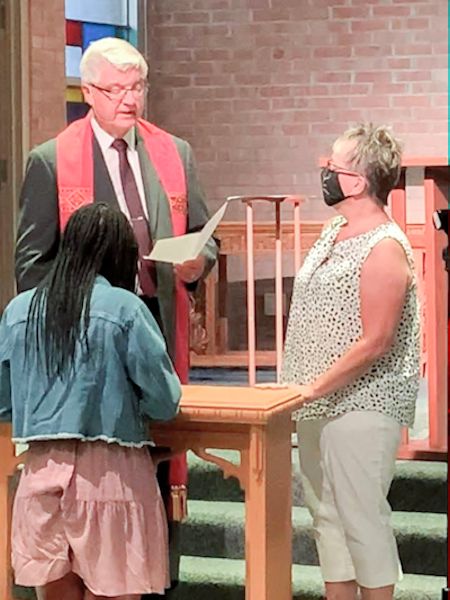 Global Mission Fellows are young adults, ages 20–30, who are committed to working in social justice ministries for two years. Also called US-2s, they are no strangers to Michigan.
This month the conference says thank you to three young missionaries who arrived in the state in 2018 and have now completed their term of service. They are Asti White, Emily Burns, and Jinnia Siironen. We rejoice that two of those young people will remain in Michigan. Jinnia will continue her ministry in Detroit at the NOAH Project and Foundry House. Emily remains on the staff of Kalamazoo Sunnyside UMC, where she worked in their Free Store and Community Garden.
This year, Michigan is both sending and receiving Global Mission Fellows.
Shiree Fetterly was commissioned for service as a US-2 on August 16 at Port Huron First UMC, her home church. Shiree served in the Mission Intern Program of the Michigan Conference, her final year as a site supervisor. She also was a counselor for a middle-school camp, where she met another young adult who was applying to become a Global Mission Fellows. "It was as if God had sent us to this camp to find each other," Shiree says in her bio for the General Board of Global Ministries. "We continued to stay in touch after camp … we pushed each other to get through the application process."
Shiree will be serving for two years in Tampa Bay, FL, as a Community Organizer with the Seminal Heights United Methodist Church. "My call to mission is something I feel deep in my soul," she remarks. "It is something that brings me the most happiness. The idea of going out and helping others in the name of the Lord." Click here for the bio of Shiree Fetterly.
On August 17, the day after Shiree was commissioned to leave for Florida, two Global Mission Fellows arrived in Michigan.
Michael Bennett is from Lakeland, FL. The call to mission, Michael says, "has been a long journey of wrestling with God." His plans to become a lawyer was interrupted when "the Lord completely removed that desire from my heart," he adds. Michael responded to the call to mission as an "act of faith and service … I was not going into ministry because I wanted to, but because my faith called me to. No matter where God sends me, God's will, still being perfect, will be done."
God and the General Board of Global Ministries have sent Michael to Kalamazoo as the resident director of the Intentional Living Community at Kalamazoo Wesley (WMU). He will also manage their Food Justice program. Click here for Michael Bennett's bio.
The NOAH Project in Detroit welcomes Emily Palm as their new caseworker. Emily comes from the Northern Illinois Conference. She is a lifelong member of Christ United Methodist Church in Rockford, IL.
"I am passionate about missions and helping people in need," Emily says. "I have experience working with youth and at-risk populations," she explains. Emily's most recent job experience was with Rockford Workcamps, where she led out-of-town mission teams in community projects in the summer of 2019. "I have learned to use mindfulness, meditation, and prayer, which have helped me to take care of myself and, ultimately, to become a better leader," Emily shares. Click here to view the bio of Emily Palm.
Emily and Michael are currently engaged in virtual training with the General Board of Global Ministries while quarantined in Detroit. They will be joined by other Michigan GMFs on August 28 for a retreat before starting their service at their sites on August 31.
Other Global Mission Fellows now serving in Michigan are Yeo Jin Yun (Methodist Federation for Social Action), Kathryn Sappington (Kalamazoo First UMC), and Lauren Norton (Motown Mission).
The tagline for Global Mission Fellows is to Engage. Connect. Grow. United Methodists in Michigan look forward to connecting with communities and growing in social holiness with these young missionaries in our midst.