Michigan women speak out on their experiences at this year's United Women in Faith Assembly as women of faith from all over the world gathered for a time of renewal and action.
JAMES DEATON
Content Editor
Dawn Hathaway proudly confesses she is a cradle United Methodist. In fact, she has been a member of Erie UMC in southeast Michigan, a stone's throw from the state line, since she was four days old.
She has also been part of her church's United Women in Faith (UWF) group for as long as she can remember. Her mother was actively involved, and so were most women at Erie UMC.
Being included in the women's group was a given, not something you had to sign up for. It was always talked about in church. "If you're a Methodist, and you're a woman, you're a United Methodist Woman," she admits matter-of-factly. "You belong to the group."
But life as an adult has a way of complicating things. Although Hathaway is unapologetically United Methodist and has been involved with her church women's group for many years, she had never attended UWF's Assembly until this year's gathering in Orlando, Florida.
And now that Hathaway is settled in a career and her children are older, it felt like it was time.
Held every four years, Assembly brings together women from all over the world for a focused time of connecting, renewal, and action. And this year's Assembly did not disappoint.
Living into a New Name
United Women in Faith met May 20-22, with an optional pre-assembly Ubuntu Day of Service on May 19. To accommodate the needs of women in light of the ongoing COVID-19 pandemic, Assembly organizers made the decision to provide a virtual option for those unable to attend in person. More than 1,000 of the 3,000-plus total in attendance chose to participate virtually.
Dawn Hathaway joined 40 other Michigan women in Orlando, along with 48 virtual attendees, for UWF's Assembly 2022. The theme was "Turn It Up!"
This was the first gathering of UWF since the mission agency's name change and rebranding which took effect earlier this year. Previously known as United Methodist Women, UWF has undergone 25 name changes throughout its long history going back over 150 years. The new name was the result of several years of research, focus groups, and interviews among 24,000 women across the denomination.
Ethel Gill, long-time UWF member who attends Scott Memorial UMC in Detroit, feels the name change was a bold move. Organizations must be nimble, she remarks, and they have to recognize that their world is changing. "Strong leaders must watch for these changes and be brave and take the initiation to position themselves to thrive and meet their mission goals."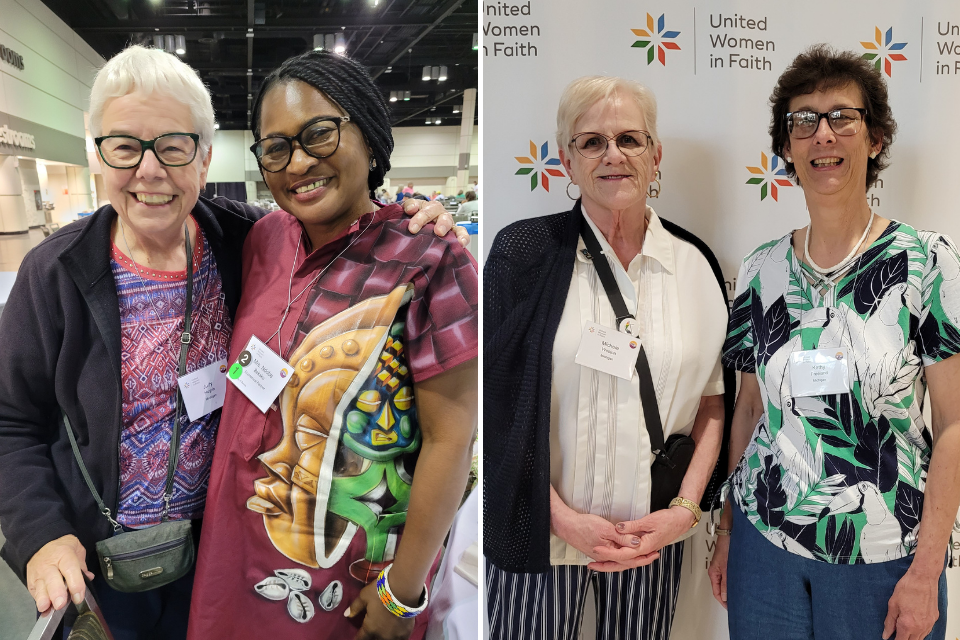 For Hathaway and others, the new name also seems timely and appropriate, a natural outgrowth of the organization's mission.
Historically, UWF has been in touch with current needs at the local and global levels, finding innovative ways to respond in faith. And now, technology brings neighbors in closer than ever before.
Julia Paradine-Rice, president of the Michigan Conference's UWF organization, believes the rebranding is a fitting response to the ever-evolving mission UWF faces. "[We] have always been 'forward looking,' finding ways to stay ahead of our rapidly changing world."
There's an openness and a flexibility in the name, given the schism within The United Methodist Church and the growing absence of denominational allegiance among professing Christians. Declining membership and the need to attract younger members are two additional challenges. UWF desires with this fresh, reimagined focus to be more welcoming and understanding of women's experiences.
Hathaway understands that her involvement with church and UWF is not the norm. "While I have always grown up this way, in this church, and I know I am always welcome, no matter what, it's important for me to also remember that not everybody has that," says Hathaway. "[UWF] is for everybody, and [I shouldn't] assume that people know that. I need to be more vocal in those invites and more intentional."
Gill, who was an educational coordinator for UWF for several years, knows that you do not have to be United Methodist to join a local church's group. It's open to all women of Christian faith. There are Baptists, Catholics, Lutherans. Gill admits the name wasn't working, and that there are stereotypes that accompany a denominational name, for better or for worse.
As UWF live into their new name and claim new objectives as a mission agency, there's hope that Assembly 2022 has ignited the fires of enthusiasm and energy for the work ahead.
Caring for the Soul, One Another
One of the new initiatives that came out of the research that informed UWF's name change is the need for soul care.
Assembly 2022 organizers found a variety of ways to highlight this call for compassionate self-care. Workshop facilitators and worship leaders encouraged women to set aside time for prayer, quiet time alone, reading of scripture, walks in nature. Develop intentional habits that center the spirit and daily practices that tend body and soul.
Ethel Gill attended Assembly from home and found the virtual workshop on Soul Care Retreats, led by Rev. Dionne Boissière, to be valuable. Nourishing the mind, body, and soul in spiritual, stress-relieving, and creative ways is at the heart of soul care. And, according to the UWF research that was done, it's long overdue. Women must tend to their self-care in order to survive.
"One of the things Rev. Boissière talked about is how we need to stop trying to do all the work that's God's work," says Gill, for it is taking its toll on women's minds, bodies, and spirits. "We push ourselves. We do an inordinate amount of things. You have to make time, realign how you feel about yourself. . . . You got to get in touch with yourself before you get in touch with God."
And women must reconnect with themselves through intentional self-care before setting out to do the work God has called them to do. It's where women of faith tap into their God-given strength and renew their faith. Plus, soul work is something women can do together to care for one another. UWF is raising up women to lead and initiate their own Soul Care Retreats.
The internal focus of caring for the soul dovetails with the desire to create bonds of sisterhood.
Assembly 2022 provided a host of opportunities for Michigan attendees to meet in person. Meals, workshops, and even unstructured time gave women a chance to connect, renew relationships, and make new friends.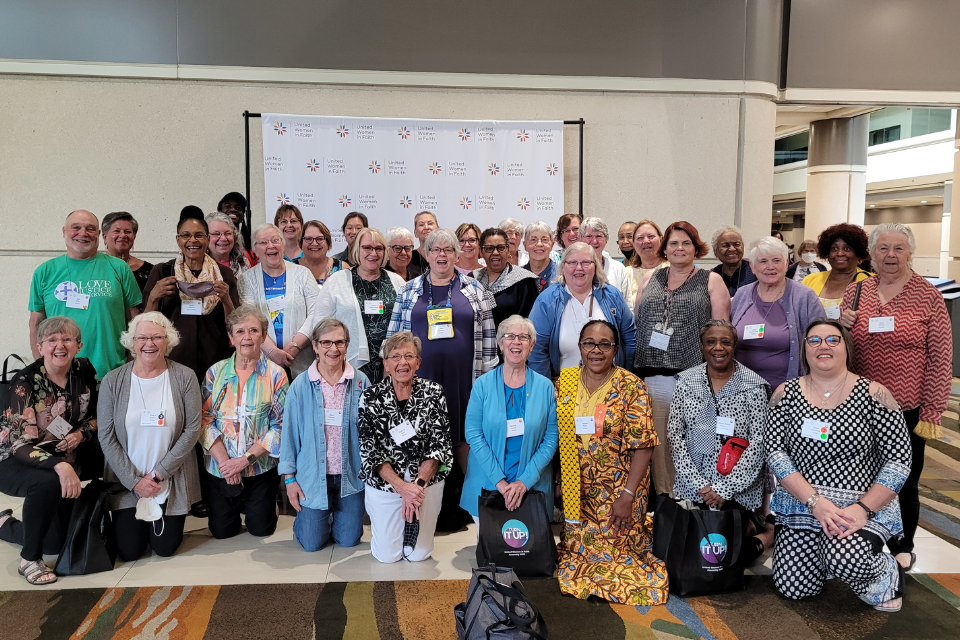 Nancy Goodyear of Grayling: Michelson Memorial UMC enjoyed seeing other women from Michigan. It was helpful to put faces to names, finally. One afternoon all the Michigan women got together for a photo opportunity. Being with sisters, in the flesh, was good for the soul.
It was also good to meet women from different locations committed to a similar goal. Twenty-four countries and all 50 states were represented at Assembly 2022. "It was really neat to see women from all over the world with the same purpose," said Goodyear. Like iron sharpening iron, women were supporting women, encouraging one another, learning from one another, caring for one another.
Dawn Hathaway experienced the beauty of this diversity found in the body of Christ while meeting a group of women from Fiji. Hathaway had participated in the optional Ubuntu Day of Service and got to sit and talk with them during lunch. Later, she ran into them again. While walking to a community gathering, Hathaway heard a group singing from afar. As she got closer, she realized it was the women from Fiji just sitting in the hallway and singing together.
"It was so beautiful, it wasn't anything that was planned," Hathaway noted. "You couldn't understand what they were saying, but you could feel God's spirit. And even though it was a different language . . . we knew they were [singing] in praise, and you could feel that."
Hathaway got an even bigger surprise when she saw the women singing on stage the next day. This moment made a big impression. "Bringing us together. That's what we're here for."
Amplifying Voices, Speaking Out for Justice
UWF has always been a mission-minded United Methodist organization, and Assembly used to good advantage the time to educate and challenge women to do good in the world.
The theme for Assembly 2022 was "Turn It Up!" and speakers and workshop facilitators motivated attendees to speak out on issues that matter to women of faith.
Rev. Sung Yeon Choimorrow, executive director of the National Asian Pacific American Women's Forum, brought the keynote message on Friday morning, and spoke about the pervasive racial discrimination and violence toward Asian American women and girls which must stop. Women must lead the way in changing this narrative ingrained in our culture.
"I challenge you to go deeper in your care and love for your neighbors. Show care in a way that is inconvenient for you," she said. "Help change a trajectory of our history on racism."
Attorney and environmentalist Heather McTeer Toney was the main speaker on Saturday morning. She talked about the beautiful, intricate connection between humans and the earth God has created, and how it's hard to see that nowadays with the serious effects of climate change caused primarily by human negligence.
"Nature loves us all the same, but we don't show nature that same love back. Nature doesn't look at us to figure out what color we are when water rushes by our feet and we step into it. It doesn't discriminate against us. So why do we discriminate against it?"
Both Choimorrow and Toney asked women to not just speak up but live out their faith. Show love and care for your neighbor, no matter who they are, and for the earth, our home. UWF women must turn it up, amplify their voices and increase their witness.
Hearing these justice-themed messages moved the Assembly attendees from Michigan.
"That's kind of always been the theme of UWF," admitted Nancy Goodyear. "We've always been at the forefront of issues that affect women and children and youth. And so, yeah, environmental and racial justice are two things that affect poor women, especially women of color."
Dawn Hathaway heard Choimorrow's honest stories and felt convicted to do more. "I don't consider myself a person who grew up in a bubble. But I really was not aware of the different prejudices and things that Asian American women are going through. And so, that was one thing that I brought home and have been talking to others about."
Assembly 2022 provided several opportunities for women to put their faith into action, to turn up their response to suffering and injustice in the world and do more.
Three hundred women, about 10 of them from Michigan, took part in the Ubuntu Day of Service before Assembly began. Participants put together meal, hygiene, and community garden packets to benefit three organizations: Rise Against Hunger, My Neighbor's Children, and Cornerstone Family Ministries.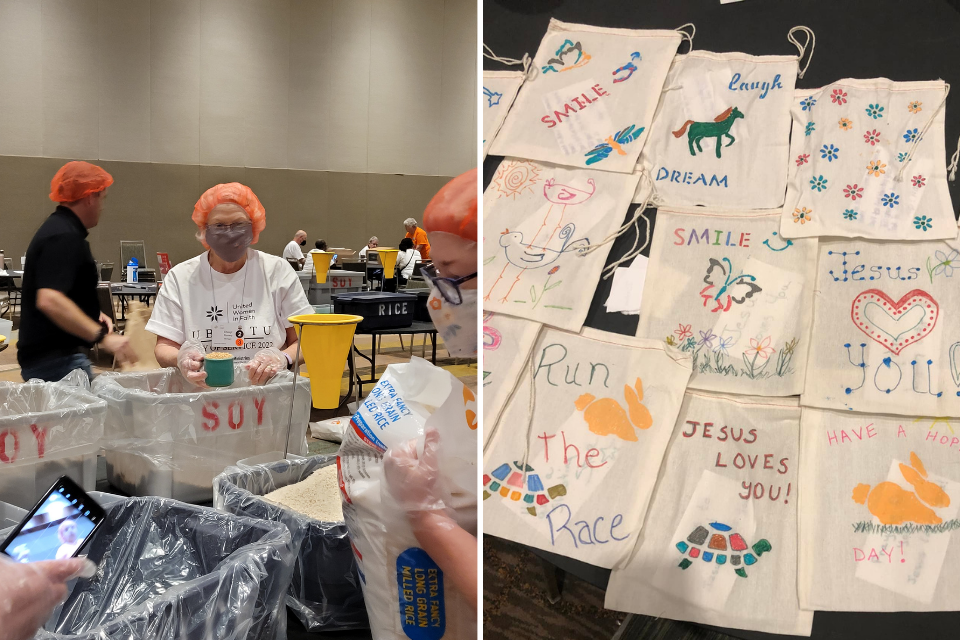 Cheryl Rumery of Gobles UMC appreciated the experience assisting with the preparation of meal packets for Rise Against Hunger. "It was a way to learn about local ministries and feel good about helping out with them. One group I worked with from Alabama had brought young teenagers with them to Assembly. It was a great experience to work on a service project with them."
Coming together for a common purpose, helping others, and forming relationships with other women of faith are natural extensions of the soul work UWF promotes. It's living out the social principles United Methodists, and many others with likeminded spirits, hold so dear.
Ethel Gill summarized Assembly 2022 so well as she concluded her thoughts on the time spent with her sisters in United Women in Faith.
"Assembly reminds us of what it is we're here to do. It reminds us of the suffering that we can help. And it helps us see all of the women all over the world, of all races and ethnicities, who are doing the work. So for me, it's a renewal, it's a metamorphosis. It can be humbling, it can be exhilarating, it can be about learning. It's one big giant soul care."
Last Updated on September 20, 2022