Three Michigan educators describe how their teaching was disrupted when the coronavirus came to class in the spring of 2020.
GLENN M. WAGNER 
Michigan Conference Communications
The worldwide coronavirus pandemic began on December 12, 2019, with a few cases in Wuhan, China. By April 13, 2022, the virus and its variant strains have claimed 6,211,581 lives worldwide.
There have been 2.39 million confirmed cases in Michigan and over 35,736 fatalities linked to this disease. The virus has also disrupted life in Michigan's schools.
Michigan is home to 3,181 elementary schools, 675 middle schools, 1,870 high schools, and 93 colleges and universities. In 2021 Michigan public schools served 1,437,612 students, taught by 80,500 public school teachers.
This story, in two parts, interviews Michigan public school educators with United Methodist connections who share experiences teaching through this pandemic. Teachers are deserving of community support and gratitude.  Their lessons learned can benefit us all.
An Escanaba elementary school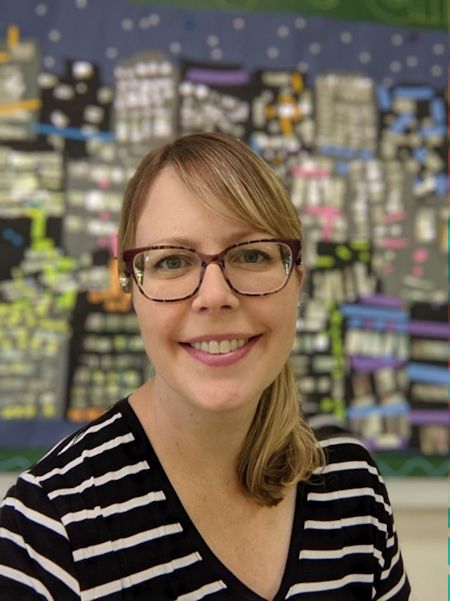 Beth Peterson is a wife, mother of three boys, and active participant in Central United Methodist Church in Escanaba, a town of just over 12,000 population in Michigan's Upper Peninsula. Peterson is also a full-time art instructor with 18 years of experience teaching early elementary students in the Escanaba public schools.  Peterson is a graduate of Northern Michigan University in Marquette, MI, and a native of the Upper Peninsula.
Peterson shares, "Escanaba schools are blessed to have several foster grandparents on staff.  These retired adults are hired by an outside agency but are in school each day to assist teachers, serve as mentors for the children and help as needed." Peterson notes that her schools don't just teach basic knowledge skills but also play an essential role in feeding, assisting with mental health, and providing students occupational, physical, and speech therapy. The foster grandparents are invaluable assists. 
Early in the pandemic, one of these senior citizen helpers died from a COVID infection. Because of restrictions in place, there was no time to remember the life of that valued member of the educational team. For an extended period at the end of the 2019-2020 school year, Peterson's school went to all virtual learning because of rising infection rates.
Peterson is proud the school's nutrition team realized in a Title One school where all of the children in the district receive free and reduced-cost meals. Students still required the school's help with nutrition even though the school building was closed. Daily cafeteria meals shifted to the preparation of food boxes picked up by parents, neighbors, and grandparents for home delivery. Peterson also marveled at the school district's information technology specialists, who worked overtime so that every student was provided with a remote learning tablet and cellular service at their homes to help facilitate remote learning.
Peterson prepared home art project boxes for each of her students so they could participate in her art classes which were offered virtually during the time the school was shut down. However, she knows even with all the efforts made for inclusion, some students fell behind during the shut-down because of challenging circumstances at home.
Peterson has had to navigate the sometimes divisive politics of the pandemic, such as criticism from some parents for masks and getting vaccinations. After Christmas in 2021, a surge of COVID infections affected up to 25% of the students. Some were quarantined at home. Others were treated at the small hospital in Escanaba with more challenging COVID cases were sent to the hospital in Marquette. Peterson has become expert at disinfecting art supplies and classroom surfaces with a commitment to keeping her art classroom space safe for all.
She observes that classroom time lost due to the pandemic has created observable deficits in learning for many students. But she knows "kids are resilient. Many of the students have already made up lost ground." Peterson values the commitment and creativity of her peers in the teaching profession to help students in all situations.
Peterson is aware of the connection between troubles at home and challenges in the classroom. She is grateful for the special "trauma-informed training" the faculty in Escanaba has received, which provides additional skills and awareness.
The forced shutdown of her school in the spring of 2020 provided quality time for the Peterson family. They shared cooking, woodworking, playing games, and spending quiet time together. During the pandemic school closures, the Petersons did not have a daily "to-do list" and were blessed by the more peaceful pace. In addition, COVID has helped the Peterson family value time for Sabbath as part of their routine.
Teaching music in Allendale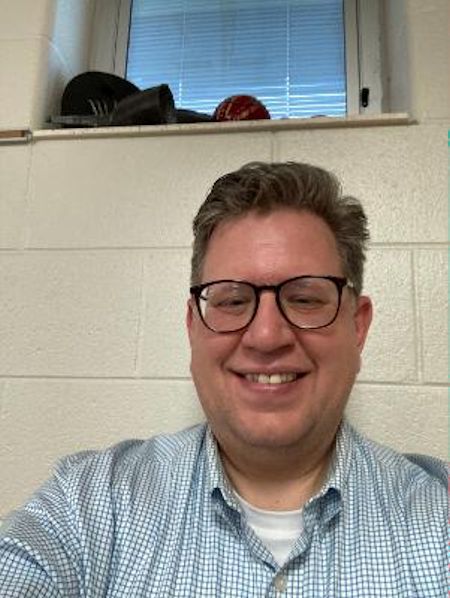 Our second educator, Dan De Zwaan, is a 23-year veteran music teacher at Evergreen Elementary School in the Allendale Public Schools. Dan's wife Kerri is the director of young disciples ministries at the Georgetown United Methodist Church in Jenison. The De Zwaans are proud parents of three. Dan is passionate about his work and each week teaches 18 music classes.
De Zwaan is grateful for his job and remembers how the pandemic dramatically changed life for everyone at his school. "We turned on a dime and didn't really know where we were going for a long time." He remembers the great disruption to everyone's routines when the outbreak of the coronavirus mandated school closure, which sent everyone home before spring break in 2020. That break extended through the end of the school year. 
Because the students did not all have equal access to technology and the internet at home, at first, De Zwaan, like the rest of his faculty colleagues at the school, had to develop learning activities for his students that could be delivered to their homes in a box.
When school got back in session, both De Zwaan and his students had to incorporate new practices. Instead of students coming to the music room for class, Dan carted his music program around the school to the rooms where his students were already following social distancing protocols. When the students finally returned to his music room, assigned seats restricted movement to facilitate tracking and notification of students when classmates contracted COVID and had to quarantine at home. De Zwaan sanitized his classroom between each session. 
Students wore masks in compliance with county-issued mandates. De Zwaan's second and third-grade school choirs, which involved over 100 children, had to cancel rehearsals and concerts for an extended period during the pandemic.
De Zwaan praises the resilience of his students and the way they were able to adapt to virtual learning, particularly his new use of Google's musical learning game "Blob Opera" as a valuable new tool. He also knows they are excited to be back at school with their friends. About the recently lifted mask mandates, De Zwaan shared that his students wore their masks faithfully and had far fewer problems with this requirement than some parents. However, all are glad that the masks are no longer required, knowing that the quality of singing and listening to choral music is much better without masks. He is also glad to have recently reintroduced a musical movement and physical contact game in his class for the first time in three years called "pass the beat." 
De Zwaan's Christian faith is an important part of his identity. He was raised in Christian schools, attended a Christian college in northwest Iowa, and attends Georgetown United Methodist Church. He knows his faith in a public school classroom setting with young children is evidenced in listening to his students, being his best self as a teacher, helping to develop his students' love for music, and affirming their musical gifts. He is excited about the ethnic diversity in one of his classes and for the lessons learned about cooperation, communication, and sharing of gifts. He is proud of the children in his classes who give no evidence of racial conflict.
A high school in Detroit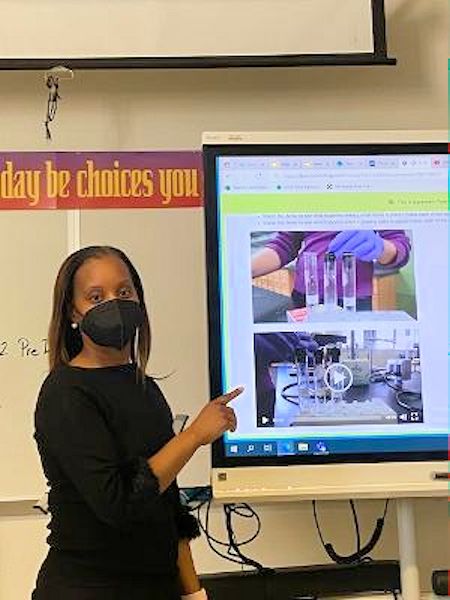 Marci Oliver, our third educator, has been teaching since 1998. She is a mother of two teenage boys and has been married for 23 years to Corey Oliver, an electrical engineer. Oliver has her bachelor's and master's degrees in education from Wayne State University.  She has taught a broad range of science courses, including ecology, biology, and the physical sciences, at Western International High School in southwest Detroit. The Olivers attend Detroit Second Grace United Methodist Church.
The school serves a diverse population, and Oliver is energized and challenged by the international student body enrolled there. She notes that students in her school have come to Detroit from countries in the Middle East, Latin America, Asia, Africa, and North America. 
An essential quality of teaching is growing trust and relationships with students. Oliver shared her awareness that the Muslim season of fasting called Ramadan began on April 2 and runs this year until May 2. Many of her Arab Muslim students observe the practice of not eating for a month between sunrise and sundown, and she has offered understanding for their lethargy during the day. Some of her students are new immigrants to America and are not fluent in English. Hence, she uses Google to provide regular translations of her daily lessons in several languages, such as Arabic and Spanish.
Oliver notes the school district offers options of night classes for students who wish to work during the day and all-virtual courses for students who opt to do all of their learning online.
When the pandemic forced school closure, Oliver knows many students and teachers struggled, challenged by virtual education delivery. Some students did not have access to the internet in their homes. Oliver is grateful that her school has returned to all in-person learning and that virtual teaching is now handled for all who desire it by others in the district. She can now focus her efforts with in-person learning in her classroom.
Oliver is aware she serves a socio-economic disadvantaged area and a student population that reflects all of the challenges present in many family settings. Students bring those family concerns with them into the classroom, and some of those concerns have been made even more challenging by the disruptions brought on by the pandemic.
Oliver notes that her faith in Jesus helps her as a teacher. "God fills me up. I know that being hopeful is a gift God has given me. I am optimistic and able to stand strong. I see my role after the example of Jesus to serve our students and be kind, fair, truthful, consistent, compassionate, and a person of character."
~ Part 2 of this two-part series, COVID heroes care for students, features Trisha Malott (Grandville), Greathen Derenne (Portage), Diane Jackson (Big Rapids), and Eric Lynch (Munising).
Last Updated on October 27, 2023