Construction may be two years away, but two affordable apartment buildings on 10th Street in Holland, MI, are on the drawing board thanks to First United Methodist and Hope churches.
GLENN M. WAGNER
Michigan Conference Communications
Two of Holland, Michigan's neighboring Christian congregations, First United Methodist Church and Hope Church, are partnering with the nonprofit organization, Dwelling Place, to help address Holland's need for more affordable and accessible housing. The project to build two new apartment buildings on church-owned property on 10th Street in Holland reflects Jesus' lesson in the parable of the Good Samaritan about being a good neighbor.
This new shared venture also echoes the important historical beginnings of Holland's two oldest English language congregations. Both churches desire to share God's love through hospitality.  
In February 1847, the Rev. Albertus Van Raalte and Holland's first Dutch settlers came to Michigan aided by two Methodists who had settled earlier in the Holland area. The historical marker outside First United Methodist Church of Holland remembers that Methodist George Harrington Sr. brought the first Dutch settlers from Allegan by ox cart. Another Methodist, Isaac Fairbanks, welcomed them to his cabin, where they stayed while building their own log homes. The yoke from Harrington's oxen is on permanent display in First United Methodist Church to honor the historic hospitality. 
Fourteen years later, in 1861, Fairbanks, who had first come to the area in 1844 as a government agricultural agent to assist the Native Americans, determined that a Methodist congregation might be formed. No English language church existed in Holland which by then was a well settled little town with many frame houses and stores lining dirt streets. The original Holland Methodist congregation numbered eleven and was served by a circuit-riding pastor. The congregation first met in the log fire hall located in what is now Holland's Centennial Park. The building was also used as a town hall and the local "lock-up."
Hope Church, the other partner in this new affordable housing venture in Holland, traces its roots to 1854 when the Reformed Church in America established an English-language preaching mission in Holland. Principals from the Holland Academy, which became Hope College in 1866, served as early ministers. However, the year 1862 marked the transition from the mission to a church (Hope Church was originally named Second Protestant Dutch Reformed Church). The congregation's ten charter members were led by missionary preacher Philip Phelps, who later became the first president of Hope College.
First United Methodist and Hope Church have recently reached a Memorandum of Understanding with the nonprofit organization Dwelling Place to pursue a dream. They are actively praying and planning for this dream to pass local and state regulatory and financing hurdles to become an affordable housing development offering 46 apartments with 11 units reserved for people with physical and/or mental disabilities. Two proposed new apartment buildings will be built on properties currently owned by the churches along 10th Street in Holland near Pine Avenue and within walking distance of downtown Holland.
The Rev. Dr. Gordon Wiersma, co-pastor at Hope Church since 1999, relates that congregational support for this affordable housing project grew from a need expressed by a church member. This single parent of moderate means laboring to care for a grown son with developmental disabilities. She shared her difficulties finding accessible and affordable housing where her son could live independently. His real need prompted a group at Hope Church to begin an extensive and prayerful study of local resources and needs for affordable and accessible housing and conversation about how the church could be of continuing assistance in meeting this fundamental need.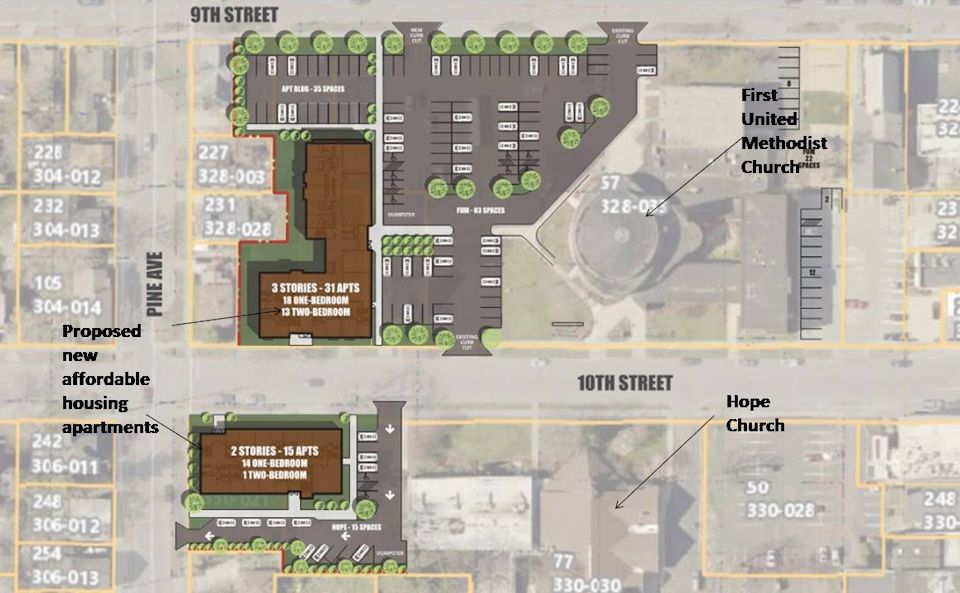 Other local agencies, officials, and experts were consulted. Area nonprofits were interviewed, and both congregations selected Dwelling Place as the managing partner in the process because of its superb 40-year track record in developing and managing affordable housing properties in West Michigan, including the Midtown Village development in Holland on River Ave in the former Holland Junior High School. Midtown Village has been providing affordable housing for Holland residents since 2011. As a testament to Hope Church's commitment to this new project, a proposal was made and endorsed by a congregational vote to offer church property for the construction of the new apartments for $1.00, provided Dwelling Place cover the costs of relocating a day-care playground to another part of the church property. Wiersma believes that this project to use excess church land to develop affordable and accessible housing can serve as a model for other congregations to help meet similar needs in their communities.[1]
The Rev. LuAnne Hook is director of Community Involvement for First United Methodist Church in Holland and will be ordained a Deacon in June 2022 by the Michigan Annual Conference. Hook shared that the church has been working on a plan to help address the need for more affordable housing in Holland for the past three and a half years.
The proposed development on the United Methodist side of 10th street would replace three older church-owned rental homes with a three-story, 31-unit apartment building. In addition, a companion 15-unit two-story apartment building will occupy the existing green space currently owned by Hope Church just across 10th street.
Census data reveals that Ottawa County, located along the Lake Michigan shoreline and encompassing the cities of Holland and Grand Haven, is the fastest growing county in Michigan. Ottawa County has grown 12.3% in this last decade. An expanding manufacturing sector, strong schools, and amenities attractive to tourists and residents have helped fuel this population surge. This growth has amplified identified area needs for additional affordable housing, which has also been a topic for important public discussions. 
A growing number of persons currently employed in Holland cannot afford to live there. With increased demand, rising building costs, and inflationary pressures, housing prices are surging. There is an inadequate supply of affordable housing. Lower income employees in the region find personal budgets squeezed by inflation, medical expenses, costs of child care, rising gas prices, and increasing costs for housing. There is a waiting list for government vouchers to help lower-income residents with housing costs. However, even qualifying for a voucher does not guarantee that voucher-friendly units are available to rent.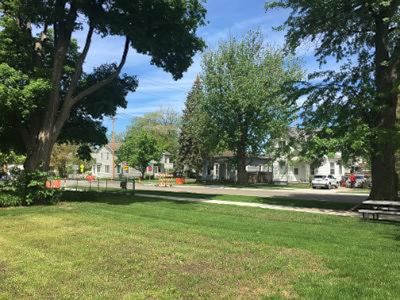 First United Methodist Church already is host to an ongoing ministry called Refresh: Hygiene and Hope. Refresh, a ministry operated in partnership with Community Action House, offers a hot shower, meal, mail service, and community connection with persons experiencing homelessness and housing insecurity in Holland three days each week. Members and friends of First United Methodist Church know how vital this new development will be for persons who need clean, safe, accessible, and affordable housing located within reasonable distance to their employment.
Hook is aware of the hurdles that must still be crossed before these dreams for more affordable housing become a reality in Holland. The two participating congregations have each given the project congregational endorsement. Communication with neighbors is ongoing. Approvals are needed from the Holland Planning Commission, Board of Appeals, and Holland City Council. The project will also depend on the ability of Dwelling Place to qualify the project for inclusion in Michigan's Low Income Housing Tax Credit Program. Hook knows that moving the project forward from conception to receiving new residents could take two years.
Still, LuAnne Hook is excited about working with Dwelling Place. This nonprofit organization headquartered in Grand Rapids has been building and managing affordable and accessible housing units for 42 years. Dwelling Place currently has around 100 employees who help develop, manage, service, and maintain 1,429 apartments and townhouses in four Michigan counties. Dwelling Place will be taking the lead in securing the necessary government approvals and financing and supervising the properties' design, construction, owning, and management. 
Chris Bennett, Director of Housing and Community Development for Dwelling Place, is an eight-year veteran. Bennett received his start in this essential nonprofit work by volunteering with another affordable housing provider, Habitat for Humanity. Bennett, a graduate of Grand Valley State University and a resident of Holland, is excited about this project because of the working partnership with two respected congregations that share a commitment to affordable housing and serving their community as good neighbors. He stated that "Dwelling Place is one of a growing number of area nonprofits with a track record and commitment to providing and maintaining affordable housing in West Michigan." 
Bennett shares that the current design concept calls for 11 apartment units to be reserved for persons with mental and/or physical disabilities who qualify for section 811 vouchers from the Michigan State Housing Development Authority (MSHDA).
A majority of the remaining apartments will be reserved for persons whose current annual incomes are at or below the area's median income.[2] Bennett explained that a prerequisite for the project moving forward, in addition to necessary local Holland city approvals, is securing tax credits from MSHDA, which meets twice a year to evaluate and select which new proposed affordable housing projects around Michigan are to be approved. This is a highly competitive process. MSHDA meets in October 2022, and it could be until January 2023 before Dwelling Place learns if their 10th Street proposal for Holland can move ahead or if it needs to reapply. 
Bennett commends the Holland churches for their valued assistance in listening to their neighbors, helping to address their concerns, and allay their fears. He observed that his experience has taught him that in every project he has helped to shepherd, "we seem to have an initial built-in resistance to change, particularly when changes are proposed to properties in neighborhoods where we live." However, he also knows from his experience that the proposed development will be a positive help to the community. People who need accessible and affordable housing will benefit by moving onto a street where two great churches have been living as good neighbors since the town's beginning.
Notes:
[1] Those interested in more information about this project are welcome to contact Hope Church at  (616) 392-7947 and or First UMC of Holland at (616) 396-5205
[2] As of April 2, 2022, the area median income for a family of 2 in Holland is $45,000 and $39,540 for a single person.