Effective mission crosses boundaries. That's a keynote of the new book, Methodist mission at 200. Readers are encouraged to carry Christ's love into a third century.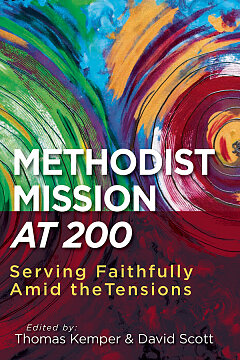 DAN CURRAN
General Board of Global Ministries
Methodist Mission at 200, a new book from United Methodist Global Ministries, seeks to inspire readers to engage in Christian mission today while learning from the challenges of the past. It also marks the bicentennial of the agency that traces its origins to 1819. 
One emphasis is on the way effective mission crosses boundaries in friendship. This is a lesson from John Stewart, an African American Methodist preacher whose work with the Wyandotte people in Ohio is credited with inspiring the formation of the Missionary Society of the Methodist Episcopal Church, forerunner to today's General Board of Global Ministries. 
Edited by Thomas Kemper, former general secretary, and Dr. David W. Scott, director of mission theology at Global Ministries, Methodist Mission at 200: Serving Faithfully Amid the Tensions is published by Abingdon Press and is now available for purchase in paperback or as an e-book. 
"This is an opportune time to look back at our first 200 years and see how the Methodist mission community grew as a movement," said Roland Fernandes, general secretary of United Methodist Global Ministries. "People committed to mission have faced serious challenges ranging from cultural shifts to mass migration to world wars to service in unchartered parts of the globe. While commemorating these first 200 years, the book also delves into the mission theology that guides our current work." 
"Methodist Mission at 200 informs but also uplifts and inspires, as together the church seeks to faithfully answer God's call, encouraged by the stories of those who have come before us," said Bishop Hee-Soo Jung, Global Ministries board president and leader of the Wisconsin Episcopal Area of The United Methodist Church. "This analysis makes us conscious of the tensions that surround us, and dependent upon the relationships that connect us." 
Methodist Mission at 200: Serving Faithfully Amid the Tensions delves into the origins of mission and service, shares lessons from 200 years of mission history, offers details about the celebration of the bicentennial of Methodist mission, describes how theology guides present mission practice and analyzes the enduring tensions in mission.
Last Updated on September 20, 2022