Congregations and individuals can celebrate the rural heritage of The United Methodist Church by financially supporting the Rural Life Sunday offering, which funds a pastoral scholarship named after a Michigan local pastor who passed away 10 years ago.
GLENN M. WAGNER
Michigan Conference Communications
Rural Life Sunday, an important annual conference-designated special Sunday, will be observed this year across Michigan on September 11, 2022.
Rural Life Sunday calls Michiganders to celebrate the rural heritage of The United Methodist Church and affirm the people and communities who work with and on the land we live on. There's also an opportunity to recognize ongoing crises affecting rural areas of our world today.
Discipleship Ministries of The United Methodist Church offers helpful worship recommendations for the observance of Rural Life Sunday, as does Resource UMC.
Churches planning to receive a special offering for Rural Life Sunday will support the vital work of the Michigan Conference's Town and Country Ministries, which provide continuing education scholarship assistance to pastors serving congregations in a town or rural setting and any pastor in any setting serving a congregation with fewer than 200 members.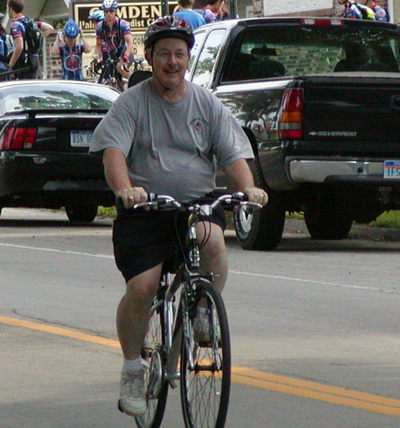 The scholarship fund created for Rural Life Sunday was named ten years ago for Ed Mohr, a much-loved licensed local pastor who was eight and a half years into his second career serving smaller multipoint congregations in the West Michigan Conference. Ed was an enthusiastic supporter of Town and Country Ministries. He was also a regular participant in long-distance bike rides by Michigan pastors and laity from Michigan City, IN, north 357 miles along the Lake Michigan shoreline to the Mackinac Bridge to raise public awareness and financial support for our United Methodist missions in Haiti.
On a 45-mile round-trip bike ride from Gobles to South Haven to train for his longer rides, Ed was struck by a pickup truck and killed on September 11, 2012. With memorial contributions from his funeral courtesy of his widow Phyllis Mohr and the overwhelming support of his colleagues in ministry, the Rural Life Sunday offerings for town and country pastoral scholarships was renamed the Ed Mohr Memorial Scholarship fund. Click this link to download the scholarship application. This year's observance of Rural Life Sunday will be on the tenth anniversary of Ed's death. A generous gift to this special offering will be a great way to share in Ed's passion for this important work. Individuals wishing to donate can do so online via this secure Paypal link.
The special offering also helps with some of the administrative costs for an annual Circuit Rider Retreat, which will be held on November 7-9 in Birch Run at the Comfort Inn and will feature a keynote address from Rev. Roger Grace. Pastors who are interested in this retreat must register by October 15 by completing this form.
Roger Grace served eight years as chairman of the board of United Methodist Rural Advocates. Currently Grace serves on the lead team for the Rural Chaplain's Association and on the board for the Academy for Small Member Church Ministry. This November retreat providing education and support for town and country pastors in Michigan has been happening annually for over 50 years. Long before the two Michigan conferences merged, town and country pastors from across Michigan have been meeting and working together for the common good.
Glenn Wagner's Introduction to Rural Ministry
When I first began as a United Methodist pastor, I knew very little about the importance of rural life to ministry and our collective well-being.
I grew up in the suburbs of Chicago in a thriving suburban Methodist church. In my childhood, Hawthorn Mellody Farms milk was delivered by truck several mornings a week to our back door in glass gallon bottles with a gulp of cream on the top. I had no experience with how the milk got into the bottle.
My first appointment as a United Methodist pastor was to a church in a town of 26,000 serving the needs of a rural county. Chester introduced me to rural life. Chester was a faithful member of the church choir and a gifted tenor soloist who never missed a Sunday. I learned that he was also a generous supporter of the church and several other community charities, and always seemed to have a genial attitude about life. He had a firm handshake and was a loving husband and father. I really liked Chester. But Chester frequently fell asleep on Sunday mornings during my sermon. I took pride in my effective delivery, so Chester's visible sleeping up in front of everyone while I was doing my best to communicate was irksome. I summoned the nerve to ask Chester about his regular nodding off.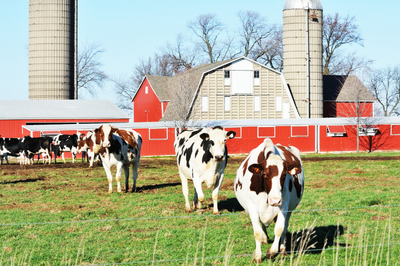 He smiled and asked if I had ever visited a dairy farm. I replied that I had not, and he extended an invitation to visit on Wednesday. I asked when I should come. He suggested four o'clock and then added for clarification, "in the morning." I agreed to the conditions and the adventure.
I was not used to waking so early, but somehow I managed to arrive on time. And I was glad that I remembered to dress in warmer work clothes. Chester was already hard at work in the illuminated area outside his barn. His dairy cows were inside the stalls ready to be milked in semiautomated fashion. Chester first needed me to scoop ear corn from the bottom of his silo and heft this feed by the shovelful up into his large grain wagon that was attached to a tractor. When I had filled the wagon, Chester taught me how to run the tractor so I could haul the wagon filled with corn to the grinder. We then shoveled the ear corn from the wagon into the grinder to prepare it to feed the cows. After that we fed the cows, milked them, and transferred the milk by hand in weighty transfer buckets to the holding tank in the center of the barn. Then we released the cows back into the fields and cleaned the barn, moving the piles of manure into the spreader for later fertilizing of the fields. A little after 8 am, Chester and I went into the house where a generous farm breakfast had been prepared. I ate ravenously.
After breakfast Chester invited me to sit in a chair to "take a load off for a few minutes" before returning to his fields to spread the manure. I fell asleep instantly for over two hours while Chester spread the manure. I never again asked Chester about his sleeping in church. His weekly presence in church remains for me an example of great faithfulness.
I have learned that rural people deal with many of the same issues as those in more urban settings, such as grief, addiction, abuse, divorce, loneliness, and economic stresses. But my memories of Chester remind me of the spirit of hard work, self-reliance, team spirit, and faithfulness I have encountered often in rural settings.
Rural Life Is Important to Michigan
Michigan's 96,716 square miles makes this our nation's 11th largest state, and the largest east of the Mississippi River. Michigan has nearly 10 million acres of land devoted to farming and approximately 47,600 farms, which means roughly one-sixth of all land in Michigan is devoted to farming. An estimated 805,000 persons, about 17% of Michigan's workforce, is employed in food and agriculture. Some 1.8 million Michigan residents, nearly 20% of Michigan's population, live in rural areas. According to government statistics, Michigan leads the nation in the production of several crops, including asparagus, black beans, cucumbers, tart cherries, Niagara grapes, and squash. Other crops like corn, wheat, hay, potatoes, blueberries, peaches, and apples are also important. Dairy, poultry, and beef are significant agribusinesses. Michigan agriculture contributes more than $104.7 billion annually to our state's economy, second in diversity only to California.
Rural Ministry Is Important to Michigan United Methodism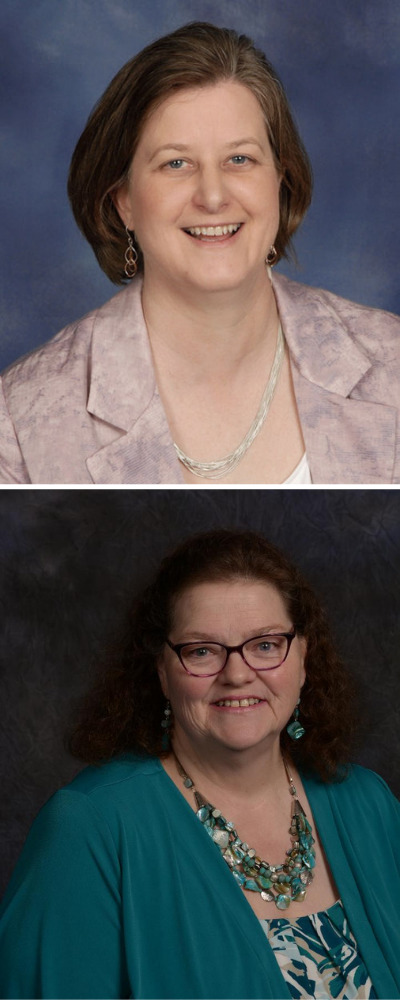 According to Michigan Conference Statistician Pamela Stewart, as of mid-August 2022, the Michigan Conference includes 736 congregations. Five hundred fifty-seven of these churches (75% of the total) have fewer than 200 members. Three hundred eighty-nine of our total number of churches have fewer than 100 members (53% of the total).
Two hundred sixty-six licensed local pastors, 93 full elders, 28 provisional elders, and 81 retired pastors are the largest groups of clergy serving our town and country parishes. Stewart adds that the vast majority of our Michigan United Methodist congregations that are 200 members or less can be found in rural or small-town settings.
Rev. Jodie Flessner is superintendent for the Northern Waters District, with responsibility for 74 United Methodist churches that span the northern third of Michigan's lower peninsula. The Northern Waters District stretches from Ludington on the shores of Lake Michigan in the west to Alpena on Lake Huron in the east, north to Indian River and south to Reed City. Most of the churches in the Northern Waters District are rural and the members of those congregations are intimately acquainted with rural issues. A few of the pastors in Flessner's district still serve in communications "deserts" where Internet and cell phone service are nonexistent or spotty.
Flessner's rural churches are aware of how changes in agriculture have challenged rural communities. Rural farm families know what faith is when they plant their crops hoping for a return at harvest and worrying about weeds, drought, fires, floods, and infestations of insects. This year the rising price of fuel has had a dramatic impact on costs. Rural church members know that even with a good harvest, fickle global affairs can affect market pricing and mean the difference between profit and loss. Flessner notes that local rural communities and congregations are impacted by children who eventually leave for education and employment opportunities elsewhere. Urban sprawl can complicate life for adjacent farmers. Larger corporate farms and advances in technology have challenged the ability of smaller family farms to stay in business, just as big-box stores and Internet retailers like Amazon have squeezed local retailers.
Government regulations affecting the availability of immigrant labor have had a large impact on farming operations in Michigan. A dairy farmer in a former parish of mine testified to the U.S. Senate Agriculture Committee last year about how government restrictions on migrant workers have adversely affected their operations. They have been unable, without the migrant workforce, to find local neighbors willing to rise at four in the morning and work long hours of physical labor even for a good salary.
Rev. Carol Freeland, pastor of West Forest UMC in Millington and West Vienna UMC in Clio, is chair of the Michigan Conference's Town and Country Ministries Committee and represents this work as a voting member of the Michigan Conference's Board of Global Ministries. Freeland is passionate about the importance of this collaboration between town and country pastors and the vital ministries that are advanced by the Rural Life Sunday offering. She knows firsthand the challenges of serving as a new pastor in smaller, rural parishes during a pandemic. She has had to learn new skills to make worship available online while trying to stay in vital connection with her two congregations and their surrounding communities. Continuing education and supportive community are very important for pastoral wellness and effectiveness.
Biblical Encouragement to Work Together
From the beginnings of Christianity, the importance of cooperative ministry to grow the faith was taught in scripture and modeled by early forebears. The apostle Paul encouraged his friends and colleagues by using illustrations that were familiar to them, many of which came from rural life. As he wrote to the church in Corinth:
What then is Apollos? What is Paul? Servants through whom you came to believe, as the Lord assigned to each. I planted, Apollos watered, but God gave the growth. So neither the one who plants nor the one who waters is anything, but only God who gives the growth. The one who plants and the one who waters have a common purpose, and each will receive wages according to the labor of each. For we are God's servants, working together; you are God's field, God's building (1 Cor. 3:5-9, NRSV).
When we work together in faith, God still gives the growth. Thank you for remembering to celebrate Rural Life Sunday on September 11, 2022. Please give to generously support Town and Country Ministries of the Michigan Conference.
Last Updated on September 20, 2022