Members of Oakton UMC, in rural Kentucky, look forward to their first group hug post-pandemic. The congregation in Hickman County numbered seven at a recent in-person worship service.
JIM PATTERSON
UM News
At Oakton United Methodist Church, the group hug is on the verge of a comeback.
Pat Thurmond, who attends the church with her husband, Kenneth, said she's ready to revive the tradition now that in-person services are back and social distancing and masks are no longer required.
"We had a big group hug up here before COVID," she said. "We've got to do that again."
The tiny congregation in Hickman County numbered seven at the June 13 worship service.
"It's nice to be able to touch people," said Laura Vincent, the lay pastor serving Oakton. "Everybody had their vaccines. We cleaned everything."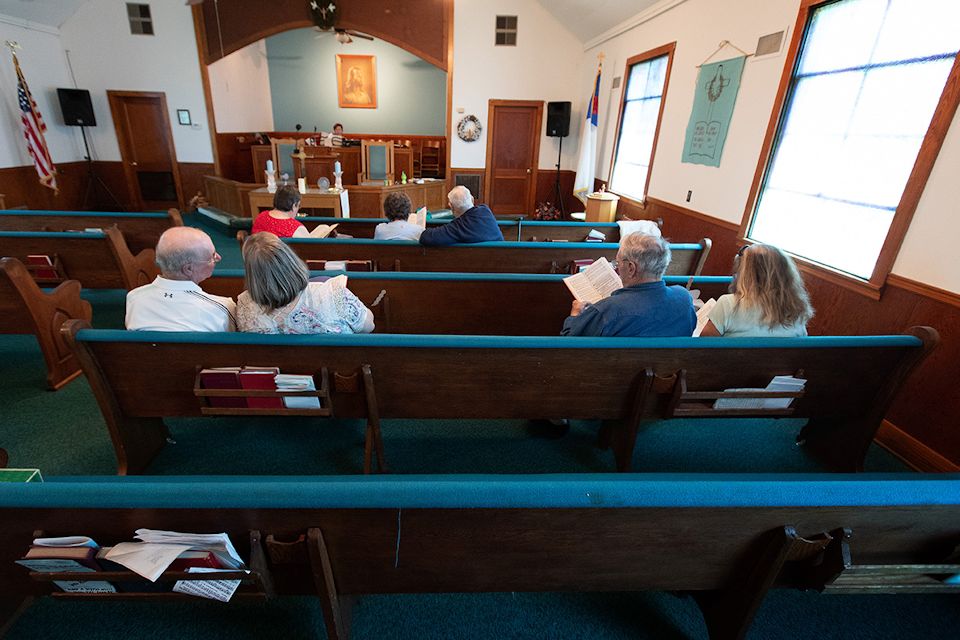 COVID-19 hit small, rural churches particularly hard, said the Rev. Randy Wall, a part-time pastor and president of United Methodist Rural Advocates.
"There are a lot of communities where they don't have internet or very reliable internet," Wall said. "If you are in a church that doesn't have internet connected to it, how can you do a Zoom worship service?"
Some churches without internet service weren't informed about U.S. Small Business Administration grants and loans available to help pay salaries and bills while churches couldn't meet, Wall added. Applying for the help would also be difficult without the internet.
At Oakton, the elderly congregation learned to use Zoom while the church wasn't meeting in person. They weren't thrilled about it, however.
"It was OK because we were still hearing the Word," said Pam Ward, who attended the June 13 service with her mother and father, Sue and Thomas Ward. "But it's nothing like coming and being right here in the building. We missed that more than anything."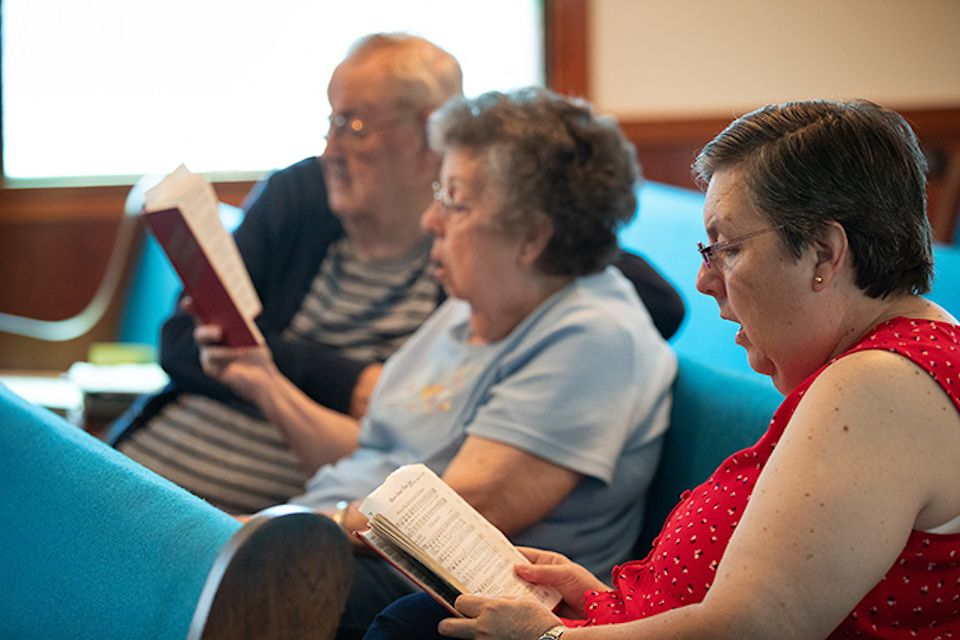 Sunday services should include smiling faces and touching, Pam Ward said.
"We can touch now, shake hands again, where there for a year, you couldn't do anything like that."
At the service, two of the church's 16 pews were occupied. A large portrait of Jesus served as the focal point of the cozy, woody sanctuary. A few ceiling tiles were missing in the back of the church, exposing insulation.
The service started with "When the Roll Is Called Up Yonder," suggested by one of the congregants. Each of the songs sung at the service was a recommendation from the pews.
"It always works," said Vincent, who also puts in 37 hours a week as a nurse for the Graves County Health Department. "What they choose always goes along with the Word."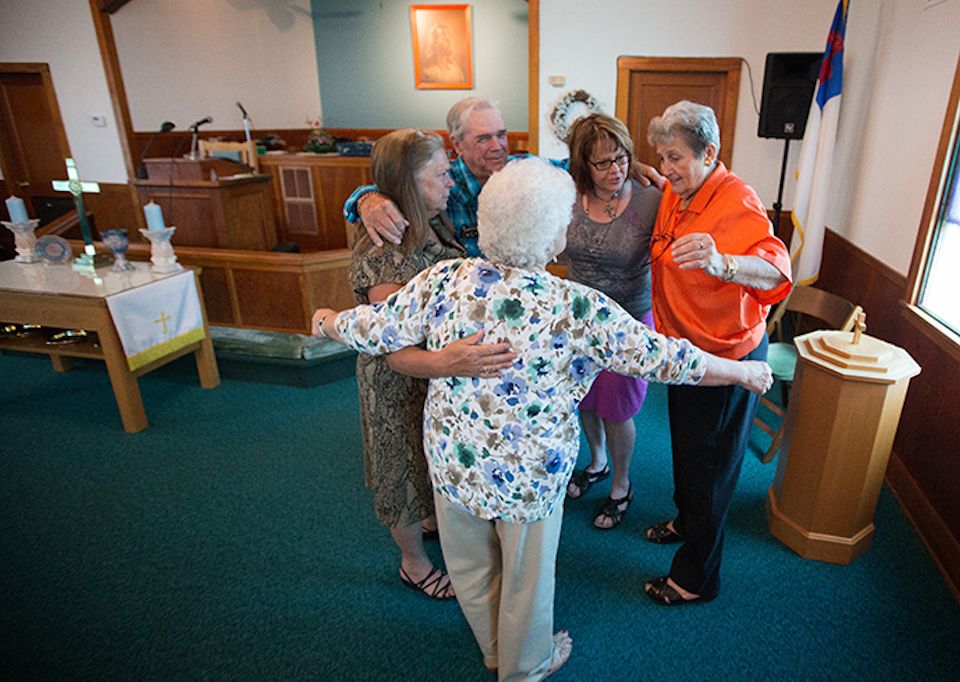 Vincent makes a 40-mile drive each way to preside at Oakton. She also cares for two grandchildren several times a week because her daughter works the night shift at Walmart.
At the service, she addressed every attendee personally, getting the latest news on their health and concerns.
"Did you get the chickens in?" she asked Wilson Workman, who is pushing 83 and still farming 300 acres.
"How did the doctor's appointments go?" she asked the group at large, taking notes about an area woman who'd been diagnosed with cancer.
"She's in a hospital being taken care of, and God's got this," Vincent encouraged the congregation.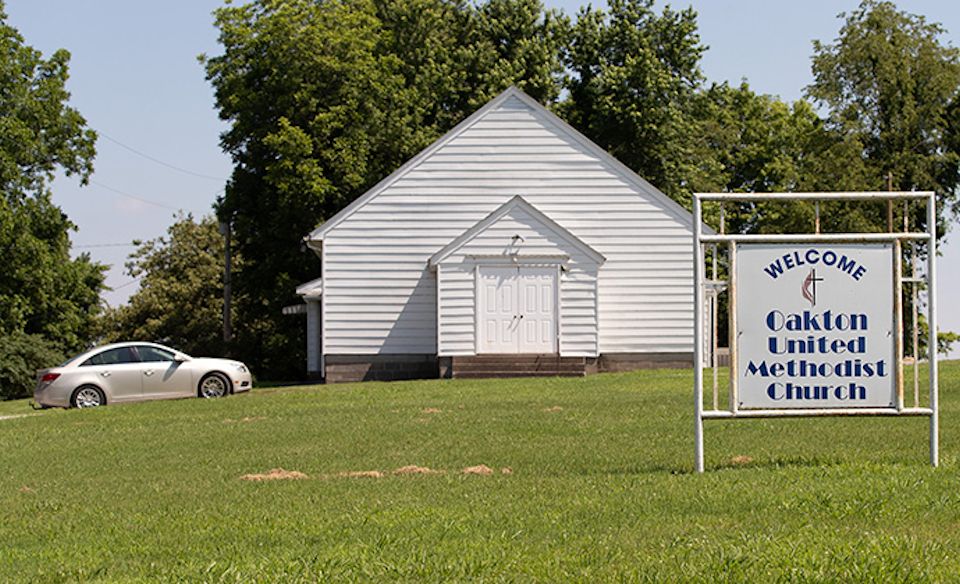 Many rural churches were already in peril before COVID-19, said Jonathan LeMaster-Smith, a consultant and educator who works with clergy and laity to explore the potential of rural areas.
"I know some closed, but they were in danger of closing before the pandemic," LeMaster-Smith said. "It may not have been pandemic related."
LeMaster-Smith said some rural churches have "snapped back to the way things were" as COVID-19 became less of a risk.
"If they really think about how they saw Christ in the pandemic, and how they chose to respond to the needs of the community in the pandemic, then they should continue to move in that direction," he said.
To thrive going forward, rural churches should "lean into missions, lean into outreach and communicating with isolated seniors," LeMaster-Smith added.
Oakton's congregation isn't able to do much outreach because they lack the membership and finances. But Vincent reminded them during the June 13 sermon, based on a passage in 2 Corinthians, that they still had a responsibility to spread God's message.
"We have got to live our life out loud," Vincent preached. "We can't be quiet anymore. … Our job is to get the good news out to the world. If you whisper, nobody hears you. We've got to take it out to the world."
She said to do that, they must do as Jesus did.
"Loving people. Meeting people where they are. Accepting them as they are.
"We can make a difference in our world."
Last Updated on January 10, 2023