What's your vision? That's the focus of the 2020 REACH Summit. This year participants will share in a virtual experience on October 24, 8:30 am to 3:30 pm.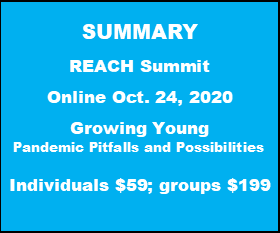 Registration is now open for the 2020 REACH Summit. This year, the Summit is all online on Saturday, October 24, 2020. For more information, visit REACHSummit.org.
The REACH Summit is an integral part of the REACH Movement, helping Michigan United Methodist churches grow and multiply. The Summit, now in its 7th year, is open to all church leaders.
This year's keynoters are Jake Mulder and Rachel Gilmore.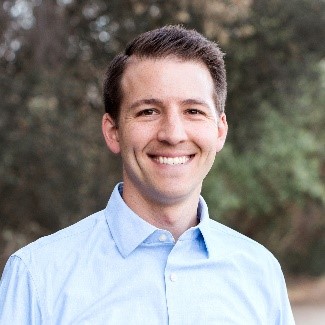 Growing Young | Jake Mulder, co-author of Growing Young, will keynote about how churches can unleash the passion of young people. He is also senior director of Strategy at the Fuller Youth Institute, where he coordinates new research and helps the team think strategically. He's a graduate of Fuller Theological Seminary and Western Michigan University.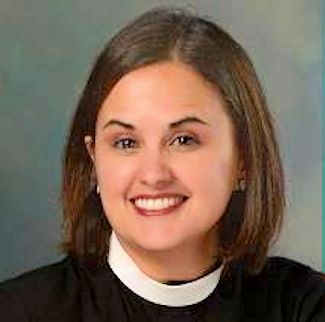 Pandemic Pitfalls & Possibilities | Rachel Gilmore, who was planting pastor at The Gathering at Scott Memorial UMC in Virginia Beach, VA, will keynote on how to seize opportunities within this pandemic. Rachel is currently director of Recruiting, Assessing and Training Community Engagement and Church Planting at Path 1/Discipleship Ministries for the UMC. She is a graduate of Duke Divinity School.
Mulder and Gilmore will also lead morning and afternoon workshops. Gilmore's focus is online worship and discipleship. Mulder's topic is one of the Six Core Commitments churches need to grow young: unlocking keychain leadership. He'll also lead a workshop on adaptive change, young people, and the future of church. Learn more about REACH Summit workshops.
Rev. Ron Brooks has found the REACH movement to be "a resource to help churches turn it around." In fact, REACH can help create, "turnaround churches and turnaround pastors," says Brooks, pastor of First United Methodist Church in Grand Ledge. "I look at the REACH Movement as coaching and resources to help you take the next step in making disciples of Jesus Christ. Different people are going to take a different step and that's why you have so many options."
More REACH Summit workshops:
ReThink Vision with Gary Step, associate director of congregational vibrancy for the Michigan Conference
Exploring Hybrid Children's Ministry with Kathy Pittenger, Children's Initiatives Coordinator for the Michigan Conference
Adapting Youth Curriculum with Christy Miller White, Youth Ministries Initiatives Coordinator for the Michigan Conference
Practical Implementation of Hospitality with Abby Young, Guest Services Team Lead at Cornerstone UMC, Caledonia, MI
Lay Leadership in a "Both/And" Church with Laura Witkowski, Associate Director of Lay Leadership Development for the Michigan Conference
Cultural Vibrancy as a Discipleship Pathway with Brittany Stephen, Associate Director for Multi-Cultural Vibrancy for the Michigan Conference
Readiness 2 Launch with Cathy Townley, Coach, Consultant, and Owner of Townley Coaching 
Grow the Church Where You Are with Brad Kalajainen, the founding pastor from Cornerstone UMC, Caledonia, MI
"The more involved you can get your churches, the better off your church is," says the Rev. Jacqueline Raineri of Clare UMC. "You get fed and you get excited. But you have to bring your church with you."
Cost for individuals is $59; groups can register together for $199. Once registered, Summit participants will receive a link to select workshops.
Learn more about the 2020 REACH Summit.