A sharp increase in COVID-19 cases in Zimbabwe prompted the Senate of Africa University to hold academic classes online through December 2020.

EVELINE CHIKWANAH
UM News
Africa University's fall semester classes will be conducted online, with more than 870 freshmen beginning their academic life via the internet.
The school's University Senate decided to hold academic classes virtually through December following a sharp increase in COVID-19 cases in the country. There have been 4,339 confirmed cases and 84 deaths, according to Johns Hopkins University.
Despite the postponement of in-person classes, Vice Chancellor Munashe Furusa remains optimistic.
"Teaching is set to begin," he said. "We are currently the only university approved to offer online programs in Zimbabwe. The pandemic has presented an opportunity for us to scale up our online program offerings."
Stephene Chikozho, director of advancement and public affairs, said the school would use Moodle as its learning management platform, noting that most students already are familiar with the program.
 
"The university is putting in place measures to ensure that the student learning experience is not compromised but rather enhanced through this mode of learning," he said.
Students will need appropriate hardware to access study materials, as well as online and internet connection, preferably Wi-Fi. 
"Negotiations are ongoing with internet service providers in Africa at the university level for cheaper data packages for students," Chikozho said. "Also, the technology fees that were supposed to be paid to Africa University by students have been waived to assist students in buying their own data for e-learning." 
The pandemic also has delayed Africa University's 2020 graduation ceremony, which now will be conducted online for the first time since its establishment. The event will be live-streamed in October on the university website, said Joseph Chinzvende, acting director for online learning.
"In Zimbabwe, we have been faced with a recent spike in the number of cases despite an earlier low infection rate that saw the relaxation of lockdown measures," said Herbert Njonga, registrar. "As of now, the government of Zimbabwe has advised that it will tighten the lockdown measures and stop further opening up of other sectors of the economy."
Ferdinand Akoka Akoka and Francine Waliuzi Makabu are among the students who will be starting their online studies with AU on Aug. 17. About 15% of the 2020 freshmen are from outside Zimbabwe.
Akoka, from Kinshasa, Congo, will be majoring in medical laboratory sciences and is looking forward to beginning his studies despite the COVID-19 pandemic.
"I'm excited about starting my first semester at AU online. This is the second time that I am going to face this new way of learning as I have previously written some examinations online," he said.
Makabu, also from Kinshasa, will be studying international relations.
"I am very excited to start my first semester. I remember when I was doing intensive English and saw some of the AU first-year students celebrating their orientation, which marked the beginning of their journey. From there, they were recognized as Africa University students," she said.
"I have not studied online before … I hope it will be an amazing experience," Makabu said.
Africa University has created partnerships that have positioned it ahead of other similar institutions in the country. August 5 saw the launch of the Undergraduate Business Management Degree Pathway in conjunction with the Northern Consortium of U.K. Universities, a consortium of top Australian and United Kingdom universities.
 
"The COVID-19 pandemic has changed the face of education across the world," said Andrew Straughn, the consortium's regional manager for Africa, the Middle East, and Latin America. "With university campuses closed and learning shifting to online platforms, access to international qualifications has also changed radically. That is especially true for students who were looking to begin their higher education journey abroad and may not have the opportunity to do so for the foreseeable future due to closed borders."
The program gives students access to top universities in the U.K. and Australia to prepare them for their first year of study with Africa University.
 
"At Africa University, we are driven in everything we do by a disruptive spirit of innovation, entrepreneurship, and excellence that expresses itself in our commitment to producing adaptive and transformational leaders with the capacity to modernize and industrialize our beautiful continent," Furusa said.
  
"While this educational partnership is between Africa University and NCUK, it creates opportunities for scaling up re-engagement efforts between Zimbabwe and the U.K. The presence of the British Embassy at the launch is testimony to this development," he said.
As the start of online classes nears, Furusa said AU's ability to offer such programs has set it apart.
 
"We have remained ahead of the game in ensuring that our students remain on course with regards to completing their studies, regardless of the impact of COVID-19," he said.
AU gets a facelift
When students can return to campus, they will notice a few changes in the skyline. The government closed universities and schools in Zimbabwe on March 24 to stop the spread of the coronavirus, but the construction of new buildings continued unabated.
The university landscape received a facelift with the completion of the expansion of the Ndorimana Bonaventure Dining Hall and construction of a new student union building, which was funded by a $2 million gift from Highland Park United Methodist Church in Dallas, TX. Part of the gift also was used to build and equip a new residence hall that will house 130 female students.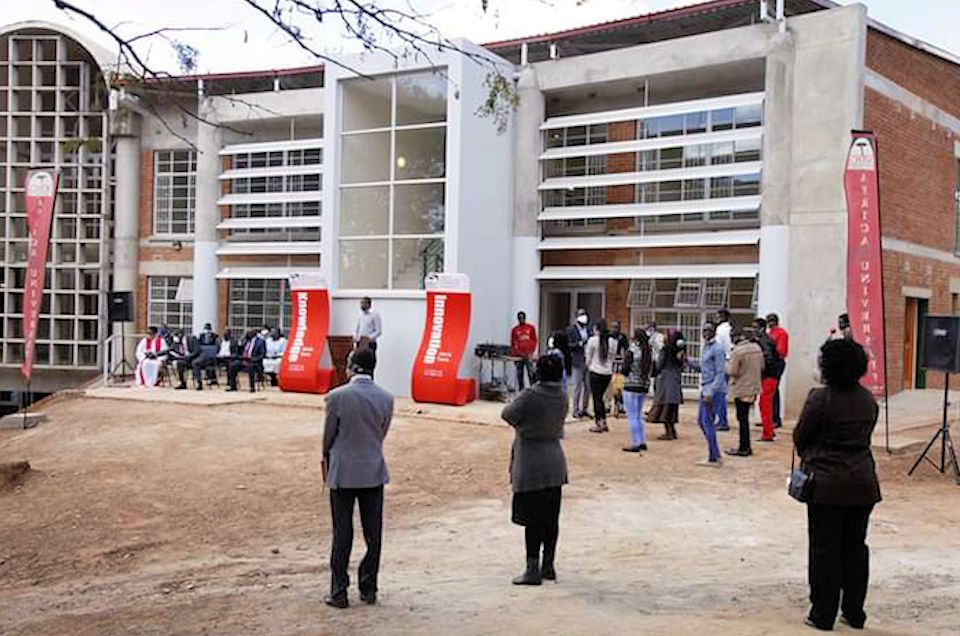 Furusa thanked Highland Park UMC, its senior pastor, the Rev. Paul Rasmussen, and church member Lisa Tichenor, who also is Africa University (TN) board chair for their leadership and support.
"This (facility) will become the vibrant center of campus life," Furusa said at the handover of the student union building. "Students of AU know that this building has been built with love for you, for the promise you hold, and for the Africa that you shall create.
"We believe that for you to deliver excellence, you must experience it," he said.
Fiston Okito, Students' Representative Council vice president, thanked Highland Park for their gift to the students.
"We are so grateful for the funds that have seen the construction of this ultra-modern building that stands as one of the best in the country and region. We are so grateful to the Highland Park UMC for their love and faithfulness to the vision," he said.