Thirteen educators from The Michigan Conference were on hand to help Christians Engaged in Faith Formation celebrate their 50th anniversary at the Curious Church Conference held in Des Moines, Iowa.

TIM TANTON
United Methodist News Service
Churches must align themselves around spiritual formation and become "studios of love" as they face a time of significant change, author the Rev. Brian McLaren told Christian educators.
"In the world of organized religion, we're in a time of great upheaval," he said. Human brains are wired for facing fear, he said, and he encouraged his listeners to let go of their trapeze and reach out to something new.
"We don't face mere technical challenges right now," he said. "We face adaptive challenges. …. This isn't just a matter of slight tweaks; this is a matter of rethinking the entire system of what we're doing from scratch."
McLaren, a theologian and author of titles such as "The Great Spiritual Migration," spoke to members of Christians Engaged in Faith Formation at the ecumenical organization's 50th anniversary gathering in Des Moines. Most in attendance were United Methodist.
There were 250 in attendance for the event, including 13 from The Michigan Conference, led by the Rev. Kathy Pittenger, Children's Initiatives Coordinator. They are sharing about their experience on the Children's Ministry page of the conference website.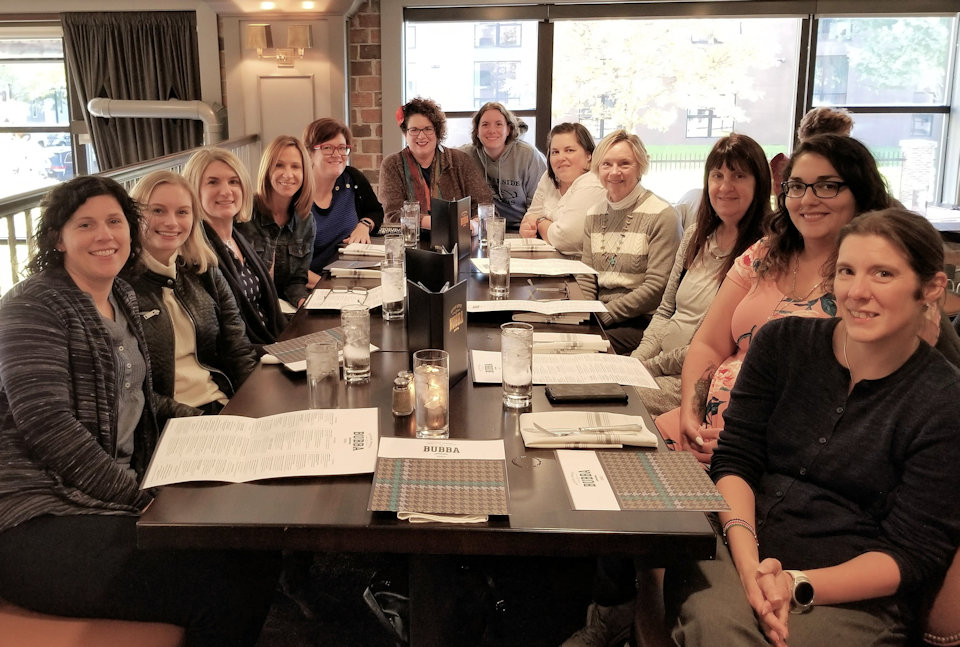 The church needs to get in alignment, McLaren said Oct. 10. "When I say alignment, we actually have an idea of what we're doing, and we want to get everything aligned with that objective. We want to see all of our efforts leading toward a common objective … this objective of forming Christ-like people who live Jesus' way of life, which is the way of love."
It starts with meaning. "What would happen if the entire church was oriented around spiritual formation rooted in meaning, and now what you're doing is integral to everything that happens?" he asked the Christian educators.
"I was at the horrible Charlottesville 'Unite the Right' rally as part of the clergy protest," McLaren said, referring to the 2017 rally in Virginia that erupted in violence. He was standing near the spot where Heather Heyer was struck and killed when a white nationalist drove his car into the crowd.
"I never thought in my life I would see people walking down the street with Nazi flags," McLaren said. McLaren said many of the white supremacists were young white men. "That was a wakeup call for me because I realized that if young people don't find meaning of a healthy sort, they will find meaning of an unhealthy sort."
The church must find a way to have substantial, life-giving meaning, to celebrate that, and to invite others into community, he said. "I don't think we've really paid attention to the kind of community that welcomes people in" — people who would be viewed as "others."
"This is the adventure I would like to encourage you to take: the adventure of moving your congregation into alignment." That alignment should encompass other congregations, including churches in other denominations, he said.
"Almost everybody knows the church of tomorrow will not be a simple continuation of the church of the past." ~ Rev. Brian McLaren
Whatever happens at the called General Conference in February, McLaren said The United Methodist Church will still have polarization.
"Every denomination is polarized between a nostalgic wing that thinks the better days were in the past and a progressive wing that says we've never been what we thought we were and we have to keep moving forward toward a more just and generous expression of Christian faith," he said.
A minority of congregations are at those extremes, while the majority are torn between them, with many "walking on eggshells" to avoid offending people on both sides. A small group of churches is "holding the tension," along with the bishops, he said.
On the opening night of the Christian education conference, Oct. 9, he invited the educators to envision churches as studios of love.
"It's easy for us to forget the reason we're here," he said. "And I'm just not sure there is a reason more important than the spiritual formation of human beings, and as Christians, the spiritual formation of human beings who become increasingly Christ-like….
"The question that I want us to be curious about tonight is: Can our congregation become a studio of love, and if so, how?"
Christian education is understood to encompass doctrine, liturgy and polity, McLaren said, but "there hasn't been a lot of attention to education in love."
He outlined a course for love, starting with Love 101, focusing on love of neighbor; Love 201, loving oneself unselfishly; and then Love 301, loving the earth and creation. Those steps would lead to Love 401, focusing on God. This cycle of love of neighbor, self, creation and God "seems to me to be what spiritual formation is really all about," he said.
"Almost everybody knows the church of tomorrow will not be a simple continuation of the church of the past," he said. "We all know that our structures are in for change. Could this be an opportunity to redeploy our assets and rethink everything we do so that we actually could become a studio of love in the way of Jesus Christ?"
Along with McLaren, the Christian educators heard from faith formation consultant John Roberto and Bishops Laurie Haller of Iowa, Cynthia Fierro Harvey of Louisiana, and Tracy Smith Malone of East Ohio.
Faith formation must move from a one-size-fits-all approach to "one size fits one," appropriate to the person and the life stage, Roberto said. A holistic faith formation plan is needed for every stage, and it must be intergenerational, he said. He explained that the stronger the intergenerational ties, the stronger the transmission of faith. Parents are the No. 1 factor in faith formation, he added.
Haller, the host bishop, addressed the "incredible responsibility" of faith formation and asked the group if they were willing to take up the cross and follow Jesus. Christ's call to discipleship is countercultural, she said, and it entails speaking for justice, mercy and wholeness.
Harvey also directed the group's attention outward, urging her listeners to make disciples of Christ and transform the world for the sake of the children. People of faith can improve the lives of children by addressing needs such as health care, education, fair wages, immigration, hunger relief, and protection from abuse and mistreatment. "We can no longer be tentative, for the sake of the children."
Church people want to get people into the church, while kingdom people want to get the church into the world, Harvey said. "We've got to be kingdom people."
Malone addressed the church's role. "The church is not the mission but is an instrument of God's mission," she said. "The church of Jesus Christ is sent to join where God is already at work in the world, bearing love and healing, doing justice and working for peace. And how the church — the people of faith — go and show up in the world matters. God depends on and the world desperately needs the church to be the church, to be God's agents of transformation from everywhere to everywhere."
Last Updated on January 10, 2023