Holy Week and Easter were celebrated with joy this year as new Barna research shows spiritual seekers' increasing willingness to visit a United Methodist church.
HEATHER HAHN
UM News
In a spring of crowded restaurants and sold-out concerts, could packed pews be next?
The Rev. Tom Berlin, lead pastor of Floris United Methodist Church in Herndon, Virginia, certainly expects so.
"I think people are beginning to return to worship, and I think Easter is a real opportunity for people who have decided that online worship may be their primary mode," Berlin said. "Easter is a time when they will think, 'You know, I'd like to go back and be in the physical space of the sanctuary and really see people.'"
For the past two years, churches have struggled to find safe and meaningful ways, amid a global pandemic, to mark Christ's crucifixion and resurrection. This year, congregations have high expectations as observances of Holy Week and Easter come with COVID cases at a relatively low ebb and vaccinations on the rise in much of the world.
As pandemic restrictions have eased, people have returned to a variety of public venues. At the same time, in-person worship attendance in the U.S. has remained down across faith traditions.
Still, United Methodists have good reason to be hopeful that this sacred time offers a big opportunity to draw more people to their churches both online and in person.
A Barna survey released in March found an increase among U.S. adults interested in visiting a United Methodist church specifically. 
The survey, commissioned by United Methodist Communications, reveals that 51% of "spiritual seekers" would be willing to visit a United Methodist church online, and 44% would be willing to visit in person. The overall willingness to visit a United Methodist church is up from 42% of spiritual seekers in 2019 and 17% in 2015.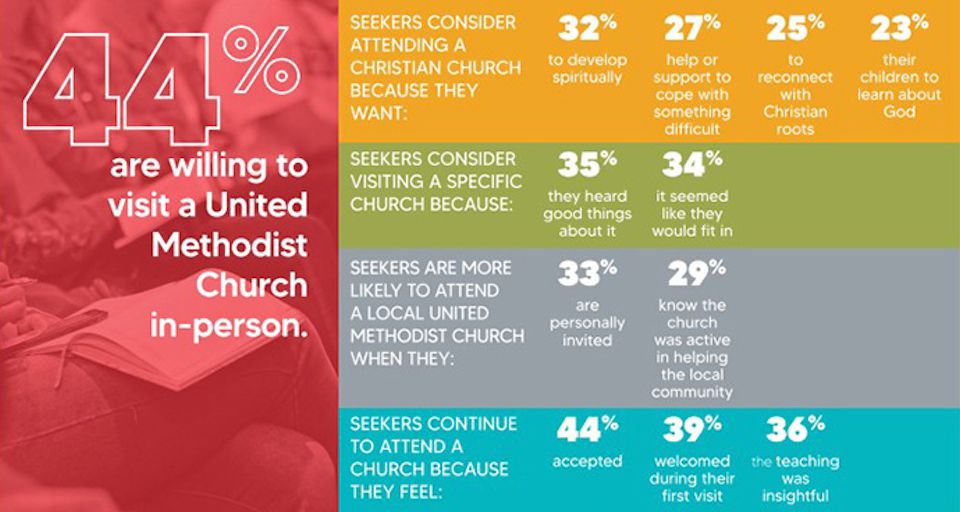 The Barna Group defines spiritual seekers as people who consider themselves spiritual, socially conscious and in search of meaning but who are not currently affiliated with a church. The Christian research company estimates that the U.S. is home to about 36 million such seekers between the ages of 25 and 49.
"This audience wants to develop spiritually and wants insightful teaching," said Teresa A. Faust, United Methodist Communications' senior manager of research. "They are looking for a comfortable community where they feel welcomed and accepted."
But to reach this sizable population of potential Christian disciples, Faust said, personal invitations are important. 
Berlin showed the Barna research to the Floris congregation in hopes of encouraging members to invite their friends to the church's Holy Week worship or one of its multiple Easter services. The church has printed cards with service information that people can hand out to friends and family members.
Berlin said the Barna information helps people understand "there is a really good likelihood that if they invite a friend to our church, that friend will say yes."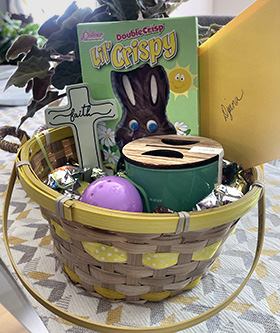 While Floris is a large church with nearly 3,500 members, smaller congregations also hope to invite more visitors this year.
Members of Sharp Street United Methodist Church in Sandy Spring, Maryland, have embarked on an "Easter Basket Challenge" to invite people to worship. For the challenge, members are presenting friends with baskets that include plastic eggs containing inspiring messages, chocolate, a Bible and a personalized card inviting them to worship. 
The Rev. Diane Dixon-Proctor came up with the idea while preparing baskets for her grandchildren. She bought all the Easter baskets at a local dollar store to pass out to members. Some members then started buying their own to share. Altogether, she said about 45 to 55 Sharp Street members have joined in the effort.
"They caught on to the spirit and were excited about doing it," Dixon-Proctor said. "The key is to write a personal note and invite someone to come to church."
The rural, historically Black church — which celebrates its 200th anniversary this year — has survived plenty of hardships. The pandemic also has taken its toll. A number of members are mourning loved ones killed by COVID-19. Dixon-Proctor expects this Easter to be a time of both healing and renewal. 
"We celebrate the resurrection of our Lord and Savior, Jesus Christ," she said. "And each of us is celebrating our own personal resurrection because we are able to go back into worship."
Even as they prepare for fuller sanctuaries, Sharp Street and other churches hope to continue to reach people through the online ministries they introduced because of the pandemic. 
New City Church, a multiethnic United Methodist church start in Minneapolis, has seen people from more than 20 states and a couple of different countries join the congregation for online worship. This year will mark the church's first hybrid Easter service after being entirely online the past two years.    
"Our goal is to make an online experience that is as impactful as our in-person service," said the Rev. Tyler Sit, the congregation's pastor and church planter. "We don't simply want cameras to document what's going on. We want to make our online community feel like they are co-creating the experience. We try to leverage live chat and other features to show people outside of Minnesota that we are not only talking but listening."
Dexter United Methodist Church in Dexter, Michigan, is expanding an outdoor event the church developed last year amid concerns about indoor crowds. 
The Saturday before Easter, the church will bring a camel, donkey, goat, horse, sheep and other animals to the city's downtown park as a sort of petting zoo with a Gospel message. 
The goal is to help the community take a fresh look at the familiar story that ends with the empty tomb, said Pastor Denise Kasischke, the congregation's pastor of family ministry. Each station will have a sign describing a moment in Christ's passion from an animal's point of view. The gathering also will include information on the church's Easter services.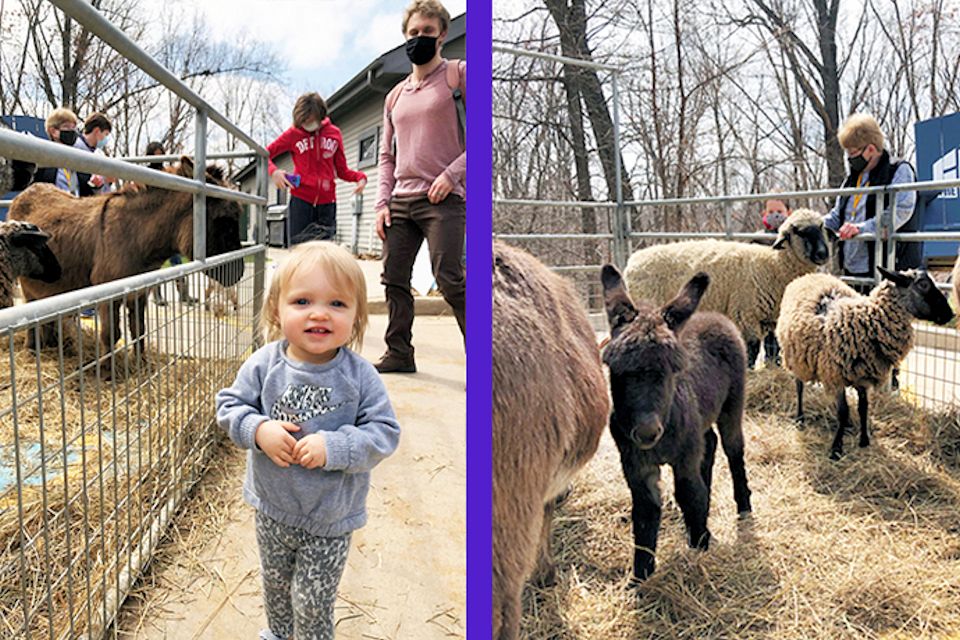 Kasischke, who came up with the idea for the event, hopes the park gathering will be an entry point for people to come back to church or choose Dexter United Methodist as their church home. 
"We had a lot of people who moved to our community during COVID," she said. "We've had a few people come and we're hoping that people who are looking might say, 'Well, we need to get to church. Easter is a good time.'"
It's not just in the United States where United Methodists look forward to renewed worship this Easter. With the easing of Mozambique's health restrictions, come congregations plan to gather Maundy Thursday to celebrate Holy Communion for the first time since 2020. 
Ninga United Methodist Church, a newly formed congregation in the Cabo Delgado province of northern Mozambique, is following the early church's tradition of using Lent as a time of catechism to prepare new Christians for the sacraments. The congregation has more than 35 worshippers, most of them Christian converts who have yet to receive baptism or communion.  
"We are new but eager to celebrate the Holy Week joyously," said Arlindo Jossias, who started the church after transferring to that part of the country with work. On Palm Sunday, the congregation received the first visit of its district superintendent, the Rev. Dercia Marrengula, and Jossias looks forward to her return to baptize the new Christians.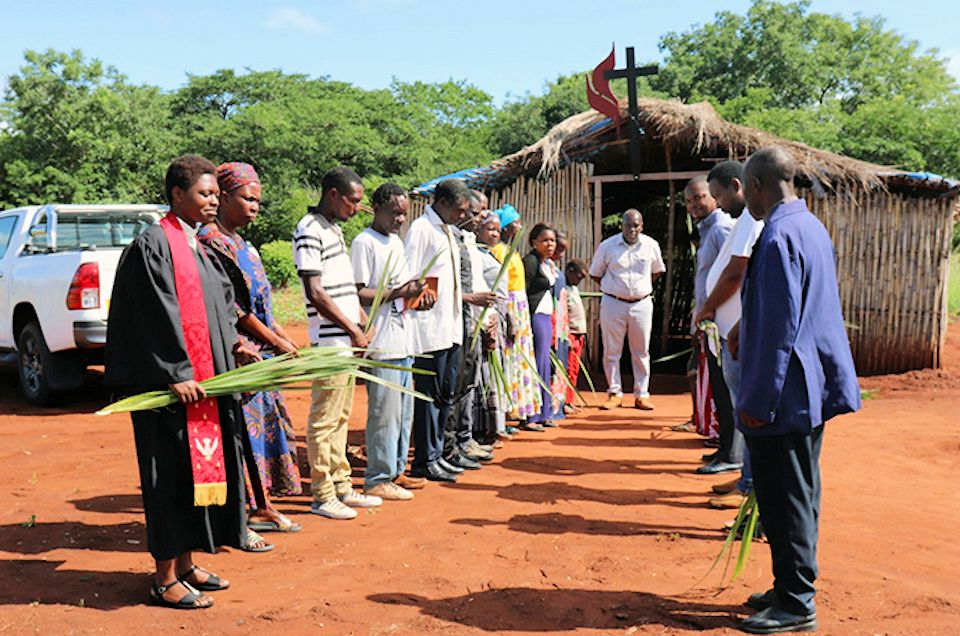 The mood at St. Andrew's United Methodist Church, a multiethnic congregation in Arlington, Texas, is also one of anticipating activities long postponed by the public health crisis.
The Rev. Debra Crumpton, the church's senior pastor, said there is hope in just being able to worship in person. "Right now, we are in a place where masks are recommended but not required," she said. "It will be great just to see people's faces again."
The church plans to have seven women preachers on Good Friday to meditate on the seven phrases Christ said on the cross. For the first time since 2019, the church is planning to have a community Easter fest on Saturday where neighbors can get some hot dogs off the grill, take pictures with an Easter bunny and most importantly, hear the recounting of Christ's saving act.
St. Andrew's is among the congregations that have grown during the pandemic. Crumpton said it's important to reach new people, which is why the church's Easter fest emphasizes the telling of the Easter story.
Berlin of Floris United Methodist agreed about the need to reach people who might not know the meaning of Easter. As the number of Americans not affiliated with any church has increased, so has the number of people unfamiliar with the rituals of Christianity or the accounts of the Gospels.
"That's why, for us, this is all about introducing people to the fullness of God's love in Christ," he said.