"I can now breathe fresh air!" Ded Rranxburgaj declares with joy as he is able to leave Detroit Central United Methodist Church after three and a half years in sanctuary.
KAY DEMOSS
Senior Content Editor
May 18, 2021 | DETROIT — The denomination's tagline, "Open hearts, Open minds, Open doors," took on special meaning today as Ded Rranxburgaj walked out of Central United Methodist Church without fear of deportation for the first time in three and a half years. The hardship and stress many have suffered with "sheltering in place" during the pandemic is something that this Albanian husband and father has known since January of 2018. The congregation has embraced and supported him, his wife Flora, and sons Lorence and Eric during their time in sanctuary within their walls.
The Rev. Dr. Jill Hardt Zundel, the Senior Pastor of Detroit Central UMC, reviewed Ded's story during a press conference this afternoon. "Three and a half years ago, I stood before you welcoming the Rranxburgaj family into a safe place as they claimed sanctuary. ICE had given Ded a final notice of deportation and asked him to buy a one-way ticket back to Albania. When ICE asked him to return for another meeting, Ded, fearing that he would be detained, moved into the church to keep his family together."
A difficult time
At that point, ICE considered Ded a fugitive. "Because of this," Zundel explained, "no appeals for his case would be reviewed." Though he remained safe within the confines of the church, the family suffered. "Because Ded could not leave the church for fear of arrest, he missed Lorence graduating from college and getting married. He missed Eric graduating from high school. So many life events Ded missed because he could not leave the church," Zundel remarked. "He did all of it to protect his family and care for Flora, who struggles with multiple sclerosis."
The congregation's relationship with the family began Michigan United's request to offer them sanctuary. Michigan United is a statewide coalition working on immigration reform. Neither the church nor the family had experienced sanctuary before, but they would all learn that it involved shelter, transportation, advocacy, fund-raising, and a whole lot of love. These many months after that request was granted, Zundel said, "We have a saying, 'Sanctuary is hard.' Sanctuary takes a physical toll on someone, and it takes a mental toll as well."
COVID-19 only deepened the isolation for Ded and Flora. "The church closed the doors on Sunday morning when the pandemic hit," Zundel said. "The community that Ded and Flora were able to interact with were no longer here to break up the monotony of every day."
Free once more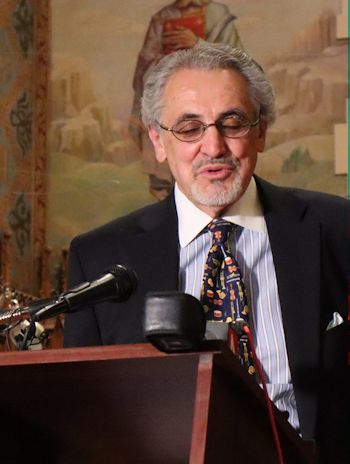 On May 18, the Rranxburgajs' community grew big once more as Ded returned from his appointment at the regional immigration field office to finalize an arrangement ending his time in sanctuary. George Mann, one of Ded's immigration attorneys present at the press conference, said, "I'm pleased to announce that the government has agreed to place Ded back on an order of supervision on humanitarian grounds." Mann continued, "The ordeal of the Rranxburgaj family has come to an end. Today Ded can walk out of Central United Methodist Church from the protection Rev. Zundel and their extended community of supporters." While not a full stay of removal, the arrangement will allow Ded to resume life outside.
Ded expressed gratitude for attorneys, pastor, and church. "Thank you, everyone, that I am a free man. I can't explain how happy I am … Thank God, I can now breathe fresh air! God bless you all." Ded shared his first objective is to find a "place to put my family and things all together" in a first-floor apartment to accommodate Flora's needs.
Work still ahead
Attorney George Mann noted, "The job is not over. The deportation order is still valid. The government is acting with favorable discretion. There's still work to be done." He expressed his hope that he will eventually win the fight for U.S. citizenship for Ded and Flora. "The Rranxburgaj family represents something about this country of immigrants and their descendants that should give us pause," Mann said. "The reason they were not abandoned by the community around them is because of the example they set. A very simple, basic example of devotion and honoring your duty to family and standing up for each other. This is something that is extremely close to our hearts. It's what life is all about."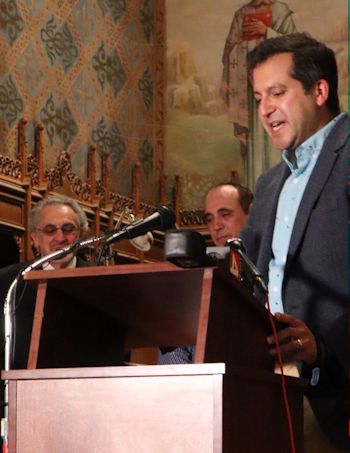 Pastor Zundel closed her remarks by saying, "Sanctuary is hard. But injustice is worse. Immigration reform still needs to happen." She reported that she continues to receive phone calls from pastors asking how to provide sanctuary and from persons "terrified of being deported." She added, "Ded and Flora are moving out soon to begin a new life, but unfortunately, we still have others who are still looking to sanctuary to be safe."
The Rev. Paul Perez, Director of Connectional Ministry for The Michigan Conference, attended the press conference to express congratulations to the Rranxburgaj family on behalf of Michigan United Methodists. "You have endured and sacrificed so much over the past three years to keep your family together and resist an unjust and inhumane immigration system," Perez said. "Your courage, persistence, and love are a testament to your strength and the resolve of so many migrants here and around the world." He also thanked Pastor Zundel and Central UMC for opening the church and standing beside the Rranxburgaj family in their struggle. "You remained true to Central's long and storied legacy of being the conscience of the city and a congregation that embodies the best of United Methodism's social justice teachings and convictions," Perez said.
Perez also called for reform of "this nation's broken, cruel immigration system." He reflected, "Ded is like so many people I have met and know, who are both documented and undocumented immigrants. They are members of their communities … they belong here. This is their home" He declared a need for a clear, humane pathway to citizenship. "It is time for those of us who enjoy the privilege of U.S.A. citizenship to join in demanding better of our nation," Perez concluded. "It is time to hold President Biden and Governor Whitmer accountable to the election promises they both made to migrant communities and their allies."
Click here to view the entire press conference. Michigan United produced this video recording. Unrestricted use is granted.
Last Updated on September 20, 2022