A Changing Lives Scholarship Drive for Michigan Area United Methodist Camping begins on Giving Tuesday and extends through December 4.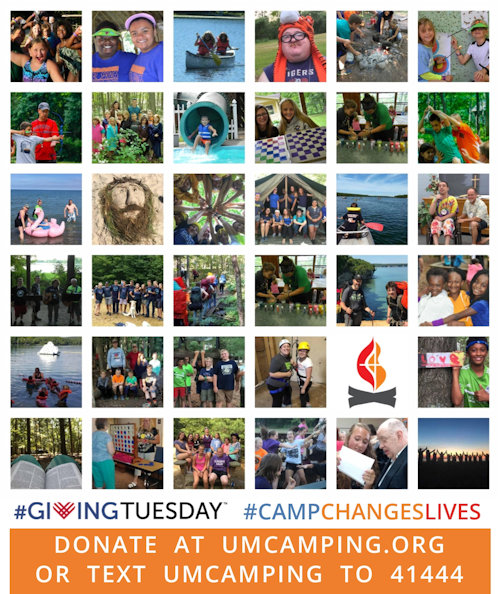 Michigan Area United Methodist Camping is ready to share a new season of summer camp in 2019. Their annual brochure –listing nearly 100 fun and faith-filled summer events for children, youth and adults — will be mailed early in the new year.
Camp changes lives. Every child should have the opportunity to experience the rich joys of summer camp.  But for some families the full registration fee is unattainable. Michigan Area United Methodist Camping values the ability to assist those with stated financial need.
Last year the Changing Lives Scholarship Fund helped over 250 campers attend. Now that fund is running low and needs support.
Michigan Area UM Camping invites individuals and churches to make a gift to help ensure that all who want to go to camp may do so.
The drive for camp scholarships began on Giving Tuesday, November 27, and extends through December 4, 2018. There are various ways to support  and multiply the effort …
Click here to DONATE NOW.
Or use your cellphone to text UMCAMPING to 41444 and receive the donation link by text.
Mail a check payable to MAUMC: MAUMC, 2307 W. Maple Rapids Road, St. Johns, MI 48879.
Turn your passion for the camping ministry into action by creating your own scholarship fundraising page that invties friends and family to give. Text UMCAMPING to 71777 and customize a crowdfunding page to tell your story.
The ministry of Christian Camping is unlike any other. Strong bond of faith and friendship are formed. Eyes are opened, and hearts are changed. Your generosity will make a lasting difference – for one camper or for many.
Last Updated on October 31, 2023