Dr. James Cone taught at Adrian College in the late 1960s, and it was here that he wrote his groundbreaking work, Black Theology and Black Power (published in 1969).
JOHN E. HARNISH
Michigan Conference Communications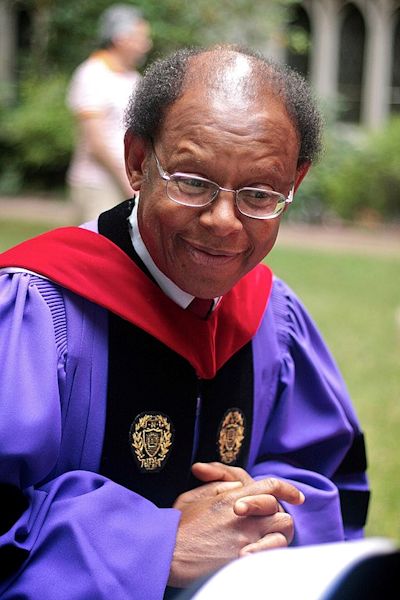 "That's it," said Dr. James Cone. "That's where I wrote the book."  In 2002 Dr. James Cone returned to Adrian College as a guest lecturer. As Chaplain Christopher Momany drove him around town, they went past the small house on Spencer Court where Cone lived when he was a professor at Adrian. He wrote his first book, Black Theology and Black Power,in that modest house. The next year he wrote A Black Theology of Liberation. Together, these books set him on his way to being one of the premier theologians of our time, the founder of the Black Liberation Theology movement. 
After his time at Adrian College, he went to Union Theological Seminary in New York, where his stellar career came to its fullness. His last book, The Cross and the Lynching Tree, published in 2011, draws a powerful connection between the crucifixion of Christ and the lynching of hundreds of Black Americans across the years.
Teaching at Adrian in the tumultuous year of 1968, Dr. Cone was deeply troubled by the uprising in Detroit and the death of Dr. Martin Luther King, Jr. He told Momany he took on a renovation project in the house on Spencer Court as a way of clearing his mind, all the while listening to blues music, a musical tradition which spoke to him during those dark days. Out of it came the book which would shake the theological world.
During Black History Month, on February 23, Adrian College honored the life and work of Dr. James Cone. During a tribute held in Herrick Chapel, the Rev. Deanne Henagan said, "Dr. Cone was truly called by God for his time." She said he brought together three key concepts—theology, liberation, and oppression–and spoke boldly about the God of the oppressed. Reflecting on the implications of his work for today, Henagan said she believes Dr. Cone would ask us, "How can we be concerned about God and religion and not be concerned about those who are oppressed?" Dr. Andrea Milner, Vice President and Dean of Academic Affairs, said, "His work here has profoundly impacted the life of Adrian and our country at large."
The Adrian College tribute to Dr. James H. Cone, held in the college chapel on February 23, 2022, begins at 22:27 of this ACTV video.
Former Adrian Chaplain Momany remembers Cone as "a gracious Christian theologian, but he was angry that white America had domesticated the Gospel for racist purposes." Living in a predominantly white community and teaching in an overwhelmingly white college would seem like an unlikely place to develop a theology that would radically change the shape of Christian thought, but that is exactly what happened.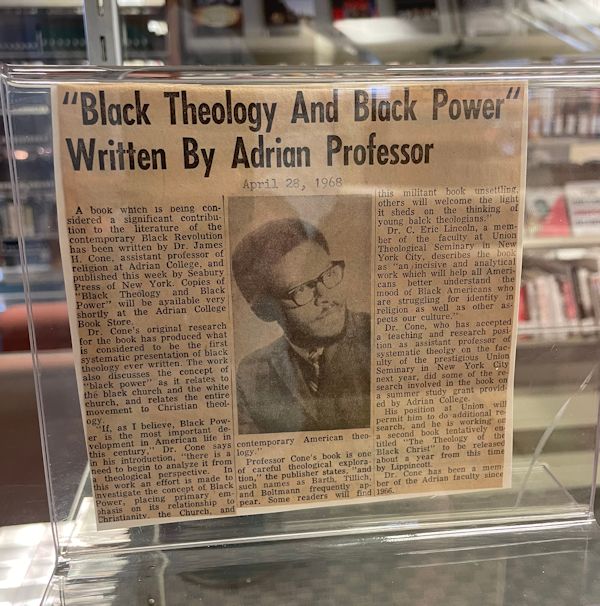 Cone returned to Adrian in 2003 to receive an honorary degree from the college where his career began. He was also awarded the Distinguished Alumni Award from Garrett-Evangelical Theological Seminary in Evanston, IL, along with a dozen other honorary degrees and a multitude of awards and recognitions.
Cone died in 2018, but his work continues to shape theological education today. "In the light of the current debates around "Black Lives Matter" and rising racial tension," says Momany, "perhaps his books are more important now than they were back then. The Cross and the Lynching Tree is especially timely today." 
Adrian College has a history of commitment to racial justice, going back to its founder, the Rev. Asa Mahan, an outspoken abolitionist. During his time at Adrian, Momany did extensive research on slavery, the abolitionist movement, and the connection with Adrian. The fact that James Cones wrote the book, which would become the foundation for Black Theology, while he was at Adrian is an honor for the school and Michigan Methodism.