The Timothy Circle and Perkins School of Theology Office of External Programs sponsors a series of six free, online workshops to help congregations improve ministry with youth, ages 14-24.
Need new ideas for reaching and maintaining young people at your church? The Timothy Circle is offering a series of free, online workshops for clergy and lay leaders that can help.
Six free, hour-long workshops will present learning videos from experts across the field of youth ministry. Each session will include opportunities for discussion and problem solving with other participants, and will also provide follow-up resources and discount codes for further learning opportunities. Registration is free and open to everyone. All sessions start at 12pm Eastern.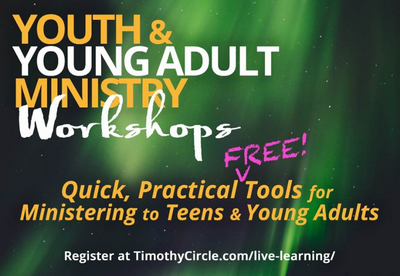 As a bonus, everyone who registers for a workshop will receive an exclusive set of video resources for young people on discerning calling and purpose, presented by published authors and speakers Romal Tune and Nathalie Nelson Parker.
This workshop series is sponsored by Perkins School of Theology Office of External Programs and the Timothy Circle, a ministry of the Richard and Julia Wilke Institute for Discipleship, and funded through a grant from the Texas Methodist Foundation.
Workshops are spaced two weeks apart through the fall, always on a Tuesday, on the following dates:
August 30, 2022
Meaningful Connections with Youth and Young Adults with Dr. Patrick B. Reyes of the Forum for Theological Exploration (FTE)
Participants will learn:
What young people really need from a youth ministry.
A practical exercise to connect with young people—one-on-one or in a whole group.
A new way of thinking about meaning and purpose based on regenerative science.
A way of thinking about boundaries that helps young people understand and maintain their own, so they can better hear the still, small voice of God.
September 13, 2022
Having a Great Youth Program Without Any Paid Staff with Bart Patton and Dr. Priscilla Pope-Levison from Perkins School of Theology
Participants will learn:
The well-meaning pitfalls churches fall into that actually make it harder to reach and maintain young people.
The questions to ask the youth you'd like to serve that can help you start figuring out a church response to ministry with youth.
Four key values that churches must hold to effectively disciple youth, and how to integrate them into your youth ministry program.
Some surprising findings about how young people connect to their faith and congregation.
September 27, 2022
Forming Intergenerational Relationships that FLOW with Rev. Dr. Elizabeth Tamez Méndez from New Generation3
Participants will learn:
Why intergenerational relationships are so key to raising up new leaders.
Barriers that exist in forming intergenerational connections, and ways the church is uniquely positioned to overcome them.
The formula that leads to positive youth development in your church.
Concrete steps to take that will encourage and nurture intergenerational relationships and leadership in young people, and examples of how they can be implemented.
October 11, 2022
Assessing Your Youth Ministry: 3 Big Questions that Change Teenagers with Dr. Kara Powell from Fuller Youth Institute and Fuller Theological Seminary
Participants will learn:
The top three questions, based on research, that young people are asking in their lives.
How young people answer those questions currently, and how the answers we'd rather they have can shape our youth ministry.
How to use these questions as a lens to improve your conversations with young people, improve your insights about them, and improve your youth gatherings and offerings.
October 25, 2022
Helping Young People Hear God's Voice with Rev. Wendy Mohler-Seib from Friends University
Participants will learn:
Issues young Christians most struggle with.
What calling actually is, plus a surprising and effective way to teach that to young people.
Practical activities you can incorporate into your ministry with young people to help them hear God's voice and calling.
November 8, 2022
Innovation in Youth Ministry with Dr. Kenda Creasy Dean from Princeton Theological Seminary
Participants will learn:
A perspective on how to rebuild when it feels like everything is coming apart.
What to base your innovations on to have the best chances of reaching success.
What research tells us about youth group and faith formation.
5 changes starting to be observed in youth ministry.
Participants may register for any or all of these sessions. Registration links and additional information can be found by visiting this website.
"Our goal with these workshops is to give both laypeople and clergy additional tools to use in their churches to better support 14- to 24-year-old Christians. We want every church to be as supportive as possible for young people hearing and following God's voice," says Britt Bradley, director of the Timothy Circle. "This series is an incredible opportunity to learn from respected and creative ministry leaders at no charge."
The Timothy Circle is a resource hub and network that helps adults, churches, and ministries nurture faith and calling in young people (ages 14-24). It is a ministry of The Richard and Julia Wilke Institute for Discipleship, based at United Methodist-affiliated Southwestern College in Winfield, KS. The institute manages and supports a variety of educational programs—both online and in person at the college—that increase discipleship and Christian leadership skills.